Homemade Creme de Cassis
This Homemade Creme de Cassis recipe will make a homemade liqueur that you can use in cocktails, add to wine or champagne or just drink on its own. All you need is black currants, vodka and sugar. It's sweet, dark, delicious and easy to make!
This blog post may contain affiliate links. This means that if you make a purchase by using one of the affiliate links provided in this article, then I might get a small commission at no extra expense to you.
Most of you know I love to grow as many things as I can every year. When we moved into our house a few years ago I planted a black currant and white currant bush. We finally got a decent crop after a few years other than the occasional handful. I was so excited of course I posted a photo of my beautiful black currants. One of my good friends saw the photo and immediately said: "you should make homemade creme de cassis". To sum it up, after a quick head smack, I thought to myself: "Of course I should!!"
What is Creme de Cassis?
First, what is Creme de Cassis? Well, cassis is the French name for blackcurrants and creme de cassis is a liqueur made from blackcurrants steeped in neutral spirits, with lots of sugar added. I've actually always loved creme de cassis and it's pretty easy to find at your liquor store. Now you can make my own!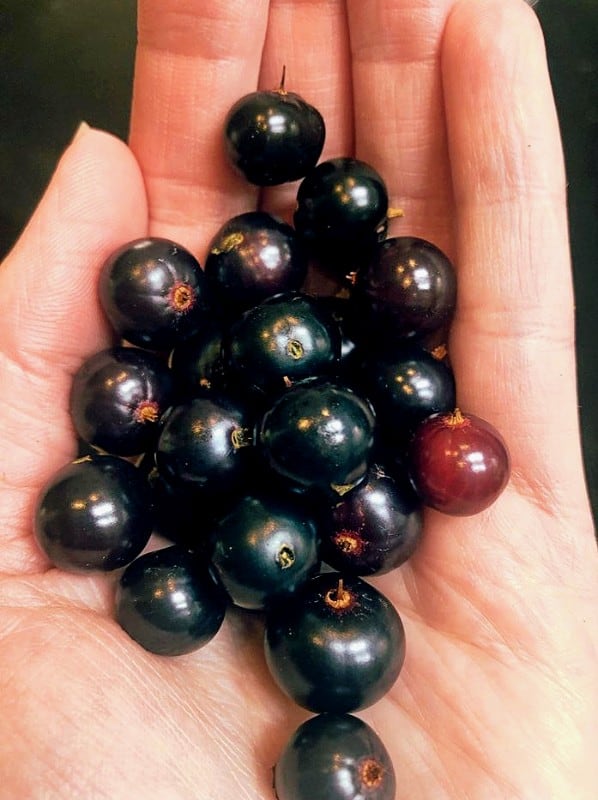 What type of alcohol should I use?
Vodka is best alcohol to use because it has a neutral taste and can pick up other flavors very well. That being said, don't use a flavored vodka or a vodka with a lot of botanicals. Don't use an expensive vodka. Certainly, if you go cheap, you will taste it. In other words, the middle of the road is best. I used Tito's Vodka which runs under $20/bottle.
What to use Creme de Cassis for:
Cocktails! (see one of my recipes below)
Make a classic Kir Royale, just add to champagne or sparkling wine
Add to white wine
Drink as a digestif or aperitif
Print
Homemade Creme de Cassis
Make your own black currant liquor from scratch to add to cocktails, champagne and more!
Equipment
funnel

mesh strainer

sealable jar (like a Mason jar)
Ingredients
2

cups

black currants, rinsed

3

cups

vodka

1

cup

sugar

( I used demerara )

1

cinnamon stick
Instructions
Place the black currants, vodka, sugar and cinnamon stick into a large jar that seals (like a mason jar). Place the lid on the jar and shake all of the ingredients together very well. Store in a cool dark place like a basement or lower cabinet.

For 2-3 months, shake the jar every 2-3 days (or as you remember).

Strain mixture and place in your favorite sealable bottle. 2-3 more moths of maturing and you will have some amazing Creme de Cassis to enjoy.
Creme de Cassis Cocktail Recipe
1½ oz. Gin
½ oz. Creme de Casis
½ oz. fresh lemon juice
½ oz. fresh grapefruit juice
1 egg white
Add the egg white to an empty shaker and shake for 20-30 seconds.
Put the rest of the ingredients along with ice and shake again for another 20 to 30 seconds.
Strain into a chilled cocktail glass.
Garnish with lemon or grapefruit peel and enjoy!
Check out more of my cocktail recipes below:
Did you make this Homemade Creme de Cassis?
Did you make this recipe or try this cocktail? Tag me on Instagram or Facebook and show me what you made! Don't forget to sign up for my email list to get more recipes and ideas in your inbox.
---
---