Healthy Shrimp Ceviche
If you love fresh meals and seafood, here is a Healthy Shrimp Ceviche recipe you can make at home any day of the week. This recipe is perfect for backyard get-togethers, chips and salsa time or a healthy weekday dinner.
This blog post may contain affiliate links, which means I may receive a commission, at no cost to you, if you make a purchase through a link. Please see the full disclosure for further information. If not otherwise stated, all prices are intended in US$ and all listed prices can change without notice.
It's May in the Northwest which means it's spotted prawn fishing season! We are so lucky to live in a place that provides fresh, healthy, and delicious seafood. Instead of freezing the loot this year, we decided to eat them as fresh as possible. One of my good friends, Oriana, gave me this Healthy Shrimp Ceviche recipe. She made this for me years ago and I still remember how amazing it was! She is a nutrition coach and a health enthusiast. You can follow her on Instagram @real_foodbeauty/.
What is Shrimp Ceviche?
Ceviche is a dish popular throughout Latin America that's made with fresh shrimp or other with fresh raw seafood and "cooked" in citrus juices. It is essential that you use the freshest seafood possible when making ceviche from the raw stage because of food safety concerns. If you aren't sure how fresh your seafood is or aren't comfortable using the citrus method, cook your seafood first. Your ceviche will still be delicious!
Ingredients for Shrimp Ceviche
For this recipe, I use all fresh ingredients and raw shrimp. As I mentioned, you can also use cooked shrimp and the results will still be amazing. Here are the fresh vegetables and fruit I use:
2 medium tomatoes
jalapeno
large yellow bell pepper
1 lemon
1 lime
A handful of fresh cilantro
A handful of green onions
2-3 garlic cloves
Other Ingredients You Can Use
The great thing about recipes that use fresh ingredients is that you can usually make substitutions if you want. Here are some other ingredients that you could use or try in your ceviche:
fresh or cooked fish, crab or lobster
orange juice
habanero peppers (if you really like heat)
poblano peppers (for less heat)
cucumbers
avocado
red onion
How to Make Shrimp Ceviche
Shrimp Ceviche is so easy to make! The only time-consuming thing is cutting all of the fresh fruits and veggies and allowing the ceviche to marinate.
Chop up all of the veggies and the shrimp to be about the same size. Finely mince the garlic. Juice the lemon and the lime.
Add all of the ingredients to a large bowl and mix together. Cover the bowl with plastic wrap or a lid and allow the ceviche to marinate for about 60 minutes until the shrimp has fully "cooked" in the citrus juice. If you are using cooked shrimp, allow all of the flavors to come together for at least 30 minutes. This chilling time will also get the ceviche nice and cold for serving.
Tips for the Best Ceviche
If you prefer a more mild heat in your ceviche, remove all of the seeds from the jalapeno. And if you like more heat, leave the seeds.
It's imperative that you use fresh citrus juice when making ceviche. Not only will it taste better, if you are using raw shrimp this is the only way to ensure the shrimp gets fully "cooked" in the juice.
Ceviche is best served cold and…you guessed it…fresh! So plan accordingly. If you do have leftovers, make sure you refrigerate them right away and eat them within 24 hours.
How to Serve Shrimp Ceviche
The most common way to serve ceviche is with tortilla chips! You can use store-bought or make your own. Since there are lots of vegetables and shrimp to dip into, make sure your tortilla chips are nice and thick. PIta chips are another great option for a thick dipping vehicle. You can also enjoy ceviche as a garnish to tacos, or as a side dish. However you decide to enjoy your ceviche, it will be delicious!
How to Make Your Own Tortilla Chips for Dipping
There are two ways to make tortillas chips at home: you can fry them or you can bake them. Since this is a healthy recipe, I would opt to bake them. Not only is it w]easier and faster, there is less mess and they are better for you! Here is how to make your own Baked Tortilla Chips: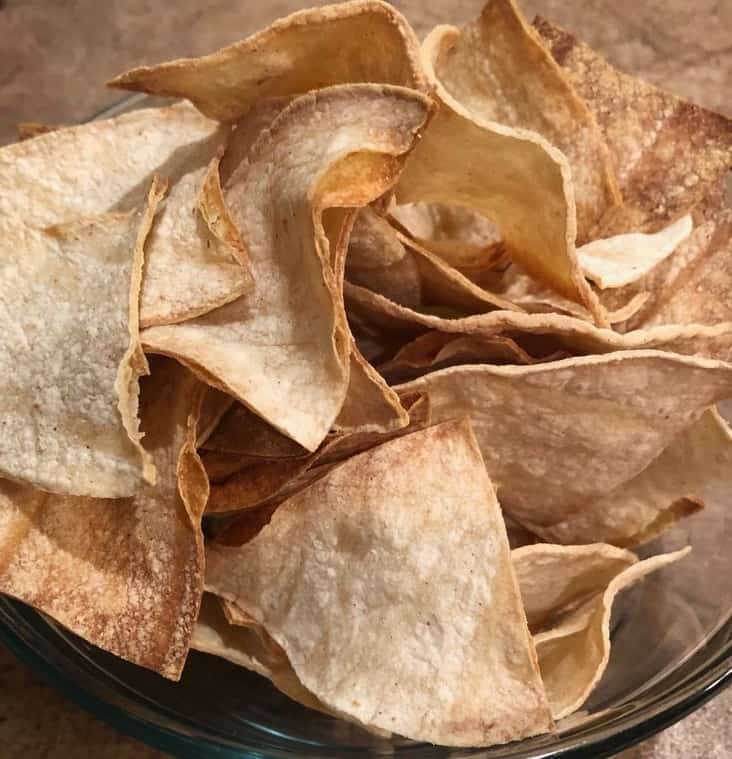 Preheat your oven to 375º.
Take your corn tortillas and cut them into fourths (you can cut through multiple at a time).
Place the corn tortilla pieces on the rack of your oven (you can also place a cooling rack down first so the chips don't fall through!).
Bake for 4 minutes, flip the chips and then bake for another 3-4 minutes. Salt the chips if desired as soon as they come out. TIP: you might find that the chips cook unevenly based on your oven, keep an eye on them and remove them as soon as they are brown.
Healthy and Fresh Shrimp Ceviche
An easy and healthy Shrimp Ceviche recipe you can make at home any day of the week. This recipe is perfect with chips or as a side dish.
Print
Pin
Rate
Equipment
large bowl

plastic wrap or lid for bowl

knife for cutting fruits and vegetabels

citrus juicer

large spoon or spatula
Ingredients
1

lb

shrimp

(raw or cooked)

2

medium

tomatoes, diced

1

jalapeno, diced

(less seeds=less heat)

1

large

yellow bell pepper, diced

1

large

lemon, juiced

1

large

lime, juiced

1

handful

fresh cilantro, chopped

1

handful

green onions, chopped

2-3

cloves

garlic, minced

salt and pepper to taste
Instructions
Chop everything in a similar size, add to a large mixing bowl, mix thoroughly and allow to marinate in the fridge for at least 60 minutes before serving. If you are using raw seafood, marinate in the fridge overnight or until seafood is fully "cooked" through and not raw when you cut into it. The type of seafood and size will change the "cook" time.

Serve with your favorite tortillas chips or pita chips and enjoy!
Notes
You can also add white fish or crab for even more seafood goodness (cooked or raw). I would do all raw or all cooked when preparing.

Next time I will dice my veggies a little smaller to make the chip dipping easier.

I took out almost all of the seeds from the jalapeños and I should have left some. I'm kind of a wimp when it comes to spice, but it need a little more kick.

I'm also adding chopped avocado next time for a creamy texture!

Citrus juice will "cook" the raw shrimp. Always be careful when using raw ingredients and make sure it is fully cooked before eating.
Any nutrition calculations are only estimates using online calculators. Please verify using your own data.
Here are some more healthy and delicious recipes:
Did you make this Healthy Shrimp Ceviche?
If you get a chance to make this recipe, tag me on Instagram or Facebook and show me! Thanks for checking out my site. If you like what you see, sign up for my email list and receive new recipes right to your inbox! You can also follow me on Pinterest for the latest posts.
---