This Fresh Fruit Shrub Recipe is a quick and easy way to add something tangy and delightful to your favorite drink or cocktail. Serve with sparkling water for a refreshing treat or add to your favorite cocktail for an unexpected twist!
The first time I heard the word "shrub" it was in the ingredients of a delicious cocktail I had at this cool swanky bar in Portland. I asked the bartender what it was and she said "drinking vinegar!" I tried to pretend I knew what she was talking about and then immediately went home and asked Google. To my surprise, there were many recipes out there on how to make this delicious drink. Fast forward 10 years and shrubs are becoming more prevalent in the market. So now I feel like I was ahead of the curve...LOL! It's also been said that drinking vinegar on a regular basis is good for your health. I'm not a doctor or an expert, but it can't hurt, right?!?
Check out My Web Story HERE!!
What is a "Shrub"?
A "shrub" is basically an old way of preserving. They are typically a fruit and/or herb-infused syrup, made with fresh ingredients, then fortified with some type of vinegar. The word "shrub" is derived from the Arabic word "sharbah," which translates to "drink." Back in the day, people from the 16th-18th century drank shrubs to prevent scurvy. Today, shrubs are infused with all different flavor combinations and some even use them for health benefits. There are some shrubs you can find in stores, also called drinking vinegar. Shrubs can be used in craft cocktails or non-alcoholic drinks.
Cold vs. Hot Shrub Recipe
My fresh fruit shrub recipe is a "cold" recipe meaning there is no cooking needed to make this shrub. You are basically macerating fruit with sugar, and then fortifying it with vinegar. The only downside to a cold recipe is that you have to wait a day or two before enjoying your creation. Some recipes are the "hot" or "cooked" version where you boil the fruit with sugar and water, basically making a syrup to add to the vinegar. This is handy if you want to enjoy your shrub immediately but I have heard that you don't get quite as much fresh fruit flavor this way. I haven't tried the hot version yet, mostly because the cold recipe works so well for me I haven't needed to change it.
What Type of Vinegar to Use
You can choose from different types of vinegar and that will, of course, change the taste of your finished product. I use an Asian white vinegar called Datu Puti. This vinegar is made from sugarcane and has a rich, slightly sweet flavor. You can also use apple cider vinegar, red wine vinegar, rice vinegar, champagne vinegar, or coconut vinegar. I would also suggest trying this recipe for the first time with just berries. I've made strawberry, raspberry, blueberry, blackberry, peach, and plum shrub so far. They have all been delicious.
What Type of Sugar to Use
You can use white or brown sugar. White sugar will allow the fruit flavor to really come out, while the brown sugar will add a darker flavor. I haven't tried anything but white sugar yet, but I can imagine brown sugar and strawberries specifically would be a great pairing. You could also try other sweet elements like honey, agave, or maple syrup.
Save that fruit that's about to go bad!
Shrubs are a great way to transform fruit that has almost gone bad or is overripe. Since you are adding sugar, transforming the fruit into a juice, and adding vinegar to preserve it, why not? You will have a delicious drink that will keep in your fridge for up to 4-6 weeks instead of throwing away some perfectly usable fruit.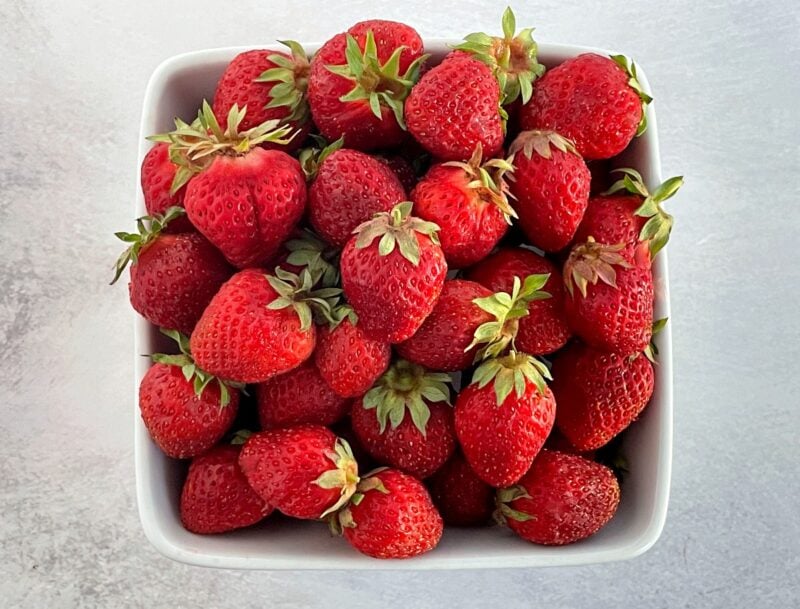 The Flavor Combinations are endless!
There are so many different combinations of fruit and fruit and herbs you could try together, here are a few ideas:
Strawberry-Mint
Peach-Rosemary
Cherry-Almond
Blueberry-Vanilla
Lime-Ginger
Pineapple-Sage
The sky is the limit when it comes to making unique and tasty flavor combinations for your shrubs. Once you get the process down, you can make whatever you can think of!
Here are some more cocktail and fresh fruit recipes for you to check out:
Fresh Fruit Shrub
This fresh fruit shrub recipe is a quick and easy way to add something tangy and delightful to your favorite drink or cocktail.
Print
Pin
Rate
Equipment
mesh strainer/sieve

large glass bottle or jar that seals

2 med-large bowls

large measuring cup
Ingredients
5-6

cups

strawberries, washed and hulled

(other berries work as well)

2

cups

sugar

2

cups

vinegar of your choice

( I use Datu Puti, an Asian vinegar)
Instructions
Add the clean fresh fruit and sugar to a bowl, cover with plastic wrap or a lid, and place it in the fridge overnight.

Remove mixture from the fridge. You will notice that the fruit has released its juices naturally and you now have a syrup-like mixture. Mash up the fruit using the back of a spoon or a masher.

Over another bowl, strain your syrup mixture through a fine-mesh sieve. You can lightly push on the fruit to squeeze out the juices.

Pour the strained syrup into a large measuring cup to see how much liquid you have. I usually end up with about 2 cups. What you measure in syrup is how much vinegar you will add (1:1 ratio). Pour equal amounts of syrup and vinegar into a sealable glass bottle. Seal the container and shake to combine. add the lid and shake. The shrub will last in the fridge in a sealed bottle for 4-6 weeks.
Notes
Serving size ¼ cup.

The shrub will last in the fridge in a sealed bottle for 4-6 weeks.
Nutrition
Serving:
1
serving
|
Calories:
112
kcal
|
Carbohydrates:
28.1
g
|
Protein:
0.2
g
|
Fat:
0.1
g
|
Sodium:
3
mg
|
Potassium:
77
mg
|
Fiber:
0.7
g
|
Sugar:
26.9
g
|
Calcium:
9
mg
Any nutrition calculations are only estimates using online calculators. Please verify using your own data.
Did you try this Fresh Fruit Shrub Recipe?
If you make this Fresh Fruit Shrub Recipe or any other recipe from my blog I'd love to see and hear about it! Tag me on Instagram or Facebook. You can also follow me on Pinterest or sign up for my email alerts so you never miss a recipe or update!