A homemade Marionberry Cake filled with marionberry jam and frosted with marionberry buttercream! This cake is dense and delicious. Everything is made from scratch and is sure to be a summertime treat you will make over and over!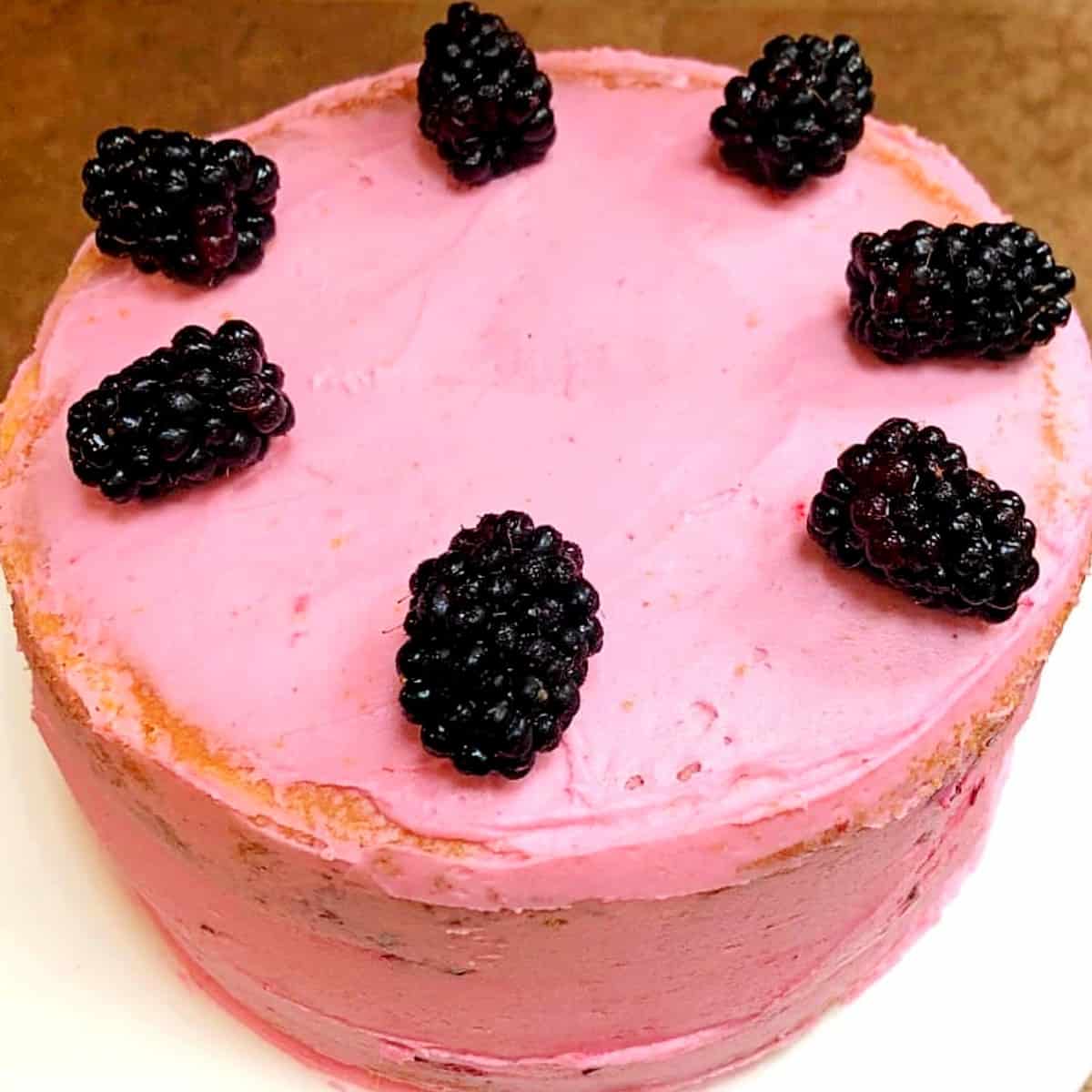 This Marionberry Cake was a last-minute addition to my son's birthday party for the adults. I had some extra pound cake batter from the Batman Cake and we had just picked a bunch of fresh marionberries at a local farm. So, of course, I decided to make another cake!
Jump to:
Why I Love This Recipe
I love this Marionberry Cake recipe because it balances the delightful tartness of marionberries with a moist and tender cake base. The addition of marionberry jam and marionberry frosting adds even more marionberry flavor delivering an extra burst of flavor and sweetness.
What is a Marionberry?
The Marionberry was created at Oregon State with 2 varieties of blueberries, the Chehalem and the olallie. They look like blackberries and taste like a black-blue raspberry, in my opinion. If you can't find marionberries, you could use raspberries, blackberries, etc.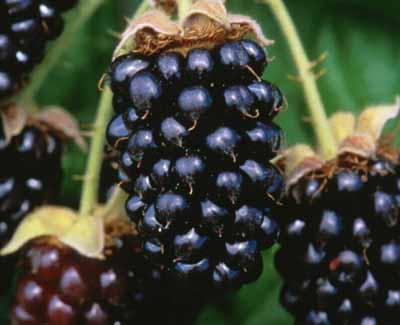 What is a Naked Cake?
A naked cake is a type of cake that is intentionally left with little or no frosting on its sides, giving it a "naked" look. This type of cake decorating is known for the visible layers of cake and filling between them. The top of the cake typically has a layer of frosting and decorative elements like fruit or flowers.
Naked cakes have become more popular in recent years for their minimalistic and rustic and minimalistic appeal. They are often used for weddings, birthdays, and other special occasions because of their simple and elegant presentation.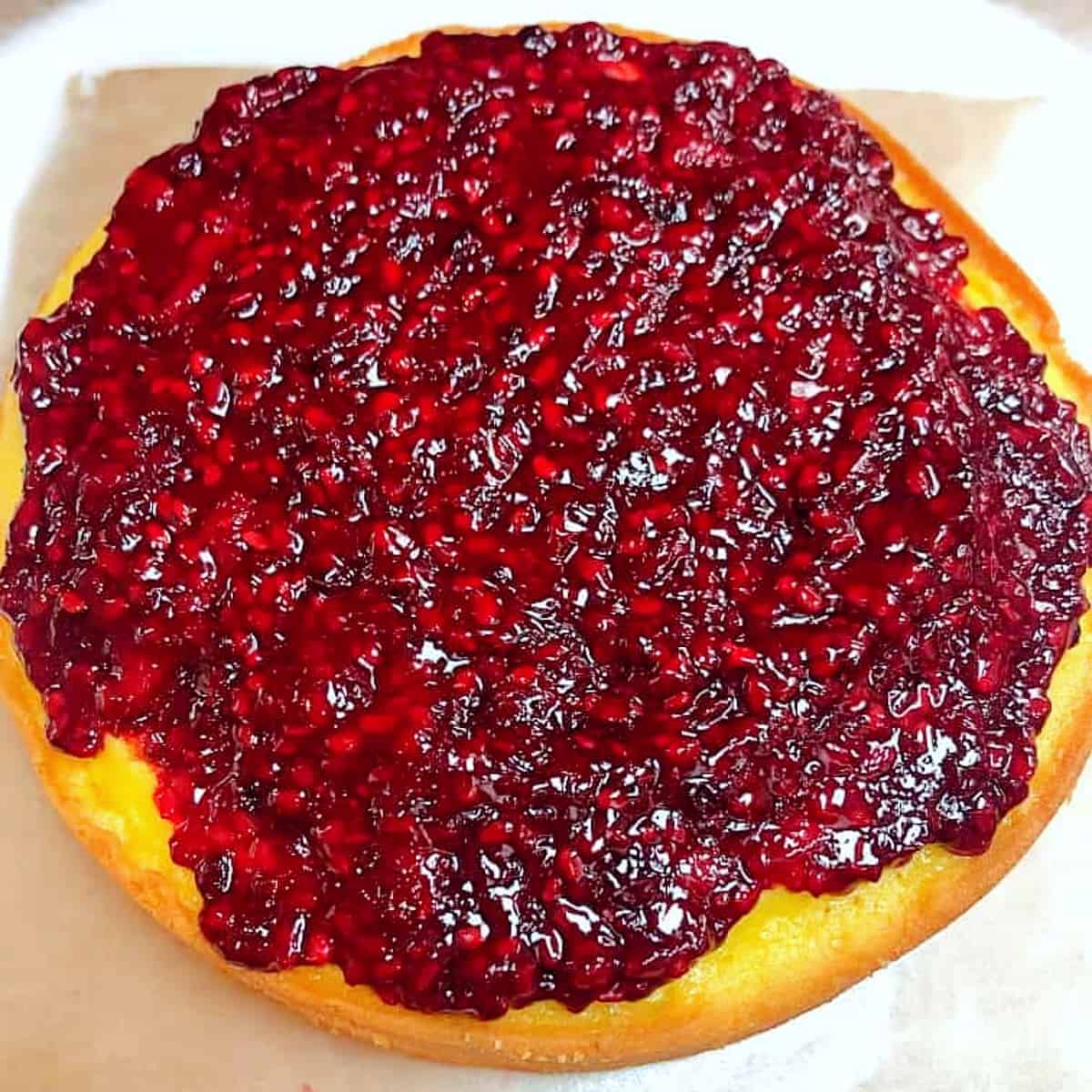 How to Make a Quick Jam for Cake Filling
Add all ingredients to a pan and bring them to a boil while stirring and mashing. Boil for about 1 minute, and then remove the mixture from the heat to cool.
Continue to mash the berries as the mixture cools. Once cool, strain through a mesh strainer to separate the jam from the syrup.
Recipe FAQS
Can I make this cake gluten-free or vegan?
To make this cake gluten-free or vegan, experiment with gluten-free flour or vegan substitutes to adapt the recipe to your dietary needs. Just be sure to follow any guidelines or changes for making gluten-free or vegan cakes.
How should I store leftover Marionberry cake?
Store any leftover cake in an airtight container at room temperature for 1-2 days or in the refrigerator for 3-4 days.
Can I freeze this cake?
Yes, you can freeze this cake. Wrap it well in plastic wrap and aluminum foil to prevent freezer burn. Thaw it in the refrigerator when you're ready to enjoy it. I would suggest freezing just the cake and frosting it right before serving.
Can I make this cake ahead of time?
You can make this cake ahead of time. Store it in an airtight container in the refrigerator for a day or two. Allow it to come to room temperature before serving for the best results.
What can I substitute for Marionberries?
You can substitute fresh blackberries for Marionberries if you can't find Marionberries. The taste will be slightly different, will still be delicious. You could also use strawberries or raspberries for similar results.
If you get a chance to make this Naked Marionberry Cake recipe, tag me on Instagram or Facebook and show me, or leave a review below! You can also follow me on Pinterest and sign up for my e-mail list to receive more fun and delicious recipes right in your inbox.
Naked Marionberry Cake
A delicious and showstopping cake that puts those fresh berries to use! Just a light layer of frosting and layers of homemade marionberry jam make this cake hard to beat.
Print
Pin
Rate
Ingredients
Pound Cake
¾

cup

unsalted butter, room temp

2

cups

sugar

2

teaspoon

vanilla extract

3

large

eggs, room temp

3½

cups

all-purpose flour

4½

teaspoon

baking powder

½

teaspoon

kosher salt

1½

cups

milk, room temp
Marionberry Jam/Syrup
2-3

cups

fresh marionberries, rinsed

1

cup

water

1

cup

sugar

½

teaspoon

cornstarch
Marionberry Frosting
¼

cup

unsalted butter, room temp

¾

cup

vegetable shortening

1¼

teaspoon

vanilla extract

1

pinch

kosher salt

4

cups

powdered confectioners sugar

2-3

teaspoon

water

¼

cup

marionberry syrup
Instructions
Pound Cake
Preheat oven to 350°F and prepare baking pan(s) with non-stick spray or butter and parchment paper. I used two 6" round pans.

In a bowl add flour, baking powder and salt and mix together until combined.

In a separate bowl, cream together butter and sugar with a mixer. Add vanilla and mix in completely. Add eggs one at a time, fully mixing in after each one.

Add ⅓ of the dry mixture to butter mixture and combine then add ⅓ milk and combine. Repeat until all ingredients are added and mixed in.

Add batter to prepared pan(s) and bake for 30 -35 minutes or until a toothpick is clean.
Marionberry Jam/Syrup
Add all ingredients to a pan and bring to a boil while stirring and mashing. Boil for about 1 minute and remove from heat to cool. Continue to mash the berries as the mixture cools.

Once cool, strain through a mesh strainer to separate the jam from the syrup.
Marionberry Frosting
Place butter and shortening in mixer and cream together on medium speed. Add in vanilla and salt and continue mixing.

Begin to add confectioners sugar one cup at a time, mixing on low speed until combined then med-high speed for a minute or so each time. After each cup addition, add a tablespoon of water.

Add marionberry syrup and fully incorporate it until nice and smooth.
How to Build the Cake
Take one layer of the cake and place it on a cake stand or frosting stand. Keep in place with a small dollop of frosting on the bottom. Don't worry about making wither cake layer level, the jam and flipping the second layer will take care of this. Add a thick layer of marionberry jam leaving about ¼ inch around the edge.

Take the second layer of cake and flip over so that the flat bottom is now on top.

Frost the cake first with a thin layer of frosting to make your crumb layer. Put the cake in the freezer for 5-10 minutes to set. This will help with crumbs in the frosting layer. Remove the cake from the freezer and frost as desired. I used a "naked effect where there was just a thin layer and you could still see some of the cake through the frosting. You can also just frost as a normal cake. Have fun with it!
Notes
This made quite a bit of frosting and since I made my cake "naked". I would half the recipe next time. If you want a fully frosted cake, leave as it.
Nutrition
Serving:
1
serving
|
Calories:
510
kcal
|
Carbohydrates:
86.6
g
|
Protein:
5.6
g
|
Fat:
17.6
g
|
Saturated Fat:
9.5
g
|
Cholesterol:
72
mg
|
Sodium:
112
mg
|
Potassium:
755
mg
|
Fiber:
2.5
g
|
Sugar:
59.3
g
|
Calcium:
347
mg
|
Iron:
2
mg
Any nutrition calculations are only estimates using online calculators. Please verify using your own data.
Since the Marionberry Jam resulted in a beautiful and delicious Marionberry Syrup, there was no way I was wasting that! Here is the cocktail recipe I promised...which is really just adding syrup and vodka to lemonade....but it was an AMAZING summer drink!
Marionberry Vodka Lemonade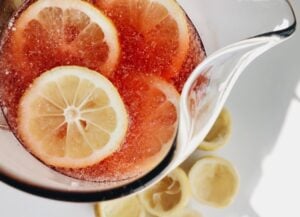 1. Make lemonade from the can (yup, the frozen stuff you get at the grocery store) or you can make your own. There was no way I was making anything else after 2 cakes!
2. Add about ¼ cup marionberry syrup (just eyeball it, it's fine).
3. Pour into a glass with ice and add 1-2 shots of vodka. Mix and enjoy! ?
Thanks for checking out my post. If you want more fun and delicious recipes sign up for my email list. If you make this or any of my other recipes, tag me on Instagram or Facebook and show me your creation!
Lemonade Photo by Izabelle Acheson on Unsplash.