Coconut Fig Crumble Bars are so easy and delicious! These bars have fig jam (fresh or store-bought), coconut flakes, and a crumbly oatmeal topping that melts in your mouth. These bars are perfect for dessert, breakfast, or a snack!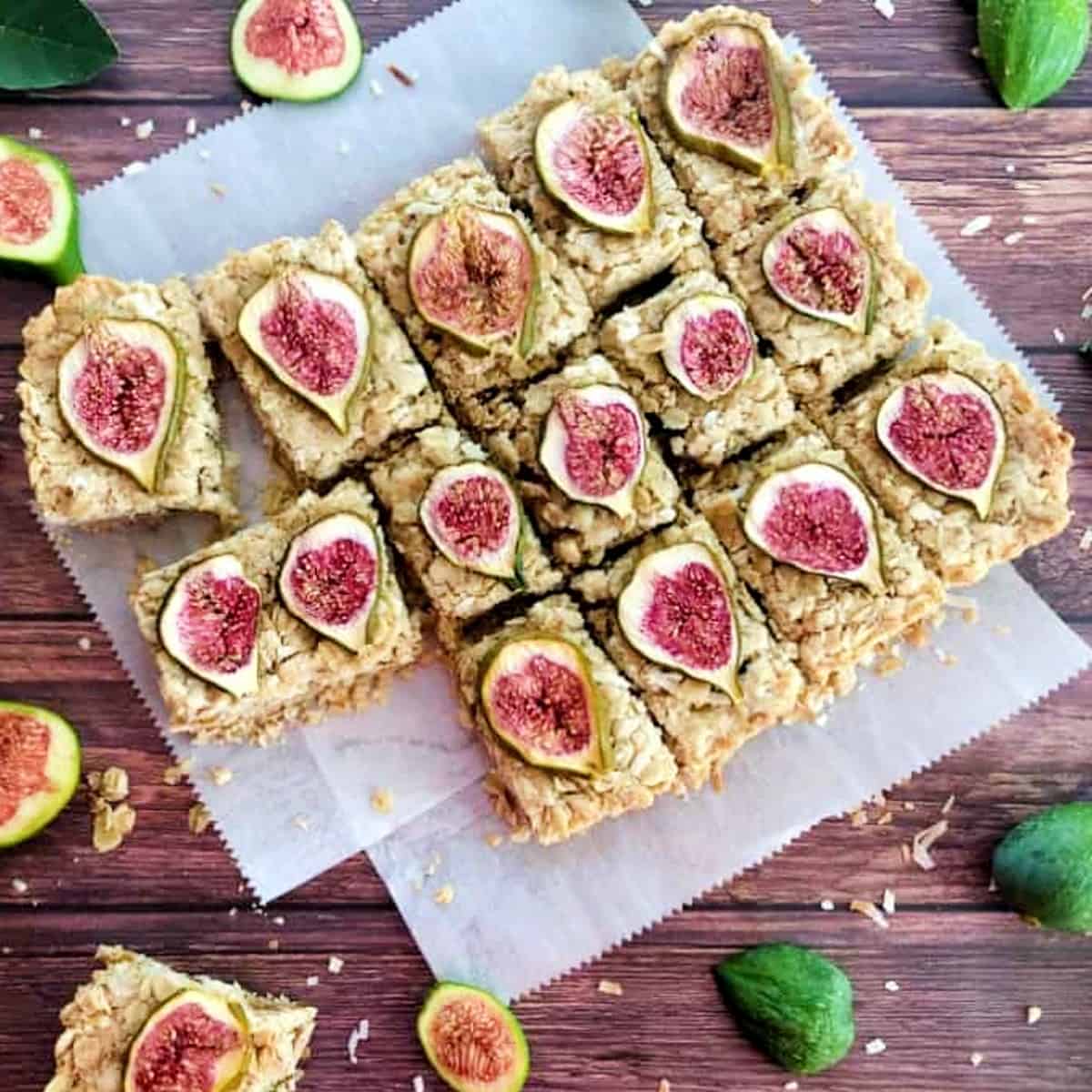 I sometimes come up with recipes when I have an abundance of something...enter FIGS! We had an abundance of fresh figs from our tree so I made Easy Fig Jam, one of my favorite things on a cheeseboard.
Now I have all of this fig jam, and as much as I like cheese and bread, I needed something else to do with it. So that's how I got to Coconut Fig Crumble Bars!
How perfect that there is an easy recipe to use two of my favorite things: coconut and fig jam! Not a combination you hear often, but delicious all the same.
Ingredient Needed to Make Coconut Fig Crumble Bars
All-Purpose Flour: all-purpose flour provides structure and texture to the coconut fig bars, helping to bind the ingredients together and create a soft and tender crust.
Instant Rolled Oats: instant rolled oats add a chewy texture and nutty flavor to the coconut fig bars.
Sweetened Coconut Flakes: sweetened coconut flakes provide a tropical and slightly sweet flavor to the bars.
Brown Sugar: Brown sugar adds a rich caramel-like flavor and moistness to the coconut fig bars.
Baking Powder: baking powder helps the coconut fig bars rise and become light and fluffy.
Kosher Salt: kosher salt has a mild flavor and is free of additives making it ideal for baking.
Coconut Oil: Coconut oil provides moisture and a subtle coconut flavor to the coconut fig bars. It helps create a tender and slightly crumbly texture in the crust.
Fig Jam: Fig jam adds a luscious and sweet fruitiness to the bars. You can use store-bought fig jam or make your own easy fig jam.
Fresh Figs: fresh figs are used as a topping for the bars to add a visually appealing element. If it's not fig season, you can skip this step.
How to Make These Coconut Fig Bars
First, decide if you are going to make your own fig jam or use store-bought. If you are making homemade jam, it takes about 1.5 hours and you can make it ahead of time.
Make the crumble by adding all of the ingredients to a large mixing bowl and combining it with a spoon or your hands. Bake a little over half of the crumble in the bottom of your pan for 10 minutes.
Add the fig jam, the remaining crumble, and sliced fresh figs to the top of the baked crumble. Bake again for another 25 minutes and allow the bars to cool before serving.
How to Make Quick Fig Jam
If you want to make your own fig jam, give yourself enough time so that it can cook and cool. It would be a good idea to make it ahead of time.
Add water and sugar to a saucepan and dissolve the sugar. Add sliced figs and lemon juice and bring the mixture to a boil. Turn down the heat to simmer and place a lid on the saucepan with a small opening for steam.
Every 20 minutes, stir the mixture and smash up the figs. After 1 hour, remove from the heat and allow the jam to cool completely before serving or storing. Check out my Easy Fig Jam Recipe for the full ingredients list and instructions.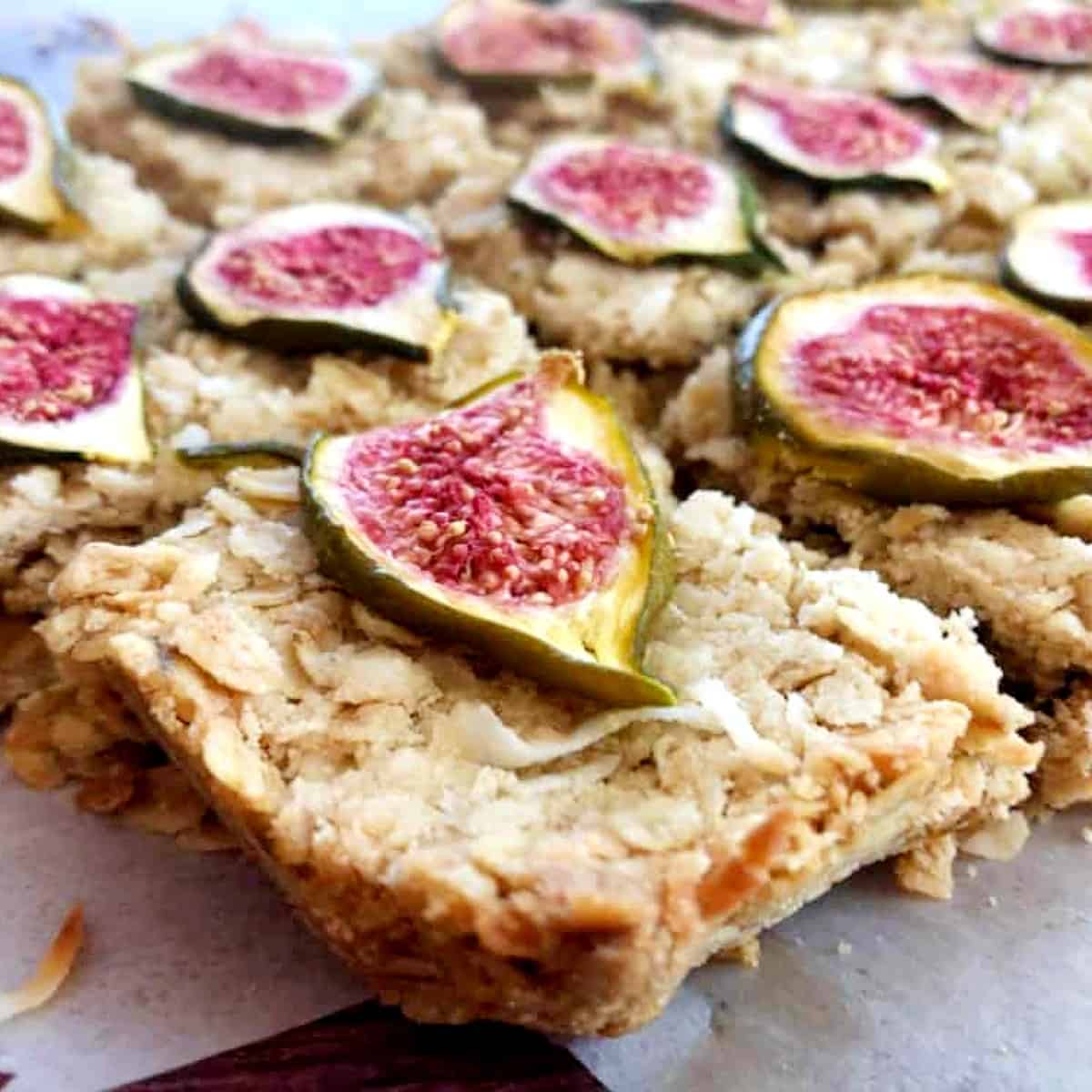 Different Variations for Crumble Bars
These crumble bars have limited ingredients and are very easy to make. This makes the recipe adaptable to your preference.
You can use melted unsalted butter instead of coconut oil.
Are you gluten-free? Substitute the all-purpose flour with coconut flour.
If you don't have figs or fig jam, you can use your favorite jam of choice!
No fresh figs, don't worry about adding them to the top, the bars are delicious either way.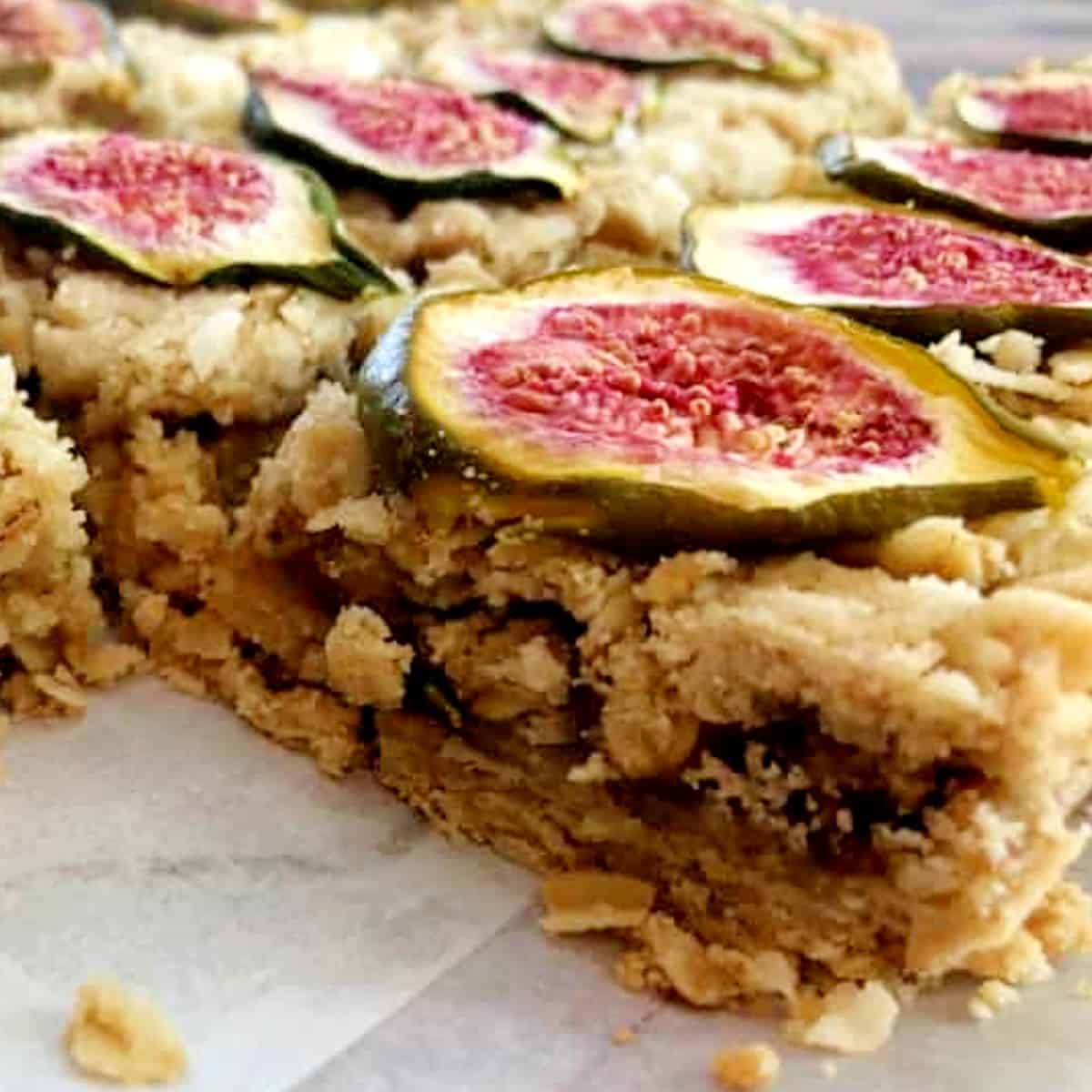 How long do Coconut Fig Bars last?
Coconut Fig Crumble Bars will last in a sealed container for about a week. You can leave them at room temp or in the fridge. Like a lot of the sweet things I make, these are really good with coffee in the morning!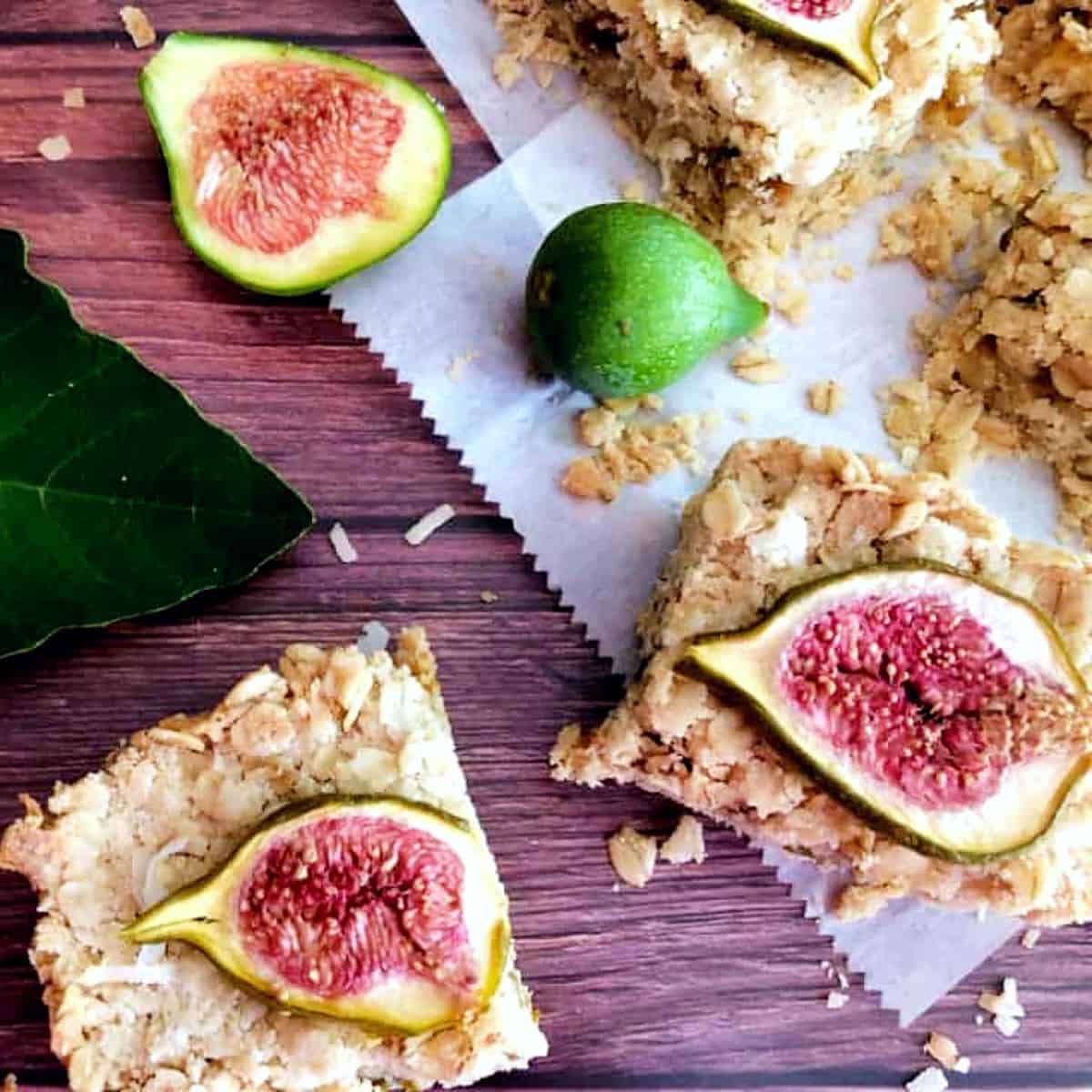 Coconut Fig Crumble Bars
Coconut Fig Crumble Bars are so easy and delicious! These bars have fig jam (fresh or store-bought), coconut flakes, and a crumbly oatmeal topping that melts in your mouth.
Print
Pin
Rate
Equipment
mixing bowl

baking pan 8x10 or 9x13
Ingredients
1½

cups

all-purpose flour

1½

cups

rolled oats

½

cup

sweetened coconut flakes

½

cup

brown sugar

1

teaspoon

baking powder

½

teaspoon

kosher salt

¾

cup

coconut oil

1

cup

fig jam

(make from recipe or use store-bought)

fresh figs, sliced for garnish on top

(optional)
Instructions
Make the fig jam first or even a day or two ahead of time. If you don't want to make your own fig jam, you can always use store-bought. The fig jam takes about an hour and a half to make and cool so plan ahead. Preheat the oven to 350°F and prepare a baking pan with parchment paper and non-stick spray. My pan is 8x10.

Add all ingredients except the fig jam and sliced figs into a mixing bowl and combine it into a crumble. I used a rubber spatula and then my hands to ensure everything was fully incorporated.

Take a little more than half of the crumble mixture and press it into the bottom of the prepared pan with your fingers. Bake in the oven for 10-12 minutes.

Remove the pan from the oven and spread fig jam all over the top. Be careful, the pan is still hot!

Take the remaining crumble and put it on top of the fig jam. Gently press down on the top to get it even and lightly packed. Place the thinly sliced figs on top and then place the pan back into the oven for 25 minutes.

Remove from the oven and allow to cool. Cut into squares and enjoy!
Notes
Recipe for Homemade Fig Jam or see below
You can substitute melted unsalted butter for coconut oil
You can substitute coconut flour for all-purpose flour and make these gluten-free!
Nutrition
Serving:
1
serving
|
Calories:
212
kcal
|
Carbohydrates:
22.6
g
|
Protein:
2.7
g
|
Fat:
12.8
g
|
Saturated Fat:
10.6
g
|
Sodium:
110
mg
|
Potassium:
83
mg
|
Fiber:
1.5
g
|
Sugar:
6.9
g
|
Calcium:
24
mg
|
Iron:
1
mg
Any nutrition calculations are only estimates using online calculators. Please verify using your own data.
Did you make these Coconut Fig Crumble Bars?
If you get a chance to make these easy bars, tag me on Instagram or Facebook and show me!
Thanks for checking out my recipe and make sure to sign up for my mailing list if you want more easy and delicious recipes in your inbox! You can also follow me on Pinterest so you never miss a new recipe!