Easy Turkey Leftover Recipes and Tips so you can use up all of that delicious turkey and not have any waste. How to plan ahead from what size turkey to buy, how to send leftovers home with your guests, and delicious recipes and ideas to use every bit of your turkey!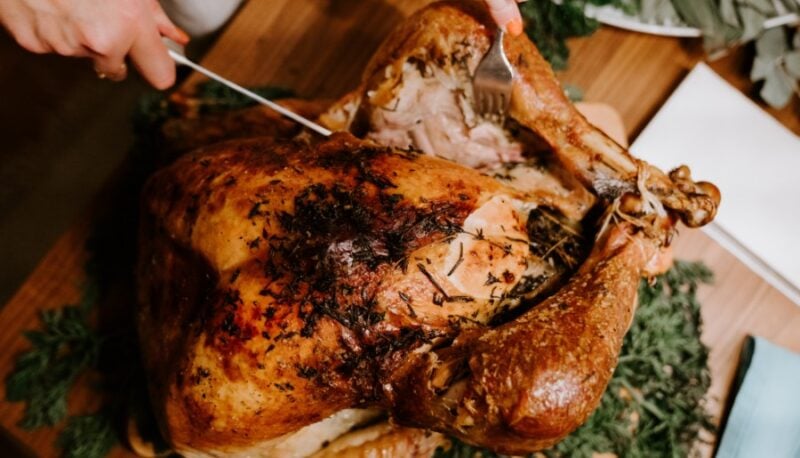 We finally did it. We ate ALL of our turkey leftovers!! Seriously...all of it. And no, we didn't just have turkey sandwiches for days. Turkey isn't my favorite protein (except the crispy skin right out of the oven...just sayin'). But, I play along and make a turkey every year for Thanksgiving. I have tried to up my turkey roasting game and finally came up with the perfect method. You can take a look at my Perfect Dry Brined Turkey Recipe and see how I did it. Because we had a delicious turkey, the leftovers were easy to use up. Below you will find tips and 3 Easy Turkey Leftover Recipes!
How to use all of your turkey leftovers
Have a Turkey plan.
That's right, start with a plan and your leftover journey will be so much easier...and tastier! Not only should you have a plan for the cooking, have a plan for how to send your guests home with their own leftovers, and have a plan for yourself on what you will do with your own leftovers. Are you going to refrigerate them or freeze them? What meals are you going to make with them? Thanksgiving is enough work as it is if you are hosting or cooking so you shouldn't have to worry about what to do with the leftovers. Having all of this thought out ahead of time will make your post-Thanksgiving life that much easier.
Make sure the turkey tastes great!
This may seem like a no brainer but we've all had turkey that just isn't very good. Maybe it's dry or doesn't have a lot of flavor. I finally put together a great recipe for a perfectly browned, seasoned, and moist turkey. The secret? A dry brine for the turkey. You can find the recipe for my Perfect Dry Brined Roasted Turkey here, this method is so much easier than a liquid brine in my opinion.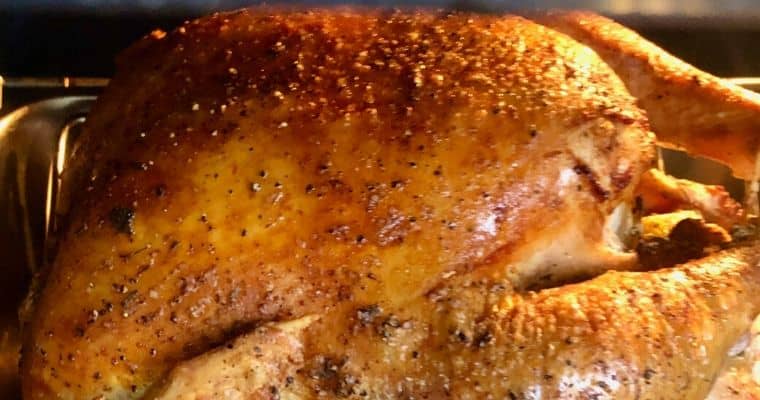 How much Turkey to plan for.
The general rule of thumb is about 1 lb per person for dinner. Since most people want leftovers as well, plan for 1.5 lbs per person. So, if you are serving 10 people on Thanksgiving, choose a turkey that is around 15 -20 lbs. Smaller turkeys that weigh less than 12 lbs have a smaller meat-to-bone ratio, so it's more like two pounds per person. It's always best to have more turkey than not enough in case unexpected guests show up or if someone is super hungry.
I searched for the smallest turkey I could find.
No, really. And guess what? It was kind of hard to find something under 12 pounds. We were only going to have 6 people and 1 child for Thanksgiving dinner so there was no need for a humongous bird. Over the years I have always bought a turkey that was way too big. It takes too long to roast and then you have so much turkey leftover it ends up going to waste. I was determined not to have this happen again, so the search for a "tiny" Turkey began. And let's be clear, a 10-12 pound turkey is still plenty big. We had a delicious Thanksgiving Dinner and enough leftovers to send home with our guests and for us to enjoy for the rest of the weekend!
We didn't have Thanksgiving dinner over and over again...or have sandwiches.
Listen, if you like turkey sandwiches then have at it. I don't care for them and it gets boring. We had one round of Thanksgiving dinner again, Turkey Tortilla soup with Homemade Turkey Broth, Turkey Enchiladas, and we were done with turkey! That's 3 more meals for a family of 3. It was just the right amount of turkey without going into turkey overload! LOL. We've all been there. It was also perfect timing since turkey leftovers only last in the fridge for 3-4 days.
Plan for your guests to take turkey leftovers home.
No one wants to bring home a paper plate wrapped in foil and hope it doesn't spill in their car, right? So plan ahead. The dollar store has great options for plastic containers. You can just have your guests keep them or recycle them. I treated myself to a whole new set of Tupperware this year and sent my guests home with the old mismatched stuff from my cupboard. My guests knew I did not want the containers back and they could keep them or recycle them.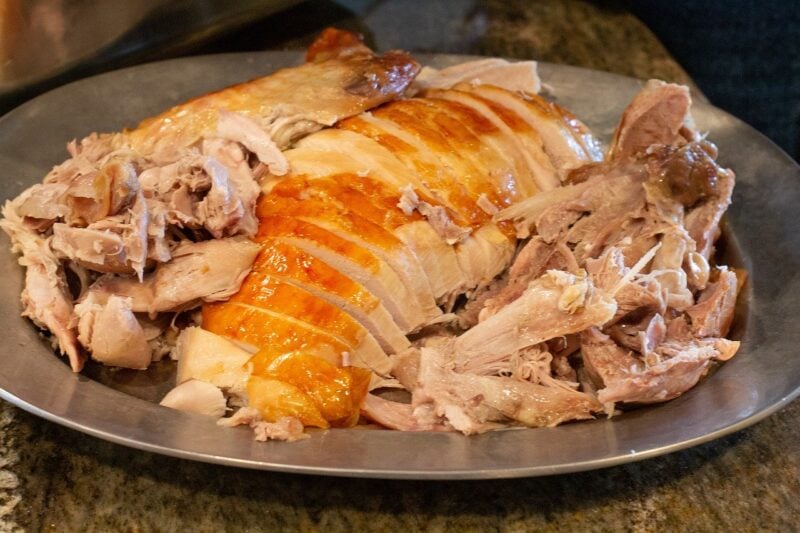 How long do turkey leftovers last?
As I mentioned, cooked turkey will stay good in the refrigerator for 3-4 days. If you choose to freeze it, it will last 2-3 months. If you are going to freeze the turkey, make sure you store it in the fridge until you are ready to prepare it for the freezer and try to freeze it the same day it is cooked. Keep in mind, you don't want cooked food to be out for longer than 2 hours without being heated. And when you are ready to put the leftovers away, it's better to cut it up and put it in airtight containers instead of just throwing the whole pan (of turkey in this case) in the fridge. It will take a lot longer for it to cool down in one big piece.
Recipe #1: Homemade Turkey Broth
Use every part of your Leftover Turkey, even the bones! Here is a recipe for Homemade Turkey Broth that will use your turkey carcass, a few veggies and herbs, and water. It's easy to put together and you will have delicious broth for soups, casseroles, and more. Oh, and you can freeze it too!
Homemade Turkey Broth
Make your own turkey broth with your leftover turkey carcass, veggies, and hebs!
Print
Pin
Rate
Equipment
large stockpot with lid

strainer or colander
Ingredients
1

cooked turkey carcass

water

(enough to cover carcass, this will depend on how big your bird was)

1-2

large

onions, quartered

2-3

stalks

celery, chopped

2-3

large

carrots, chopped

3-4

cloves

garlic, smashed

1

handful

fresh herbs: parsley is most common

(if you have leftover herbs from thanksgiving, theow them in!)

2

bay leaves

fresh ground pepper

(to taste)
Instructions
Place the turkey carcass at the bottom of your stockpot. You may need to cut it up a little depending on how big it was and how much you can fit into your pot. Add all of the other ingredients to the pot and then cover the carcass with cold water. Place the pot over medium-high heat and bring to a boil. Reduce the heat, cover with a lid, and allow to simmer for 2 hours. Check on it occasionally to give it a stir and skim off any foam on top.

Remove from the heat and allow to cool for a bit. Strain all of the solids using a large mesh strainer. Place the broth in a sealable container like a mason jar or a plastic container. You can keep the broth in the fridge for up to 3 days or freeze it for later for up to 2 months.
Notes
If you don't have all of the veggies or herbs, don't worry, you can still make this stock. I've made it without celery before and it turned out fine. If you don't love garlic, you can omit that. 
You probably will not have to add salt as most turkey carcasses are pretty salty from cooking. You can always add salt to whatever you are using your stock for later but you can't take it out!
Any nutrition calculations are only estimates using online calculators. Please verify using your own data.
Recipe #2: Easy Turkey Tortilla Soup
Whether you made the turkey broth or not, you can make this delicious Tortilla soup with turkey using your leftovers. I used a lot of canned veggies to make this even faster and easier to make. Just add everything to the pot, simmer and serve.
Easy Turkey Tortilla Soup
A quick and easy tortilla soup you can add leftover turkey (or other protein) to!
Print
Pin
Rate
Equipment
large saucepot or dutch oven
Ingredients
1

tablespoon

olive oil

(or vegetable oil)

1

medium

onion, diced

4-5

cloves

garlic, minced

2

cups

leftover turkey, cut into small pieces

3-4

cups

turkey broth

(you can also use chicken or vegetable)

1

can

black beans, rinsed

(you can also use pinto)

1

can

diced green chilies

1

can

diced tomatoes

1

can

tomato paste

1

teaspoon

chipotle powder

1

teaspoon

chili powder

1

teaspoon

cumin

salt and pepper to taste
Toppings
shredded cheese

avocado slices

tortilla strips or chips

sour cream

sliced black olives

sliced green onions
Instructions
Add the olive oil and onions to the saucepot over med-high heat and cook for 1-2 minutes. Add the minced garlic and continue cooking for another minute. Add the turkey pieces and stir everything together.

Add the broth, beans, chilies, tomatoes, tomato paste, chipotle, chile powder, and cumin and continue to stir everything together. Taste for salt and pepper and bring to a boil. Lower the heat to simmer and allow the flavor to cook together for another 15-20 minutes.

Remove from the heat and allow the soup to cool slightly before serving. Serve with the suggested garnishes or choose your favorite. Enjoy!
Any nutrition calculations are only estimates using online calculators. Please verify using your own data.
Recipe #3: Easy Turkey Enchiladas
Ok, so I was obviously feeling a Mexican theme the weekend after Thanksgiving and if you have read my blog, you know I love Mexican food. So the last recipe for turkey leftovers is Turkey Enchiladas! Another easy meal with limited ingredients that everyone will love.
Easy Leftover Turkey Enchiladas
Easy Turkey Enchiladas are the perfect meal for leftover turkey, or any meat of choice!
Print
Pin
Rate
Equipment
baking dish or cast iron pan
Ingredients
1½-2

cups

leftover turkey, cut into small pieces

1

large can

enchilada sauce

(red or green)

2

cups

shredded cheese

(cheddar or monterey or queso fresco)

8

corn tortillas
Toppings (optional)
sour cream

sliced black olives

sliced green onions
Instructions
Spray you baking dish with non-stick spray and preheat the oven to 350°F.

Take the leftover turkey and cut it into small pieces. Since you are using sauce and cheese, this is a good opportunity to use both white and dark meat. Add the turkey meat and about ⅓ of the can of enchilada sauce to a small saucepan and warm over medium heat.

Place the tortillas wrapped in a damp paper towel in the microwave for 30 seconds so they are warm for rolling. Keep wrapped in the paper towel until you are ready to assemble.

Take one tortilla and about 2 tablespoon of turkey and add it to the middle of the tortillas, roll the tortilla up and place in your prepared dish. After all of the tortillas have been rolled and placed in the pan, pour the remaining enchilada sauce over the top of all of the enchiladas, Sprinkle the top with a generous amount of cheese and place in the oven for 20 minutes until the cheese has melted and the sauce is bubbly. REmove from the oven and garnish as desired. Enjoy!
Any nutrition calculations are only estimates using online calculators. Please verify using your own data.
Other Turkey Leftover Ideas:
Turkey Tacos or Burritos
Turkey Noodle Soup
Cold Turkey Salad
Turkey Pot Pie
Nachos
Turkey Chili
Turkey Bacon Avocado Grilled Sandwich (ok, this one is a sandwich but doesn't it sound delicious???)
More Easy Recipes that you can substitute with Turkey Leftovers!
Did you make any of these Easy Turkey Leftover Recipes?
If you get a chance to make any of these Leftover Turkey Recipes, tag me on Instagram or Facebook! I love to see what you are up to in your kitchen. You can also follow me on Pinterest or sign up for me email list and never miss a recipe!
Do you have a favorite leftover recipe? I'd love to hear about, send me a note at [email protected]!