Gluten-Free Chicken Broccoli Quinoa Bake
This Gluten-Free Chicken Broccoli Quinoa Bake is protein-packed, delicious and has tons of cheese and bacon! Bake everything in your cast iron skillet and you'll have dinner ready in no time!!
It took me a while to come up with a name for this recipe. There are so many goodies and I wanted to describe them all. I almost ended up with Gluten-Free Cheesy Chicken Bacon Broccoli Quinoa Skillet Bake. That was just a little long…ok maybe a lot long. So instead, I landed on Gluten-Free Chicken Broccoli Quinoa Bake. It's still long, but I think it works.
I'm becoming a fan of one-pan meals mostly because they are usually quick and easy. There are also fewer dishes to clean and I'm all for that! Chicken, Broccoli and Cheese are staples in my house. We always have them on hand so I was looking for something new to make. This is what led me to the Gluten-Free Chicken Broccoli Quinoa Bake.
Quinoa made its appearance quite a few years ago, as I'm sure you all remember. I was pretty happy to be able to finally be able to pronounce it just like everyone else! Then, the kale or avocado toast craze took over and quinoa was on the back burner. Anyway, I still love quinoa and have started using it again in my meals. It has protein, fiber and iron to name a few of its benefits and its kind of like rice. It absorbs flavor and is pretty versatile.
I first saw a similar recipe on Tablespoon. I wanted to use fresh onion and immediately knew that bacon was going to be part of this dish! It was definitely the right call. As I mentioned above, this skillet dish basically tastes like a baked potato without the potato. Yum!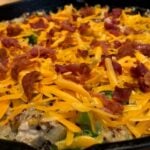 Print
Gluten-Free Chicken Broccoli Quinoa Bake
This skillet meal is easy to make and packed with flavor!
Ingredients
4-5

strips

bacon, cooked and chopped

3

tbsp

butter

2

large

chicken breasts, diced

(or you can use leftover chicken!)

2

cups

broccoli florets

2

tbsp

vegetable or olive oil

1/2

small

onion, diced

2-3

cloves

garlic, minced

(or 2 tsp garlic powder)

1

can

cream of chicken soup

(10.75 oz.)

3

cups

cooked quinoa

(cook according to instructions on box)

2

cups

cheddar cheese

salt and pepper for seasoning
Instructions
Preheat oven to 350°. Cook your bacon however you would like (I put mine in the microwave for about 3 minutes). Set aside the bacon to cool and crisp up. The quinoa also needs to be cooked before adding it to the skillet, so prepare as instructed on the box (I used the microwave for this too).

In your skillet on med-high heat, add the butter and chicken pieces and cook the chicken completely. Remove the chicken from the skillet and set aside (if you are using leftover chicken or pre-cooked chicken, you can skip this step).

In the same skillet, add the oil, broccoli, diced onion and garlic to the pan and cook for about 2 minutes (if you are using garlic powder, wait to add until you add the soup). Turn down the heat to medium and then add the soup, quinoa, 1 cup of cheese and the cooked chicken to the skillet. Stir to combine all of the ingredients and add salt and pepper to taste.

Once everything is combined, turn off the heat and sprinkle the top with the rest of the cheese and the chopped bacon. Place the skillet into the oven for about 25 minutes until everything is nice and hot and the cheese is melted. Remove from the oven and allow to cool on the plates you are serving it on for a few minutes before enjoying (trust me, it's VERY hot).
This is a great recipe for a weeknight and is definitely kid friendly. It's also a great way to use up veggies and leftover chicken. You could absolutely make this vegetarian and eliminate the chicken and bacon and maybe add more fresh veggies or tofu. If you don't have or like quinoa, you could always use brown rice.
Here are some more of my Easy Dinner Recipes to check out:
If you want more Fun and Delicious Recipes and in your inbox, sign up for my mailing list! You can also follow me on Instagram @emilyfabulous_blog or Facebook. Thanks for visiting my site!
---
---