Air Fryer Chicken Nuggets
Air Fryer Chicken Nuggets are so easy to make, not to mention healthy, and everyone will love them. A quick and easy recipe that cooks in 8 minutes in your air fryer! This will easily become a dinner favorite and it's kid-friendly!
This blog post may contain affiliate links. This means that if you make a purchase by using one of the affiliate links provided in this article, then I might get a small commission at no extra expense to you. I only promote products I use and love.
Everyone loves Chicken Nuggets, right? Now you can make Air Fryer Chicken Nuggets any day of the week! This recipe is super easy and you don't need a ton of ingredients.
Reasons Why Air Fryer Chicken Nuggets Are The Best:
First, they taste delicious!
Air fried nuggets are healthier than oil fried nuggets
Kid-friendly (or they bring out the kid in us?)
You can dip them in whatever you want
It only takes 8 minutes to cook them
They freeze really well
Make a great dinner, snack or appetizer
They are inexpensive to make
No additives like the frozen bags at the grocery store
There are many other reasons but you get the point. We always have frozen chicken breast in our freezer and this is an easy go-to recipe when you don't know what to make. As I mentioned, these nuggets freeze really well in a sealed bag or container so you can make a large batch and have dinner in the freezer for a night when you have no time.
My Favorite Air Fryer
There are so many different types of air fryers out there now, and each one is slightly different. There are countertop air fryers, air fryer ovens, and air fryer attachments to name a few. They even make full size ovens that act as air fryers now!! I was lucky enough to be gifted the Mealthy CrispLid attachment for my Instant Pot and I love it! In fact, I love it so much, I've gifted it to others. It fits right on top of my Instant Pot and has a glass lid so I can see what's happening to my food while air frying. It is a little smaller than some other air fryers out there, but it's the perfect size for anything I have air fried so far.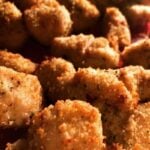 Print
Air Fryer Chicken Nuggets
A fast and healthy meal that everyone in the family will love!
Ingredients
16-20

oz

chicken breasts, cut into nugget size

salt and pepper to season chicken

1

tbsp

olive oil

⅓

cup

italian bread crumbs

(or regular. breadcrumbs)

¼

cup

panko breadcrumbs

2

tbsp

parmesean cheese, finely grated

oil spray for air frying
Instructions
Dry chicken with a paper towel and season with salt and pepper.

Place the breadcrumbs, panko and cheese in a bowl and stir to combine. Place olive oil in another bowl.

Coat each chicken pieces with oilive oil first and then roll in breadcrumb mixture.

Preheat air fryer for 5 minutes at 400°. Spray basket with non-stick spray and place chicken pieces in the air fryer basket. Spray the chicken pieces with oil as well and cook for 4 minutes. Flip the chicken, spray again and cook for 4 more minutes on the other side.
Notes
Always read the instruction manual that came with your Air Fryer and follow all safety guidelines. 
More easy and delicious dinner ideas:
Thanks for visiting my site and checking out my Air Fryer Chicken Nuggets Recipe! If you want more recipes, sign up for my email list and I will send them right to your inbox. You can also follow me on Instagram and Facebook!
---
---