Lilac Gin Cocktail
A decadent Lilac Gin Cocktail to add to your springtime bar recipes. Fresh lilac syrup and fresh lilac flowers add a beautiful aroma and taste that is unique and delicious.
Lilac bushes are so beautiful and pretty easy to care for. The bush outside our house was here when we moved in and I'm pretty sure it's at least 30+ years old. Probably more honestly, apparently they live for up to 200 years!! One of the many things I love about lilac bushes is that they give you so many flowers! Not only do they smell amazing, but they taste pretty good too!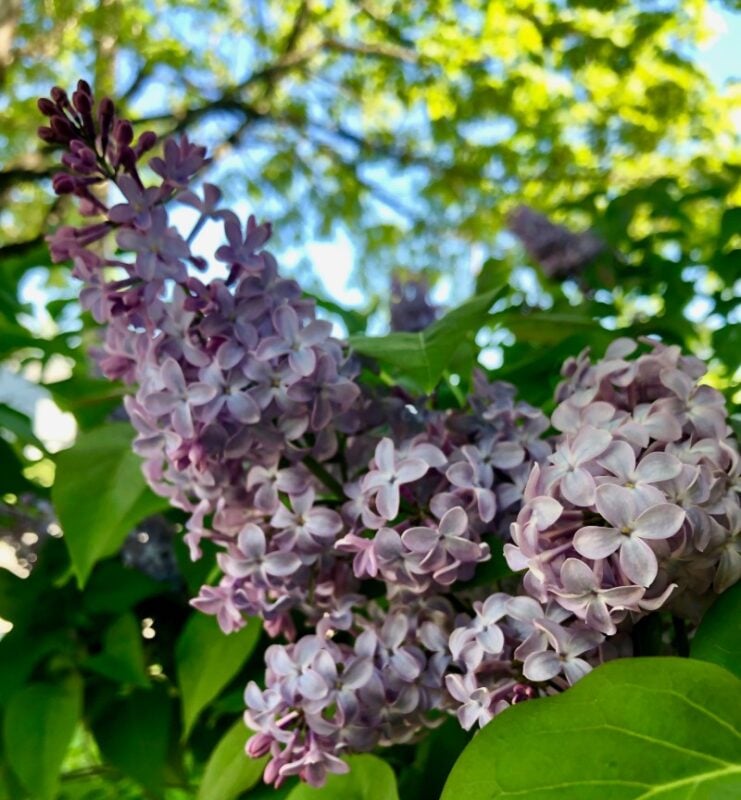 I'm pretty proud of this Lilac Gin Cocktail recipe because I created it myself and I couldn't wait to share it! Springtime is the best time of year with all of the fresh flowers blooming everywhere and green popping up to make things beautiful again. When I discovered you could eat lilacs I was all in and of course, I had to make a cocktail!
Are lilac flowers edible?
Yes! They are edible and delicious! You need fresh, clean lilac flowers (no chemicals used) to make these recipes. You also want to pull the flowers off gently and ensure there is no stem left (the green parts). The stem will make the flavor bitter and no nearly as good as it should be.
How do you get the Lilac flavor in the Cocktail?
This Lilac Cocktail, that is appropriately named the Lilac Beauty Cocktail, is made with gin, but you could also use vodka. To get the lilac flavor, you will make a quick lilac syrup. The fresh lilac flower garnish also enhances the lilac flavor by adding extra lilac aroma. The gin and lemon juice balance all of the lilac flavor for a perfect mix!
What else can I do with Lilac Syrup?
Make Cupcakes! Check out my recipe HERE
Add to your morning coffee or latte
Add to lemonade or iced tea
Use on top of pancakes or waffles
How do you make the foam on a Lilac Cocktail?
Add an egg white to get the beautiful, creamy foam on top. It adds an extra level to this cocktail that enhances the aroma and texture. In order to achieve the perfect foam, dry shake (no ice) all of the ingredients in your cocktail shaker first. Then you will add the ice and shake again. Lastly, you need a fine mesh strainer to finish it off. You can leave out the egg white and still have a delicious cocktail. Please see the notes on egg whites in the recipe.
What tools do I need to make a cocktail?
Being a home bartender can be so much fun…if you have the right tools. You don't have to break the bank and you don't have to own EVERY tools you've ever seen at a bar. BUT, if you want good cocktails, you need the right tools. Check out my post HERE on the best essential tools for home bartenders.
Print
Lilac Beauty Cocktail
Gin, lemon, Fresh lilac syrup and fresh lilac flowers add a beautiful aroma and taste that is unique and delicious.
Ingredients
Lilac Cocktail
2

oz

gin

1

oz

fresh lemon juice

1

oz

lilac syrup

1

large

egg white

fresh lilac flowers for garnish and aroma
Lilac Syrup
1

cup

water

1

cup

sugar

1

cup

fresh lilac flowers

(washed and separated from stems)

1-2

drops

purple food coloring (or red and blue)
Instructions
Lilac Cocktail
Dry shake (no ice) egg white, gin, lemon juice and lilac syrup in a cocktail shaker for 20 seconds.

Add ice to the shaker and shake again for another 20 seconds.

Strain through a fine-mesh strainer into a cocktail glass. Add fresh lilac flowers for garnish, the aroma will also enhance this drink.
Lilac Syrup
1. Place all ingredients except food coloring in a small saucepan on the stove. On medium-high heat, bring to a boil while stirring constantly.

Remove from heat and let the mixture steep as it cools completely (at least 2-3 hours). Strain liquid into a container with a lid. Add food coloring if desired. The syrup will last in the fridge in a sealed container for 2-3 weeks.
Notes
*The US Department of Agriculture (USDA) considers it safe to use raw eggs if they are pasteurized. Bottom Line: Raw eggs may contain a type of pathogenic bacteria called Salmonella, which can cause food poisoning. However, the risk of an egg being contaminated is quite low. Please proceed at your own risk and decide if you are ok with this. I have never had an issue.
Adventures of a Cocktail & a Cupcake
This cocktail is part of my Adventures of a Cocktail and a Cupcake series, here are some more cocktail and cocktails and cupcakes recipes to check out below.
If you want to know how I made Lilac Cupcake and Candied Lilac Flowers, check out the full post HERE.
I hope you get a chance to make this beautiful cocktail and if you do, tag me on Instagram @emilyfabulous_blog or Facebook and show me! And if you love cocktails and fun recipes, sign up for my email list and you will receive more fun and inventive recipes in your inbox!! Cheers?!
---
---