You can make Easy Instant Pot Pumpkin Puree in 30 minutes and have fresh and healthy pumpkin puree for a variety of dishes. I've included some recipe ideas below!
Making Easy Instant Pot Pumpkin Puree is a total game-changer for fall cooking! Now you can make things like my Pumpkin Bread with Cream Cheese Icing or Homemade Pumpkin Pie Liqueur using fresh pumpkin puree. If you love all things pumpkin like me, you are going to want to make this recipe ASAP!
What is Pumpkin Puree?
Pumpkin puree, not to be mistaken with pumpkin pie filling, is made from cooked pumpkin that has been mashed or blended and often found in a can. Sometimes, the pumpkin puree you find in a can is made from a variety of squash, not just pumpkin so check the label. You can substitute homemade pumpkin puree for canned pumpkin in recipes, using the same volume.
How to Make Pumpkin Puree in the Instant Pot
Wash your pumpkin and remove the stem. Place 1 cup of water in the Instant Pot and then place your pumpkin on a metal trivet at the bottom. I had to flip my trivet over so my pumpkin could fit in my 6 quart Instant Pot. You don't want the pumpkin directly on the metal bottom.
Cook the pumpkin on Pressure Cook HIGH for 12 minutes and then naturally release the steam for 12 minutes. Carefully release any more steam manually and allow the pumpkin to cool for a few minutes.
Remove the pumpkin from the Instant Pot and cut off the skin. It comes off easily now that it has been cooked.
Cut the pumpkin in half and remove the seeds and stringy pulp. Cut into pieces and blend into a smooth puree. Store in a sealed container in the fridge for up to 7 days or freeze for up to 6 months.
What is the difference between pumpkin puree, canned pumpkin, and pumpkin pie filling?
Canned pumpkin and pumpkin puree are cooked pureed pumpkin, and nothing more. The only ingredient is pumpkin. However, as I mentioned, some brands use a variety of squash so check the label. Pumpkin pie filling has added sweeteners and spices like clove, allspice, ginger, and cinnamon. It's an easy way to make pumpkin pie. If you make your own pumpkin puree, you can easily add your own spices and sugar to make pumpkin pie as well.
What kind of pumpkin should I use for Homemade Pumpkin Puree?
For the best flavor, you want to find a pie or sugar pumpkin (they are the same thing) at your local grocery store. You can also grow them in your garden! The pulp of a sugar pumpkin is less grainy and sweeter than a carving pumpkin. Pumpkins you see for sale during Halloween (carving pumpkins) and decoration are not really meant for cooking and will not taste nearly as good. They have less flesh, which makes them easier to carve, but not so great for eating.
Is Pumpkin Puree Healthy?
Pumpkin is a great source of potassium, beta-carotene, calcium, and magnesium, as well as vitamins E, C, and some B vitamins. Magnesium is important for energy creation, muscle relaxation, and nervous system regulation, so eating pumpkin after working out can help with recovery. Pumpkins also have potassium, which is necessary for muscle contraction, good digestion, water balance, and healthy blood pressure. Of course, always consult your doctor when making health choices.
What if my pumpkin is too big to fit in the Instant Pot whole?
If your pumpkin doesn't fit, you can cut it into pieces and then cook it as instructed in the Instant Pot. Below you can see I tried this method and actually got 2 pumpkins in the pot! You will want to remove the stringy pulp and seeds BEFORE cooking. After cooking, allow the pieces to cool and then remove the skin, blend, and store.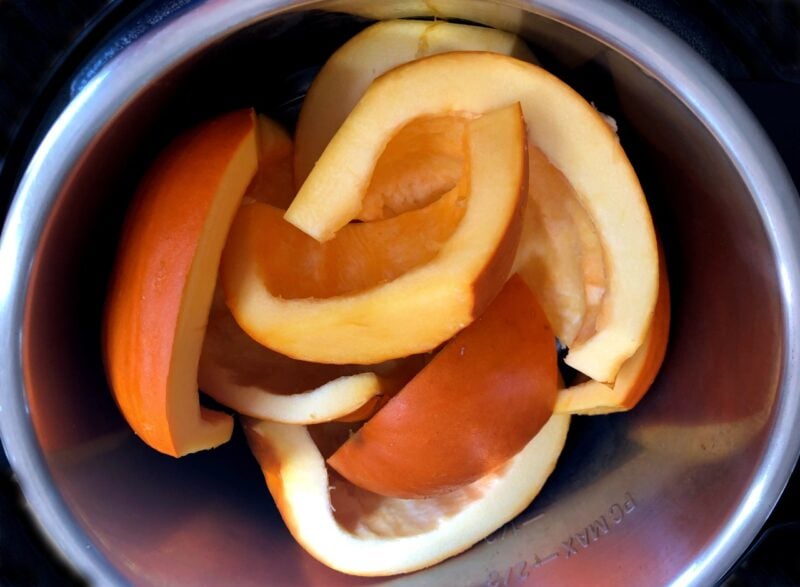 What if I don't have an Instant Pot?
If you don't have an Instant Pot or electric pressure cooker, you can still cook your pumpkin in the oven and then puree it. Preheat your oven to 400º. Wash the pumpkin and remove the stem. Cut it in half and remove the seeds and stringy insides. Place each half on a baking sheet and bake for 30-45 minutes. Remove from the oven and allow the pumpkin to cool before removing the skin. Puree as instructed above.
Don't throw out the pumpkin seeds!
Save the seeds for roasting! They make the perfect snack, or soup and salad topping. Rinse the seeds and remove all of the pulp. Dry the seeds as much as you can. Toss in olive oil and seasoning, bake at 300º for 20-30 minutes and they are done. Roasted pumpkin seeds are so easy and so delicious!
What to make with Pumpkin Puree?
Here are some of my favorite recipes that use pumpkin puree including savory ideas, healthy ideas, and, of course, dessert ideas!
Savory Pumpkin Puree Recipes
Vegan Thai Pumpkin Curry- The Recipe Well
This vegan Thai Pumpkin Curry is a delicious meal that comes together quickly on busy weeknights!
Get the Recipe!
Homemade Pumpkin Pasta- Marathons and Motivation
With just 4 ingredients, flour, pumpkin purée, salt and olive oil, this Homemade Pumpkin Pasta is so easy to make!
Get the Recipe!
Healthy Pumpkin Puree Recipes
Healthy Pumpkin Soup- Food Meanderings
This Healthy Pumpkin Soup with bacon and mushrooms is made with no cream, tastes gourmet and is Weight Watchers friendly.
Get the Recipe!
Turkey Pumpkin Chili- Everyday Delicious
This turkey pumpkin chili is packed with fall flavors – pumpkin puree and aromatic spices, and it's lightened up by using ground turkey instead of beef.
Get the Recipe!
Pumpkin Puree Dessert Recipes
Instant Pot Caramel Pumpkin Cheesecake- Encouraging Moms At Home
Use your Instant Pot to make a beautiful Thanksgiving dessert - this Caramel Pumpkin Cheesecake.
Get the Recipe!
Pumpkin Bundt Cake w/ Coffee Glaze- Always Delicious
Pumpkin Bundt Cake with pumpkin pie spice and coffee glaze wraps all your favorite espresso drink flavors into a deliciously moist, sweet Bundt cake.
Get the Recipe!
Other Instant Pot Recipes to Check Out:
Instant Pot Pumpkin Puree
Make your own pumpkin puree in the instant pot and you will never buy store-bought again!
Print
Pin
Rate
Equipment
metal trivet

blender, food processor or hand blender
Ingredients
1

2 pounds

sugar pumpkin

1

cup

water
Instructions
Clean the outside of the pumpkin and remove the stem. Add the metal trivet to the bottom of the instant pot, place the pumpkin on top, and then pour in 1 cup of water.

Close the lid and the steam vent and cook on Pressure Cook HIGH for 12 minutes. After the pressure cooking process has finished, allow the steam to naturally release for 12 minutes and then carefully release the rest manually.

Allow the pumpkin to cool enough to handle. Remove it from the Instant Pot and place it on a cutting board. Remove all of the skin with a knife. The skin will fall off with a little prompting from a knife (I used a butter knife and a regular knife and they both worked).

Cut the pumpkin in half and remove the seeds and stringy pulp with a spoon (save the seeds for roasted pumpkin seeds if desired). Cut the pumpkin into smaller pieces.

Place the pumpkin pieces in a blender or food processor (you can also use a hand blender in the instant Pot insert if you own one). Blend the cooked pumpkin pieces until nice and smooth.

Pour the pumpkin puree into a sealable container like a mason jar or plastic tub. The pumpkin puree will last in the fridge for up to 7 days or in the freezer for 6 months.
Notes
My 2 lb. pumpkin barely fit in my 6 qt. Instant Pot so I turned the metal trivet upside down. This ensured the pumpkin wasn't resting on the bottom directly and fit perfectly. 
If your pumpkin is too big or you have more than one, you can cut it into pieces before cooking. I have also done it this way and it worked out great!
Always read the instruction manual that came with your Instant Pot or electric pressure cooker and follow all safety guidelines. 
Nutrition
Serving:
1
cup
|
Calories:
106
kcal
|
Carbohydrates:
26.5
g
|
Protein:
4.1
g
|
Fat:
0.4
g
|
Saturated Fat:
0.2
g
|
Sodium:
4
mg
|
Potassium:
1388
mg
|
Fiber:
2
g
|
Sugar:
5.6
g
|
Calcium:
86
mg
|
Iron:
3
mg
Any nutrition calculations are only estimates using online calculators. Please verify using your own data.
Did you Make Some Instant Pot Pumpkin Puree?
If you get a chance to make this Instant Pot Pumpkin Puree, tag me on Instagram or Facebook and tell me all about it! Not only would I love to see your puree, but I'd also love to hear what you did with it.
I will be making a few cocktails with mine, some pumpkin spice syrup for coffee, and a pumpkin cake for a birthday in my family!