A Pumpkin Spice Martini mixed with homemade pumpkin pie liqueur, vodka, and whipped cream to create a cocktail that is creamy and full of your favorite fall spices. Add some pumpkin pie graham crackers to the rim and freshly grated nutmeg on top and you have a Fall Cocktail everyone will enjoy.
This Pumpkin Pie Martini is the perfect dessert cocktail for Thanksgiving, Christmas, or any celebration. You probably already have vodka and whipped cream around for the holidays so all you need is some Pumpkin Pie Liqueur and you are in business.
The liqueur takes 3 days to allow to sit, so plan ahead. Make it on Monday and you are ready to go by Thursday for Thanksgiving!
Jump to:
Why I Love This Recipe
I absolutely love this Pumpkin Spice Martini cocktail recipe because it perfectly captures the essence of fall with its warm and cozy flavors. The combination of smooth vodka, rich pumpkin puree, aromatic spices, and a touch of sweetness creates a delightful and indulgent drink that brings a festive vibe to any gathering.
Ingredients Needed for a Pumpkin Spice Martini
Vodka: You can use any vodka you like for this recipe. I would recommend a more neutral and smooth vodka to balance out the sweetness of the other ingredients.
Pumpkin Pie Liqueur: Pumpkin pie liqueur brings the unmistakable taste of pumpkin pie to the martini. It's a creamy and spiced liqueur that adds richness and depth to the drink and it's easy to make your own!
Whipped Cream: Whipped cream is used to thicken the martini and add additional creaminess and sweetness to the drink, just like pumpkin pie!
Freshly Grated Nutmeg: Freshly grated nutmeg is used as a garnish for the martini. Its warm and aromatic flavor complements the pumpkin and spices in the drink, adding a delightful touch to the presentation. I would not recommend using regular ground nutmeg as the texture and aroma are not the same.
Graham Crackers and Pumpkin Pie Spice for the Rim: The rim of the martini glass is coated with a mixture of crushed graham crackers and pumpkin pie spice. This adds a crunchy texture and additional layers of flavor, reminiscent of the crust of a pumpkin pie.
More Cocktail Recipes to Try
How to Make a Pumpkin Spice Martini
Prepare the pumpkin pie liqueur in advance. Take a plastic bag and place a few graham crackers inside. Crush them into small pieces using a mallet or rolling pin.
For noise reduction and to prevent any holes in the bag, place a towel underneath. Add pumpkin pie spice to the crushed graham crackers and mix well.
Pour the graham cracker mixture onto a plate or into a glass rimmer. Take a martini glass, dip its rim into water on a plate or in a bowl, shake off excess water, and coat the rim with the graham cracker mixture.
In a cocktail shaker filled with ice, combine the vodka, pumpkin pie liqueur, and whipped cream. Shake vigorously for 10-15 seconds until the mixture is well chilled.
Strain the cocktail into the prepared glass with the graham cracker-rimmed edge. Garnish with freshly grated nutmeg and serve immediately.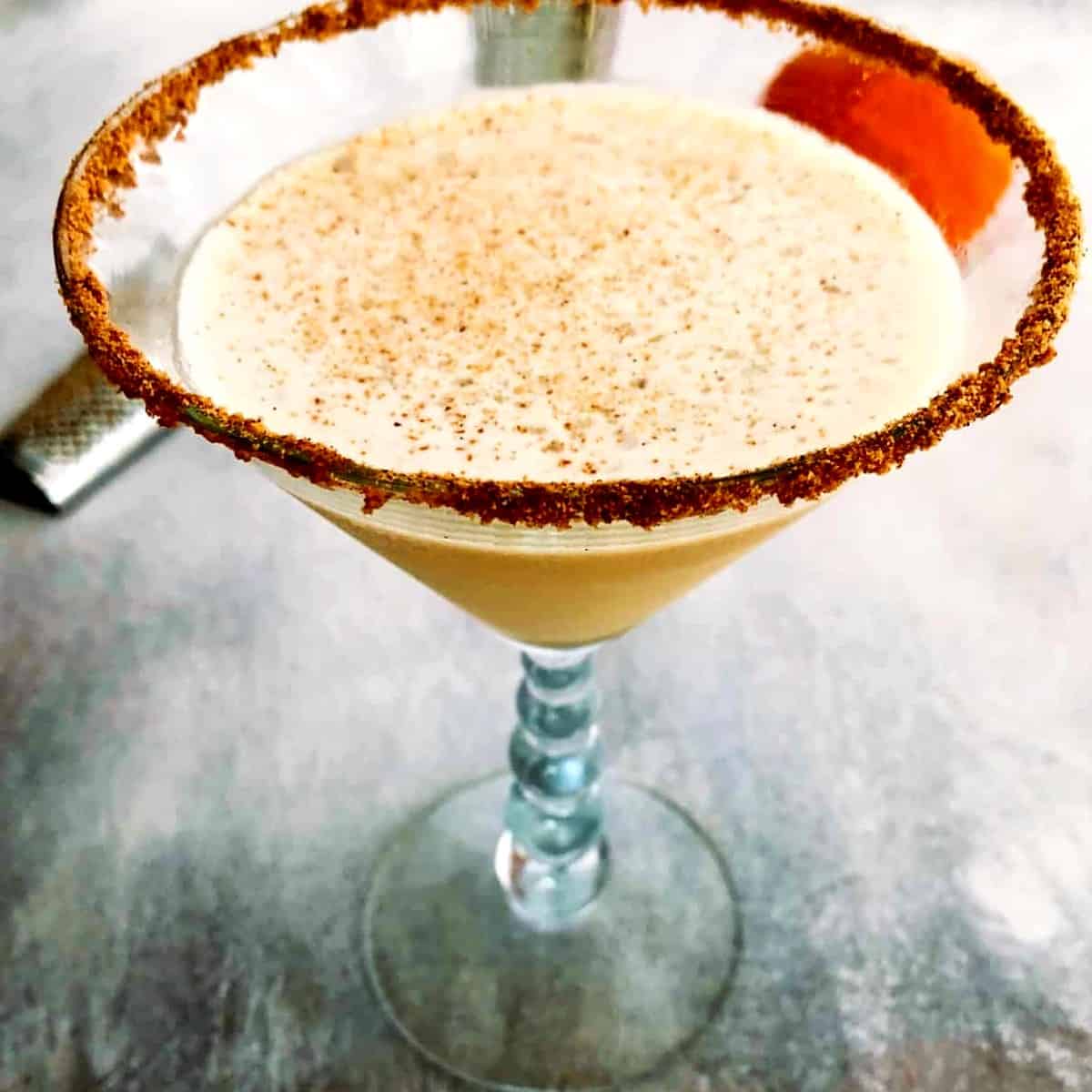 How to Make Pumpkin Pie Liqueur
You can check out the full post for Pumpkin Pie Liqueur to make a homemade treat that is perfect in this cocktail, added to coffee, or your favorite desserts.
Place the water, sugar, and brown sugar in a saucepan over med-high heat and bring to a boil while whisking.
Add the remaining ingredients, except the rum, and turn down the heat. Simmer, whisking occasionally, for 30 minutes.
Remove the mixture from the heat, stir in the rum, and allow the mixture to cool for about an hour.
Pour the liqueur into a sealable bottle or jar. Store the Pumpkin Pie liqueur in a cool location for 2-3 days to allow the flavors to all blend.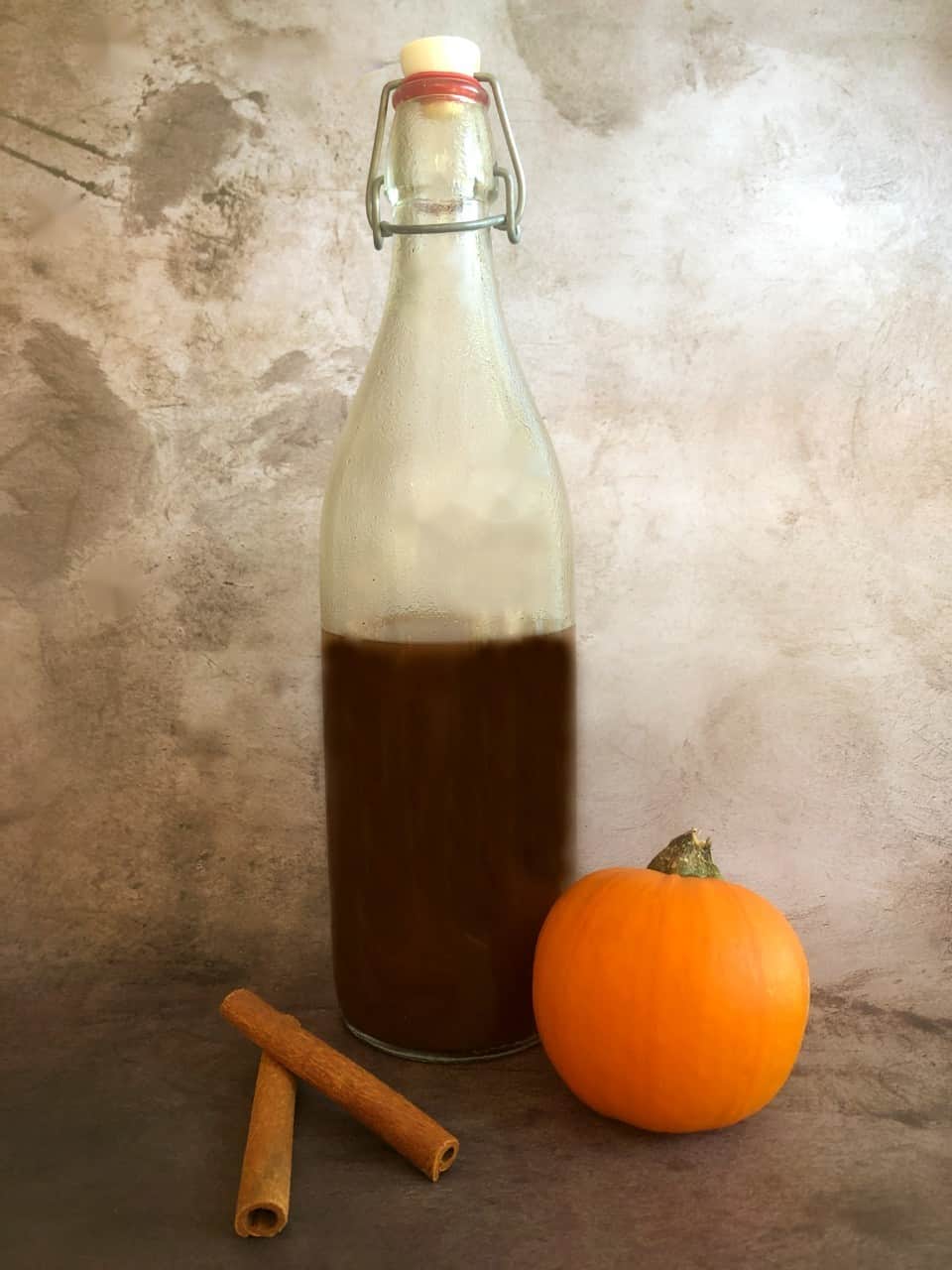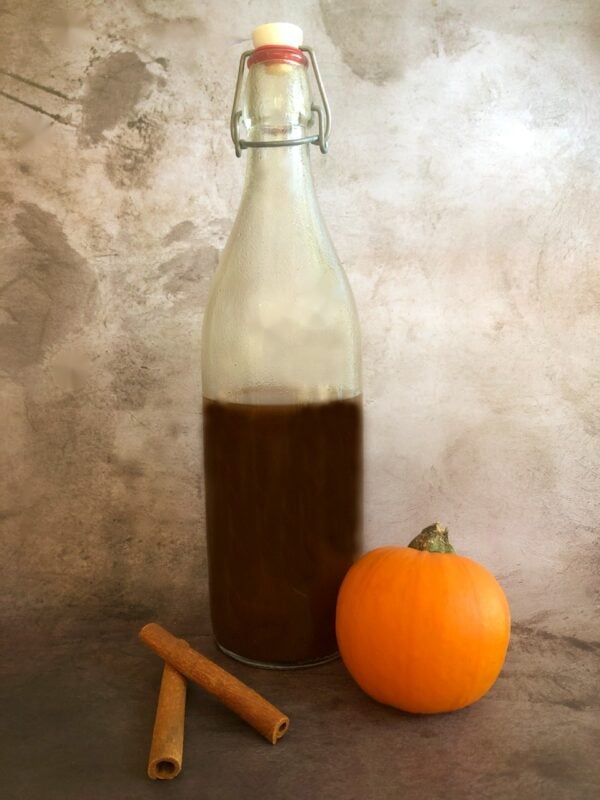 Recipe FAQs
What Vodka to Use for This Pumpkin Spice Cocktail?
Vodka is the perfect alcohol for this pumpkin spice cocktail because it mixes well with almost anything and will blend in perfectly with the flavors. I've been using Tito's vodka for my cocktails lately because I think it has the perfect flavor.
That being said, you can use your favorite vodka for this cocktail. Remember, price is a factor, but you don't have to use the most expensive vodka for a mixed drink.
Can I substitute pumpkin puree for the pumpkin spice liqueur?
It's recommended to use pumpkin spice liqueur for the authentic pumpkin spice flavor in the martini. Pumpkin puree may result in a different texture and consistency, and the flavor will not be the same.
Can I make the martini without whipped cream?
Yes, if you prefer a lighter version of the martini, you can substitute the whipped cream with milk or a non-dairy alternative like almond milk or coconut milk. The texture and richness may vary slightly, but it will still be enjoyable.
Can I make a non-alcoholic version of the Pumpkin Spice Martini?
Absolutely! For a non-alcoholic version, you can omit the vodka and replace the liqueur with pumpkin spice syrup or a combination of pumpkin puree and pumpkin pie spice. Adjust the sweetness and spices to your taste, and mix with the cream or non-dairy alternative for a delicious alcohol-free option.
My Favorite Little Kitchen Tool for Freshly Ground Nutmeg
This little gadget is a nutmeg grater. It's small, cute, and works perfectly for grating nutmeg, cinnamon sticks, and any other small nut. There is even a cute little storage bin on top for your nutmeg seed.
If you get a chance to make this Pumpkin Spice Martini, tag me on Instagram or Facebook and show me, or leave a review below! You can also follow me on Pinterest and sign up for my e-mail list to receive more fun and delicious recipes right in your inbox.
Pumpkin Spice Martini
A creamy and delicious Pumpkin Spice Martini perfect for Thanksgiving or any Fall celebration.
Print
Pin
Rate
Equipment
cocktail jigger

glass rimmer or small round plate
Ingredients
2

ounces

vodka

1

ounces

pumpkin pie liqueur

(recipe below)

2

tablespoon

whipped cream

graham crackers for rim

pumpkin pie spice for rim

freshly grated nutmeg for garnish
Instructions
Pumpkin Pie Liqueur
Make the pumpkin pie liqueur ahead of time. It needs 3 days to sit for all of the ingredients to fully combine with the alcohol.
Pumpkin Spice Rim Garnish and Glass Prep
Place a few graham crackers in a plastic bag and crush into small pieces using something heavy like a mallet or rolling pin. TIP: Place a towel under the plastic bag to prevent it from getting a hole and to reduce the banging noise. Add the pumpkin pie spice and mix it into the graham crackers.

Place the graham crackers in a glass rimmer or on a small plate. Take the martini glass and dip into water on a plate or in a bowl, shake off excess, and coat the rim of the glass in the graham crackers.
Pumpkin Spice Martini
Place the vodka, liqueur, and whipped cream in a cocktail shaker with ice. Shake for 20-30 seconds until nice and cold.

Strain into the prepared glass. Garnish with freshly grated nutmeg and serve immediately.
Nutrition
Serving:
1
serving
|
Calories:
311
kcal
|
Carbohydrates:
14.2
g
|
Protein:
0.7
g
|
Fat:
9.4
g
|
Saturated Fat:
5.8
g
|
Cholesterol:
33
mg
|
Sodium:
13
mg
|
Potassium:
38
mg
|
Sugar:
31.2
g
|
Calcium:
21
mg
Any nutrition calculations are only estimates using online calculators. Please verify using your own data.