These Crispy Baked Asian Chicken Wings are sweet, salty, sticky, and so easy to make. The chicken wings are baked, not fried, so they are healthier and there is less mess! Make these Crispy Baked Asian Chicken Wings for your next party or get-together or just a fun weeknight meal!
I love fried foods, don't get me wrong. But I don't love the amount of oil it takes, the inevitable oil splashes, and the smell in my house after frying something. If I fry things, I usually do it in very small batches or outside.
So when I started craving chicken wings I knew I had to find a way to bake them. These Crispy Baked Asian Chicken Wings will not disappoint and you won't even miss the frying. There is a secret ingredient that helps make these wings so crispy, you will think they were fried!
How long does it take to bake Crispy Baked Asian Chicken Wings?
Baked chicken wings take longer than the fried version, but it's healthier and less messy. These Crispy Baked Asian Chicken Wings will bake at a low temp (250º) for 30 minutes and then a higher temp (425º) for another 45-50 minutes. This will ensure you get a nice crispy skin on the outside and they will be tender and juicy inside. While they are baking, you will whip up the sticky Asian sauce and have it ready to go once the wings are done baking.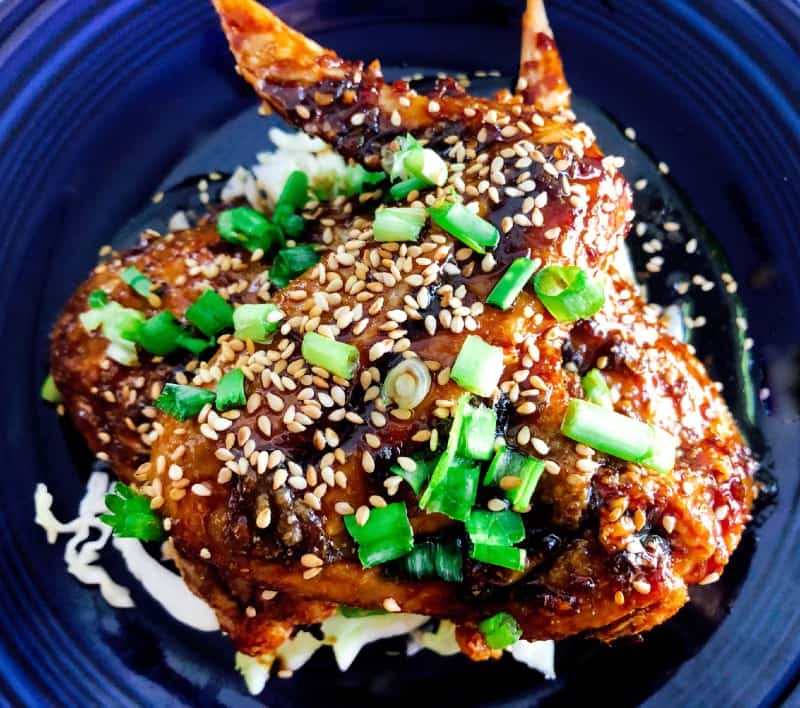 How do you get the chicken wings crispy in the oven?
To get a nice crispy skin, there are a few things you need to ensure happen. First, you need to make sure your chicken wings are completely dry before starting. If you are using frozen wings, ensure they are fully thawed and dry before baking. Next, you will be using baking powder, the secret ingredient, to dredge the wings in. This will help crisp up the skin by drawing out the moisture. Lastly, you want to place the wings on a rack on top of the baking sheet to ensure you get full air circulation all around the wings.
How do you make the sticky Asian sauce?
This sticky Asian sauce is so delicious and easy to make! Place all of the sauce ingredients into a saucepan and bring to a boil. You want to make sure you simmer the sauce for 5-8 minutes to reduce it down. Once everything has heated and reduced, remove from the heat. After your wings have baked, you will add the sauce to a large bowl and then add the chicken wings. Each wing gets coated with the sauce and any extra will be spooned right over the top. Don't forget extra napkins when you are digging in!
Other chicken wing sauces to try
You could make these sauces or buy them at the store. The possibilities are endless once you know how to bake crispy chicken wings! Don't forget the blue cheese and ranch if you make these buffalo style ?.
Classic Buffalo Sauce
BBQ sauce
Garlic Honey Sauce
Garlic Parmesan
Lemon Pepper
Tips for baking Crispy Baked Asian Chicken Wings in the oven:
Make sure the wings are completely DRY before coating and baking. Paper towels are the best tool for this and then you can just throw them away without worrying about raw chicken contamination.
Once the wings have been coated in the baking powder mix, tap them lightly against the side of the bowl to ensure you have a very thin layer of coating.
Use a rack to keep the wings off the surface of the baking sheet and to ensure full hot air circulation while baking.
Spray the rack with non-stick spray or else you will have some chicken skin stuck at the end of baking and it's not easy to get off. Trust me on this one.
Another cleanup tip, spread some foil on the bottom of the pan to collect the drippings.
Use a very large bowl for the sauce to be able to coat the wings and toss them around.
Don't worry if you still see a little bit of the baking powder coating after baking. You won't taste it at all and once the wings are coated in the beautiful sauce, you'll forget all about it.
More recipes to check out!
Crispy Baked Chicken Wings
These Crispy Baked Asian Chicken Wings are sweet, salty, sticky, and so easy to make. The chicken wings are baked, not fried, so they are healthier and there is less mess!
Print
Pin
Rate
Equipment
baking sheet with rack

2 large mixing bowls
Ingredients
Chicken Baking Ingredients
2

pounds

chicken wings

2

tablespoons

baking powder

½

teaspoon

kosher salt

½

teaspoon

freshly ground black pepper
Sauce Ingredients
1

teaspoon

vegetable oil

1

tablespoon

grated ginger

1

tablespoon

sweet chili sauce

1

tablespoon

chili paste

(I use Sambal Oelek found in the grocery store)

2

tablespoon

honey

2

tablespoon

brown sugar

5

tablespoon

soy sauce

(I used low sodium)

2-3

cloves

garlic, minced
Toppings
3

tablespoon

green onion, chopped

2

tablespoon

toasted sesame seeds
Instructions
Preheat oven to 250°F. Prepare a baking sheet with foil and a rack and spray with non-stick spray.

Completely dry the chicken wings with paper towels. Combine the baking powder, salt, and pepper in a large bowl. Add the dry chicken wings to the bowl and shake to fully coat (you can also use your hands to ensure each piece is fully coated). Tap off the excess coating and place the wings on the prepared baking sheet. Place the baking sheet on the lower rack in the oven and cook for 3o minutes.

After 30 minutes, turn up the heat to 425°F. Carefully move the oven rack to the top setting and place the baking sheet back in the oven. Continue to bake the wings for additional 45-50 minutes. Rotate the pan halfway through the cooking time. The wings will be lightly browned when done. Be careful when rotating the pan and removing the wings when finished baking because the drippings are hot!!!

While the wings are cooking at the higher temp, add all of the sauce ingredients to a medium saucepan and stir to combine. Cook over medium-high heat until boiling. Lower the heat and simmer for 5-7 minutes. Remove the sauce from the heat and pour it into a large bowl.

Once the wings have finished baking, remove the pan from the oven and allow the wings to cool slightly. Add the wings to the bowl of sauce and use tongs to toss and fully coat each wing with sauce (be careful the wings are still hot!).

Place the wings on a serving plate(s). Pour the remaining sauce over the wings and sprinkle with the chopped green onion and sesame seeds. Enjoy!
Notes
This recipe was inspired by the recipe found on otewae.com.
Any nutrition calculations are only estimates using online calculators. Please verify using your own data.
Did you Make These Crispy Baked Asian Chicken Wings?
As always, thanks for checking out my recipe! I hope you get a chance to make these Crispy Baked Asian Chicken Wings. If you do, tag me on Instagram or Facebook and show me! Don't forget to PIN this recipe for later and follow me on Pinterest as well.
Sign up for my mailing list and not only will you get easy and delicious recipes right to your inbox, but I'll also give you a FREE download with Common Ingredient Substitutions and a Liquid Conversion Chart for future kitchen adventures!