Lavender Sourdough Scones are easy to make and delicious! The floral lavender flavor and lemon glaze make them perfect for a party or an everyday treat! You can also make these Lavender scones without a sourdough starter and they are just as delicious!
How to make Lavender Scones
These Lavender Sourdough Scones are easy to make and come together pretty quickly.
Combine all of the dry ingredients and cut in the COLD butter with a pastry cutter. If you don't have a pastry cutter you can use a fork or food processor (note: a food processor might result in overmixing the dough).
Mix the wet ingredients together and add to the dry ingredients. Mix just until combined, the dough will be slightly sticky.
Put the dough onto a lightly floured surface and knead into a ball. Flatten the ball with your fingers into a disc about 8" in diameter or 1" thick.
Cut the disc into 8 pieces and brush with more heavy cream. You can sprinkle the top with coarse sugar and/or more lavender buds before baking.
The scones take about 16-20 minutes to bake and are best when served warm with the delicious lemon glaze on top!
What if I Don't Have a Sourdough Discard?
Don't worry, you can still make these delicious Lavender Scones without a Sourdough Discard! Just add another ½ cup of all-purpose flour and another ½ cup of heavy cream in place of the 1 cup of sourdough starter. That's it!
Grate your butter and make sure it's COLD!
My trick to incorporating cold butter with a pastry cutter is to grate the butter first! It makes cutting in cold butter so much easier. And, you will read this a few times, make sure your butter is SUPER cold. This helps the scones rise and become nice and flaky. Cold butter also prevents them from spreading too much while baking. After grating the butter, you can pop the bowl into the freezer for a few minutes if needed. Also, keep the butter in the fridge right up until you are ready to grate it and incorporate it into the dough.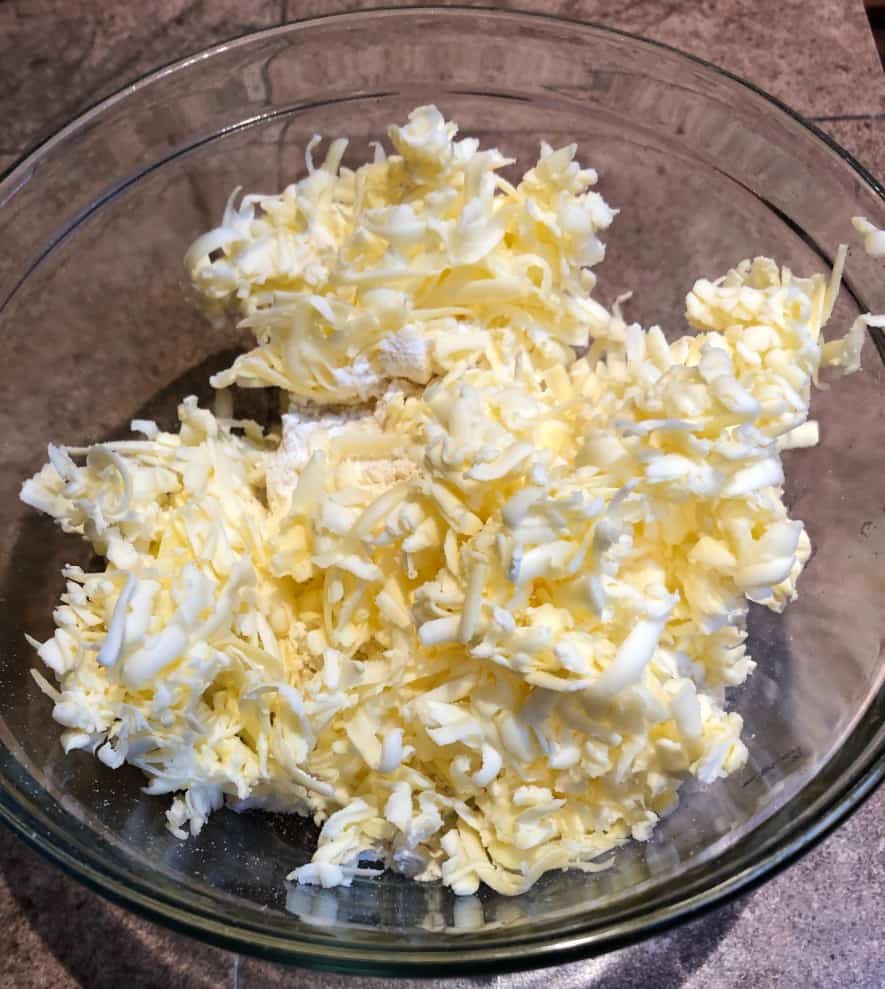 How to Make the Lemon Glaze
The Lemon Glaze for these Lavender scones is so easy to make and can be used on all kinds of sweet treats from scones to muffins to cookies and more! Just take 2 tablespoon fresh lemon juice, ½ teaspoon lemon zest, and ½ cup of confectioners powdered sugar. Whisk everything together and you have a beautiful and delicious glaze in seconds!
What Lavender to Use
All lavender is edible, however, I recommend culinary lavender because it has the best taste and is sweeter than regular lavender. Regular lavender is more bitter. Most of the dried lavender for cooking you find in-store and online are culinary, but double-check the description or ask if you are not sure. I've found dried culinary lavender at my local grocery store in the bulk section and on Amazon. You can also grow culinary lavender. I have a culinary lavender bush in my garden that I purchased at my local nursery!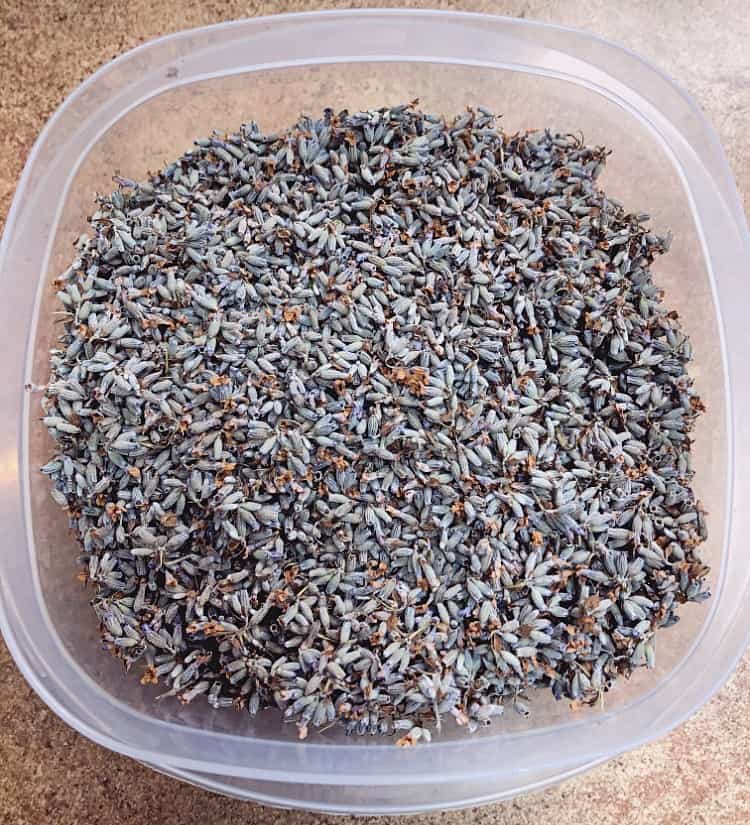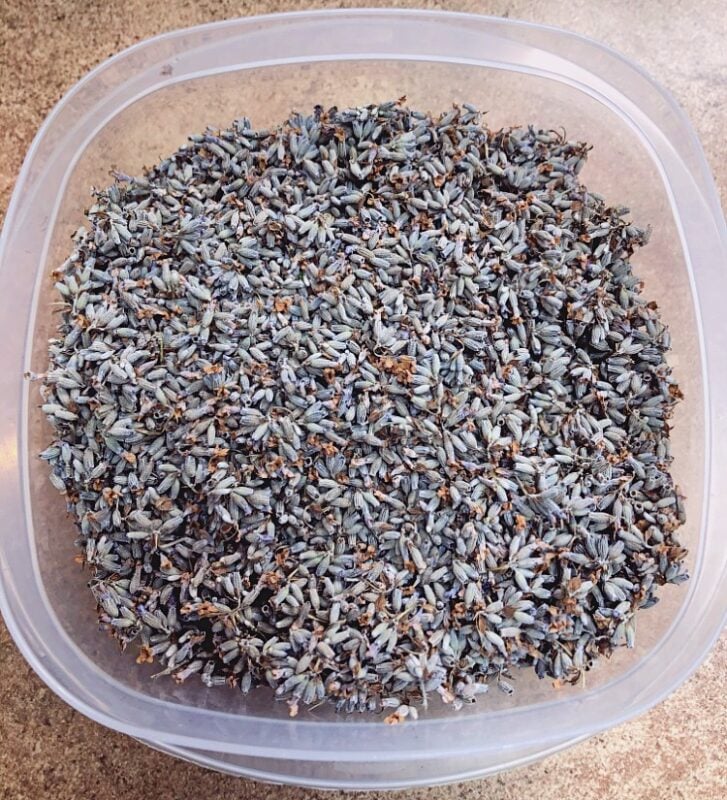 Tips to Make the Best Scones:
Make sure the butter is COLD! I know I keep saying this but it's one of the most important things to remember when making scones. This will ensure your scones rise and are slightly flaky or crumbly as scones should be.
Don't overmix the dough or your scones will be tough and dense.
Since everyone's oven is different, keep an eye on the scones as they bake. You want them to be slightly brown around the edges and on top. If you leave them in too long, the bottoms will burn. If the scones move easily on the pan and are no longer doughy, they are done.
I cut my scones into triangles because it's easy but you can make any shape you want! Make sure you give them enough room on the pan to rise and spread slightly.
Some people freeze their scones before they bake them to ensure the butter stays cold and the gluten has time to relax. This helps keep the scones from spreading and flattening. I skip this step because I'm impatient and usually making these for breakfast, but you can add in this step in if you want.
You can freeze these ahead of time and then pull them out when you are ready to bake them.
Scones are always best when served right away, however, you can keep them in an airtight container and they will be good for another day or two before they become dry.
Other Ingredient Options For These Scones
These Lavender Sourdough Scones are not super sweet because of the sourdough and the lavender is the highlight of the pastry. If you like sweet scones, here are some other ideas for making these scones exactly the way you want them!
For a sweeter glaze, omit the lemon juice and add ½ teaspoon vanilla extract.
Another sweet option is to add white chocolate chips to the dough. They will become warm and melty in the oven and add an extra surprise to these delicious treats.
For additional crunch, add some walnuts to the dough before baking.
If you want more lemon flavor to balance the lavender, add some lemon zest to the dough and cut the lavender down to 1 tbsp.
Lavender Sourdough Scones with Lemon Glaze
These Sourdough Lavender Lemon scones are easy to make and so delicious. With a floral flavor and a bright lemon glaze, these scones are perfect for a party or any day of the week!
Print
Pin
Rate
Ingredients
1½

cups

all-purpose flour

3

tablespoon

sugar

2

tablespoon

dried culinary lavender buds

(extra for topping)

1

tablespoon

baking powder

½

teaspoon

kosher salt

5

tablespoon

unsalted butter, COLD

1

cup

sourdough starter

½

cup

heavy whipping cream

(plus more for brushing on top)

1

tablespoon

raw sugar/Demerara sugar

(optional)
Lemon Glaze
2

tablespoon

lemon juice

½

cup

confectioner powdered sugar

1

teaspoon

lemon zest

(if desired)
Instructions
Preheat the oven to 425°F and prepare your baking sheet with parchment paper or a silicone mat. In a mixing bowl place the flour, sugar, lavender, baking powder, and salt and stir to combine. Grate your butter and add it to the flour mixture.

Use your pastry cutter to create a crumbly mixture, just enough to combine everything but don't overmix or your scones will be dense.

In another mixing bowl, add the sourdough discard and heavy cream and stir together. Add the discard mixture to flour mixture, and stir just until the dough comes together.

Pour the dough onto a lightly floured surface (not too much flour or your scones will be dry), and knead a few times until everything comes together into a ball. The dough will be just slightly sticky. Gently pat the dough into a circle about 8" diameter (about 1" thick).

Cut the circle into 8 wedges. Place the scones on your prepared baking sheet. Brush the top of the scones with heavy cream, and sprinkle with coarse sugar and more lavender buds if desired.

Place the scones into the oven and bake for 16-20 minutes until tops and edges are just starting to brown. Allow the scones to cool on the pan for a few minutes after baking.

While the scones are baking or cooling, make the lemon glaze by combining the lemon juice, powdered sugar, and zest in a small bowl. Whisk together and drizzle on top of the warm scones. You can always add more juice or powdered sugar for your desired sweetness and consistency.
Notes
This recipe was inspired by the Cherry Walnut Sourdough Scones by Bake from Scratch.
Any nutrition calculations are only estimates using online calculators. Please verify using your own data.
More Lavender Recipes to Try!
Did you make these Lavender Scones?
If you get a chance to make these delicious Lavender Sourdough Scones, tag me on Instagram or Facebook and share it with me! You can also follow me on Pinterest or sign up for my mailing list so you never miss a recipe.