5 coffee grinder uses that's not grinding coffee! This little gadget, that you probably have in your kitchen, can do a lot more than grind coffee. You can make flavored sugars, ground spices, flour, and more.
Can I really use a coffee grinder for other things?
Yes, but there are some things to consider first. The coffee grinder I am referring to in this post is a simple blade coffee grinder, not a burr coffee grinder. A burr coffee grinder works by forcing coffee beans through two ceramic (or sometimes stainless steel) burrs. The basic blade coffee grinder is more like a spice grinder, which you could also use for the things on this list.
Have a dedicated grinder just for spices and "other" things.
Whatever you do, don't use you coffee grinder that you use for coffee for this list. I'm pretty sure you don't want ground up chilies in your coffee. The small coffee grinder I use is small, inexpensive, and easy to clean.
How to clean your coffee or spice grinder.
Always unplug your grinder before cleaning or putting your fingers inside. Use warm water and mild dish soap. Use a soft sponge or cloth and be careful not to use anything abrasive that could scratch the grinder. You can rinse the grinder with water but do not submerge in water and immediately dry the grinder afterward. Allow the grinder to fully dry before using it again. Don't put the plug in water and never put it in the dishwasher. Always consult the manufacturer manual before use. You can also use a toothbrush to clean the small spaces, and the occasional grinding of coarse rock salt to really clean it and sharpen the blade a bit.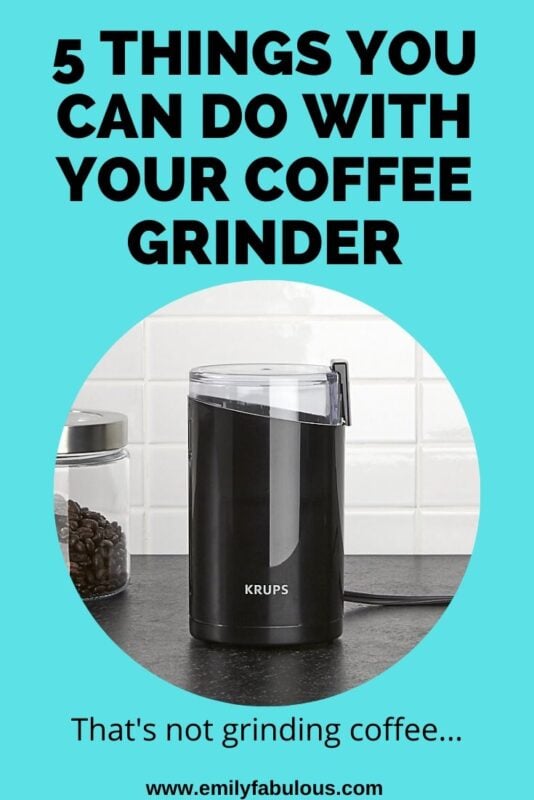 Other coffee/spice grinder uses:
seeds
bread crumbs from croutons or stale bread
dry herbs
flowers and herbs for tea
chocolate or coconut for garnish
finely grated parmesan cheese
Coffee Grinder Use Conclusion
Thanks for checking out this post, I hope this gives you the inspiration to make any of the things listed above or even come up with your own use for your coffee or spice grinder. Tag me on Instagram and show me what you make @emilyfabulous_blog or Facebook. And, sign up for my email list to get even more fun tips and recipes.