This Instant Pot Crispy Pork Carnitas recipe is perfect for tacos, burritos, enchiladas, taquitos, taco salads, etc. It's quick and easy to make and has so much flavor. Crisp it up in the oven after cooking and you will have a homemade meal that tastes just like it came from a Mexican restaurant!
I love Mexican food. And I love that you can take any meat and turn it into several easy meals after cooking it. Now that I have an Instant Pot, the possibilities are endless. My go-to right now is Instant Pot Crispy Pork Carnitas. There are so many ways to serve this shredded pork, I have some ideas after the recipe.
What is Pork Carnitas?
Carnitas is the Mexican version of shredded pork. It's usually made with a pork butt or shoulder because those cuts of meat have more fat content. This helps the pork shred and stay moist while cooking it slowly. Pork is a great source of protein and can be used for many dishes.
Ingredients Needed for Carnitas
4-5 lb pork shoulder or pork butt, cut into large cubes (bone-in or out)
ground ancho chili powder
ground chipotle chili powder
ground cumin
ground coriander
dried oregano
salt
olive oil
1 can/bottle beer, use a pilsner or lager style (think corona!)
juice from an orange
onion
canned chipotle peppers
garlic
bay leaves
How to Make Crispy Pork Carnitas in the Instant Pot
Mix the spices and salt together in a small bowl. Cut the pork into 2-3 inch cubes and rub the spice mixture all over.
Set your Instant Pot to Sauté, add the oil to the bottom of the pot, and brown the cubed meat on all sides. After all of the pieces are browned, remove them from the pot and set them aside.
Add the beer and orange juice to the pot and scrape up all the browned bits from the bottom. Place the onion, chipotle peppers, garlic, and bay leaves in the pot and place the pork pieces on top.
Put the lid on the Instant Pot, lock it into place, and set to Pressure Cook on High for 90 minutes. When done, allow the steam to release naturally. Once the pressure has all released, remove the pork pieces from the pot, leaving the cooking liquid in the pot. Turn the Instant Pot back to Sauté and allow the cooking liquid to simmer.
Turn on your oven broiler to HIGH. Shred the meat using forks, a knife, or shredding claws. Place the shredded pork on a sheet pan with foil. Pour some of the leftover liquid on top of the meat to keep it moist and broil until crispy and brown on top.
What if I don't have an Instant Pot or Electric Pressure Cooker?
You can still make this Carnitas recipe in your slow cooker! Brown the edges of your meat in a cast iron pan, dutch oven, or another heavy pan. Add all of the ingredients to your slow cooker and cook on high for 8 hours. Once it's done, remove the bay leaves, shred, and enjoy!
Crispy Pork Carnitas Serving Suggestions
How to Grind Your Own Spices
This recipe has A TON of flavor and spice (not spicy, but a spice flavor). Since ground ancho chili powder and ground chipotle powder were not available at my grocery store, I ground my own. This sounds hard, but it was super easy. Also, if you do love heat spice, I would recommend adding a chopped jalapeño or habanero into the liquid or have it as a garnish.
This is my secret... my mini coffee grinder! I do A LOT with this small gadget, you can read about it in this post: 5 Things You Can Do With Your Coffee Grinder. You can also use a small food processor. Here's how to do it:
Take a package of dried chilies and cut up the dried chile and remove the seeds if you want to (they can add a little heat). Put the chile pieces in the grinder, and pulse it until it turns into a powder. It's that easy and it really works! The smell is amazing and it makes quite a bit of spice powder. Put the excess in a small sealable container, label it, and save it for your next spice recipe!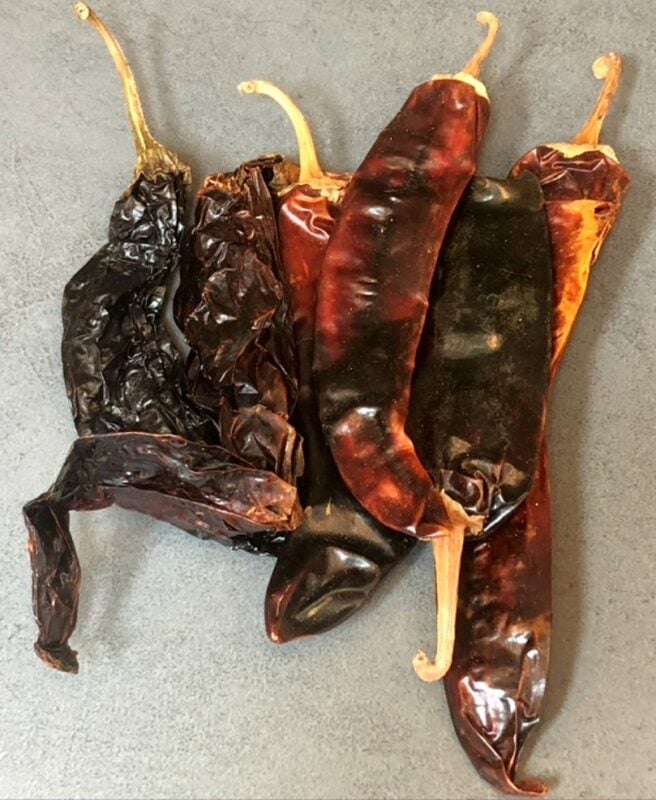 Do I have to grind my own Spices?
It may seem like a lot of work, and although it's easy, it does take extra time. So, if you don't want to or don't have the equipment, skip it! Most of these spices you can find at your local grocery store either in the spice aisle or the Mexican food aisle. If you are missing one, just add more of what you do have or substitute chili powder.
Other Easy Mexican Inspired Recipes
Did you make this Instant Pot Crispy Pork Carnitas recipe?
I hope you get a chance to make these Instant Pot Crispy Pork Carnitas, snap a quick pic, tag me on Instagram or Facebook, and show me how you served them. If you love this recipe, sign up for my email and follow me on Pinterest so you never miss a recipe!