Coconut Margarita Cocktail and Cupcake
If you like margaritas and you like coconut, then you HAVE to try a this Coconut Margarita Cocktail and Cupcake recipe using coconut tequila! It's such a perfect combination of sweet and citrus and it smells and tastes amazing!
This blog post may contain affiliate links. This means that if you make a purchase by using one of the affiliate links provided in this article, then I might get a small commission at no extra expense to you.
Apparently, February 22 is (was) National Margarita Day. So I decided to celebrate this very important day with one of my favorite margaritas, the Coconut Margarita! And then I figured since I had the tequila out, why not make a Coconut Tequila Cupcake to go with it?!? And so begins the Adventures of a Cocktail and a Cupcake…Coconut Margarita Cocktail and Cupcake!
First, the Coconut Margarita recipe. It's very easy to make, you just have to find some coconut tequila. The first time I had a coconut margarita was by the water in Tacoma. We just purchased our boat and had it moored up next to a cute little bar and grill. It was perfect. Perfect seafood, perfect cocktails and a perfect view. I asked the bartender how in the world the coconut margarita had so much flavor and he showed me the bottle of 1800 Coconut Tequila and the rest is history!
Print
Coconut Lime Margarita
A Coconut Lime Margarita using 1800 Coconut Tequila, fresh lime and shredded coconut!
Equipment
cocktail shaker

cocktail glass

measuring jigger
Ingredients
2

oz

1800 Coconut Tequila

2

oz

fresh lime juice

½

oz

agave syrup

toasted coconut for the rim

lime wedge for garnish
Instructions
Prepare the glass by rimming the top with agave syrup and dip it into the toasted coconut. Add fresh ice to the glass.

Add the tequila, lime juice, and agave syrup ingredients to a shaker with ice. Shake until nice and cold, about 20-30 seconds, and pour into the prepared glass. Add a lime wedge for garnish, serve and enjoy!
Video
And if that wasn't enough lime and coconut for you, here is the recipe for a Coconut Margarita Cupcake with Coconut Tequila Frosting. A boozy baked treat that tastes just like the drink!
Print
Coconut Margarita Cupcakes
These boozy Coconut Margarita Cupcakes have coconut tequila in the cake and the frosting! If you like coconut and margaritas, you've gotta try these!
Equipment
cupcake pan and liners

stand mixer or hand mixer

2 mixing bowls
Ingredients
1

cup

all-purpose flour

¾

cup

sugar

1½

tsp

baking powder

¼

tsp

salt

3

tbsp

unsalted butter, room temp

½

cup

milk

1

large

egg, room temp

¼

tsp

coconut extract

1

tbsp

1800 Coconut Tequila

(optional)

1

tbsp

lime zest

1

tbsp

fresh lime juice
Instructions
Preheat the oven to 325° and prepare cupcake pans with liners.

Place the softened butter and sugar in the bowl of a mixer and beat together until creamed, about 3 minutes. While the butter is mixing, sift the flour, baking powder, and salt together into a separate mixing bowl.

Once the butter and sugar have become light and fluffy, add the egg, milk, coconut extract, and tequila and continue mixing.

Add the flour mixture to the butter mixture, 1/3 at a time, and beat until just mixed in. Do not overbeat or your cupcakes will be dense.

Zest the lime and then juice it. Measure 1 tbsp lime juice and lime zest and add to the batter and mix in. Save the rest of the juice and zest for the frosting.

Scoop the batter into the prepared liners and bake for 22-24 minutes.

Allow the cupcakes to cool in the pan for 4-5 minutes before transferring to a cooling rack. Once the cupcakes have fully cooled, frost and enjoy!
Print
Coconut Tequila Frosting
This coconut tequila frosting is perfect for my Coconut Margarita Cupcakes or can be used on any baked good you desire.
Equipment
stand mixer or hand mixer

mixing bowl
Ingredients
1

cup

shortening

(you can use butter but the shortening helps with structure and less butter flavor)

1-2

tbsp

1800 Coconut Tequila

(optional if you are making for kiddos)

¼

tsp

coconut extract

1

tsp

fresh lime juice

4

cups

powdered confectioners sugar

3

tbsp

milk

green gel food coloring

lime zest for garnish

toasted coconut for garnish

(see tip below)
Instructions
Add the shortening, tequila, coconut extract, and lime juice to a stand mixer or mixing bowl and whisk for 30 seconds.

Add 2 cups of confectioners powdered sugar and mix in completely. Add 2 tablespoons of milk and fully incorporate.

Add the remaining powdered sugar, milk, and food coloring and beat until smooth.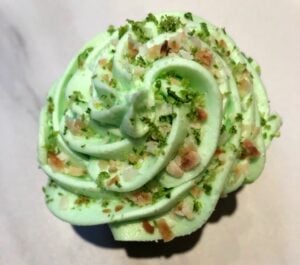 Quick tip for toasted coconut
**Did you know you can toast coconut in the microwave?? Place sweetened coconut on a microwave-safe plate, cook for 1 minute. Remove from microwave and stir around. Put back into the microwave for 20-30 second intervals, stirring after each time to even out cooking.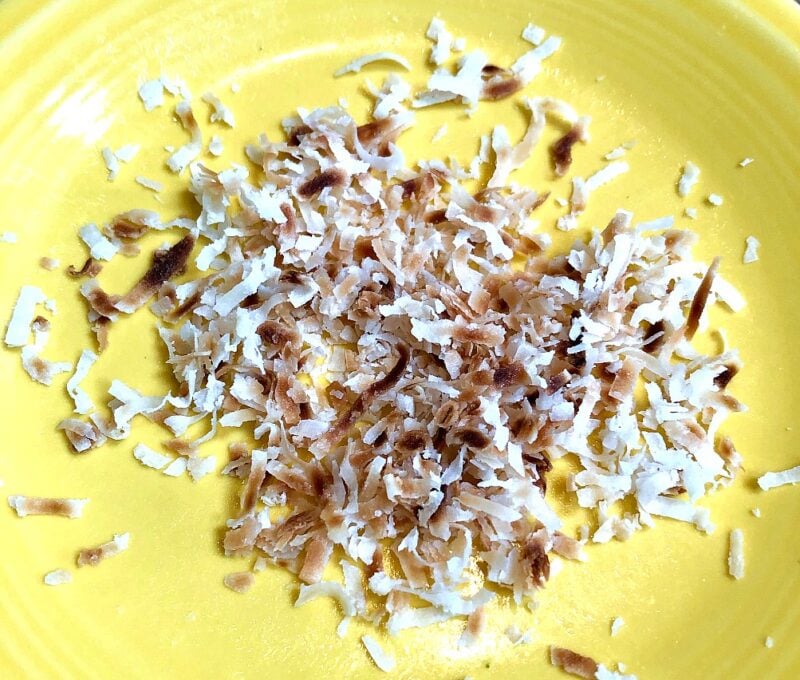 Both of these are indulgent treats that are sure to hit the spot. Don't have or want the tequila or sharing with kiddos? No problem!! Eliminate the tequila and you will have some delicious coconut lime cupcakes and frosting!
If you enjoyed the first adventure of a Cocktail and a Cupcake, take a look at some of my other posts:
Certainly, there will be more Adventures of a Cocktail and a Cupcake this year. So if you love recipes, cocktails and cupcakes sign up for my email list! You can also follow me on Instagram @emilyfabulous_blog and thanks for checking out my site!
---
---