If you like margaritas and you like coconut, then you HAVE to try this Coconut Lime Margarita recipe using 1800 Coconut Tequila. It's the perfect combination of sweet and sour and it tastes amazing!
This Coconut Lime Margarita is one of my all-time favorite drinks and a perfect way to celebrate my 100th post!!! 🥳 This drink is perfect for a warm summer day outside, but I also make them in the winter when I want to dream about sunshine. This cocktail is really easy to make and since the tequila already has coconut in it, there are limited ingredients.
Check out my Web Story HERE!
What you need to make a Coconut Tequila Cocktail
1800 Coconut Tequila
fresh lime juice and a wedge for garnish
agave syrup
shredded sweetened coconut that has been toasted
cocktail shaker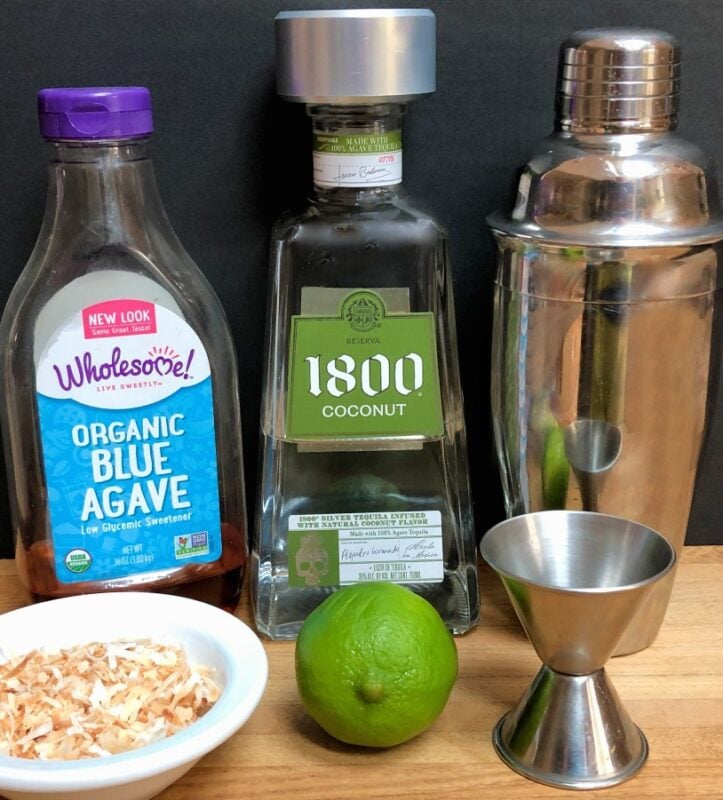 How to make a Coconut Margarita
Prepare a cocktail glass by placing agave syrup around the rim and dipping it into toasted coconut. Then add fresh ice to the glass.
Add all of the ingredients to a cocktail shaker with ice. Shake until nice and cold and then pour into the prepared glass.
Add a lime wedge for garnish, serve, and enjoy!
What does 1800 Coconut Tequila Taste Like?
Coconut Tequila made by 1800 is very coconutty and much sweeter than a traditional tequila. Because of this, it mixes well with citrus as well as other fruit like in my Frozen Strawberry Coconut Margarita. Since this tequila is sweet, you won't need to add as much sweetener, in this case, agave syrup, as you would in other tequila drinks. It is also delicious served by itself over ice.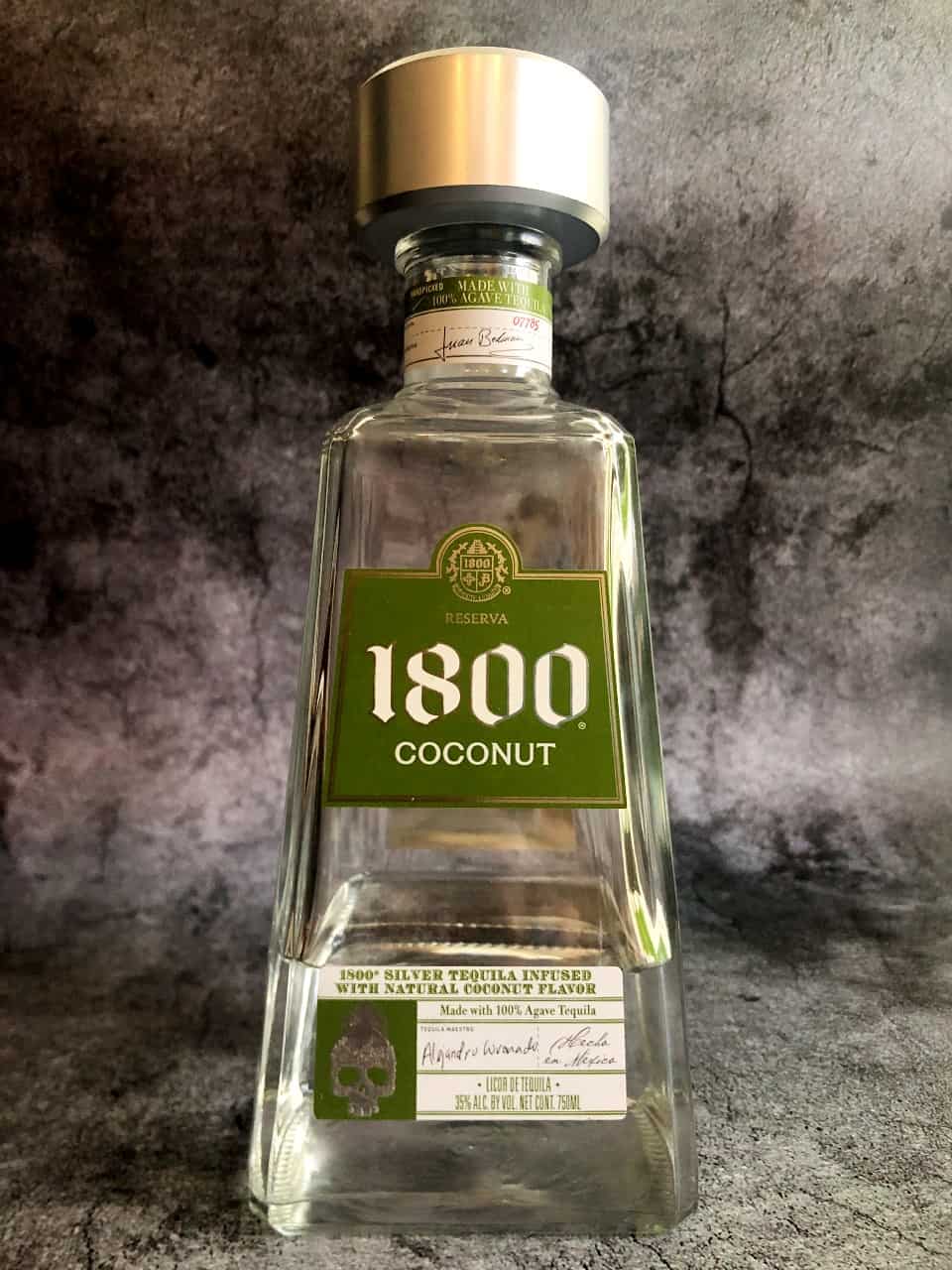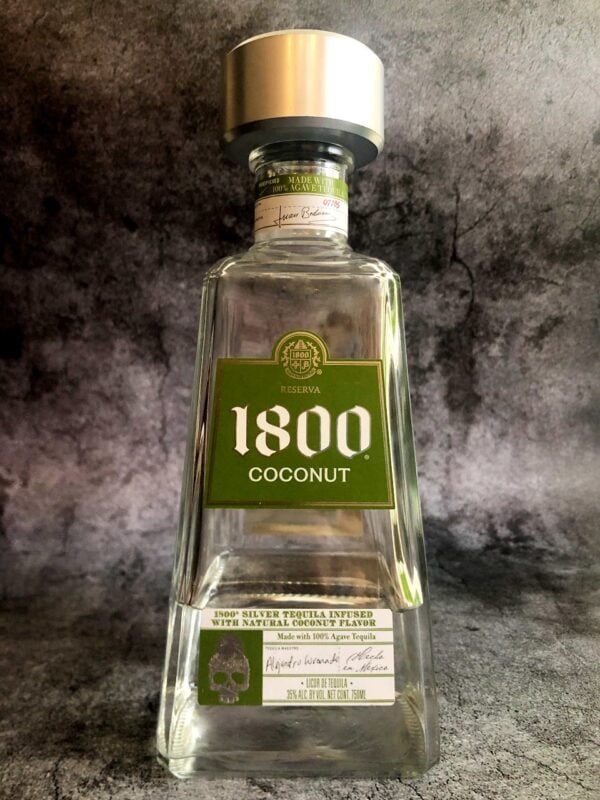 You Can Toast Coconut In The Microwave!
Did you know you can toast coconut in the microwave?? This is by far my favorite way to toast coconut. All you do is place sweetened coconut on a microwave-safe plate and cook for 1 minute in the microwave. Remove the plate from the microwave and stir the coconut around. Put the plate back into the microwave for 20-30 second intervals, stirring after each time to even out cooking. This will take about 4-5 minutes total. Store any leftover coconut in an airtight container.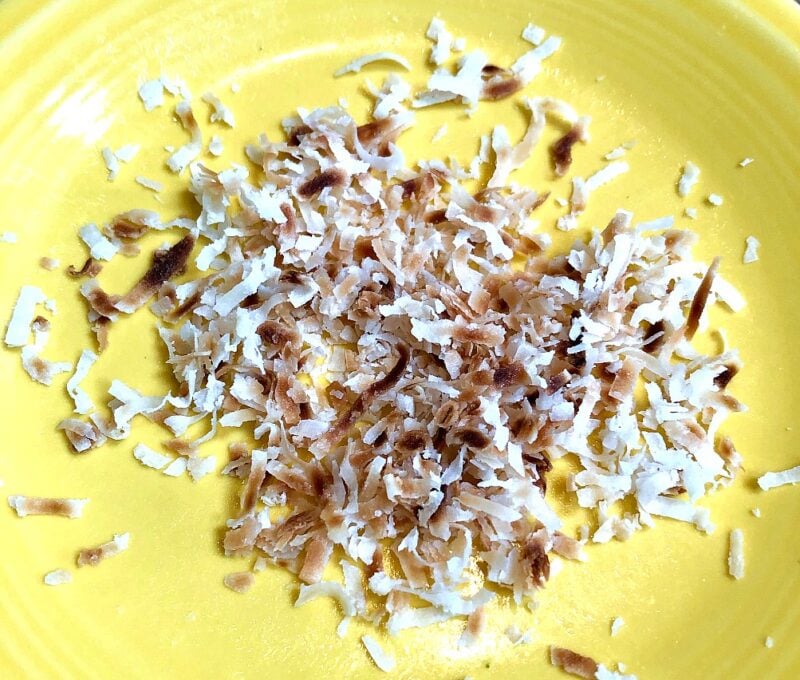 How to make this Coconut Lime Margarita Creamy
If you want even more coconut flavor and a creamy margarita, add 1 oz of coconut cream or coconut milk to your cocktail shaker before shaking. This adds an additional layer of coconut flavor as well as a creaminess that is quite delicious.
More Cocktail Recipes to Try
Coconut Lime Margarita
A Coconut Lime Margarita using 1800 Coconut Tequila, fresh lime and shredded coconut!
Print
Pin
Rate
Ingredients
2

ounces

1800 Coconut Tequila

2

ounces

freshly squeezed lime juice

½

ounces

agave syrup

toasted coconut for the rim

lime wedge for garnish
Instructions
Prepare a cocktail glass by rimming the top with agave syrup and then dipping it into the toasted coconut. Add fresh ice to the glass and set it aside.

Add the tequila, lime juice, and agave syrup ingredients to a shaker with ice. Shake until nice and cold, about 20-30 seconds, and pour into the prepared glass. Add a lime wedge for garnish, serve and enjoy!
Any nutrition calculations are only estimates using online calculators. Please verify using your own data.
How to Tone Down the Coconut Tequila
I love coconut...A LOT. And although a lot of people enjoy coconut, they may think this coconut tequila is too "coconutty". If you think that might be you, substitute 1 oz. of coconut tequila for 1 oz. of your favorite silver tequila. You still get a delicious coconut flavor with a nice balance of traditional tequila and lime. Another option is to top off this coconut cocktail with seltzer water or tonic to add some bubbles and tone down the coconut.
If you like this cocktail, you might like the cupcake!
One of my favorite things to do is make a cocktail and then come up with a cupcake just like the cocktail! This Coconut Lime Margarita is by far one of my most favorite drinks so, of course, I had to make a matching cupcake! Check out the recipe for a Coconut Margarita Cupcake, you are going to love it!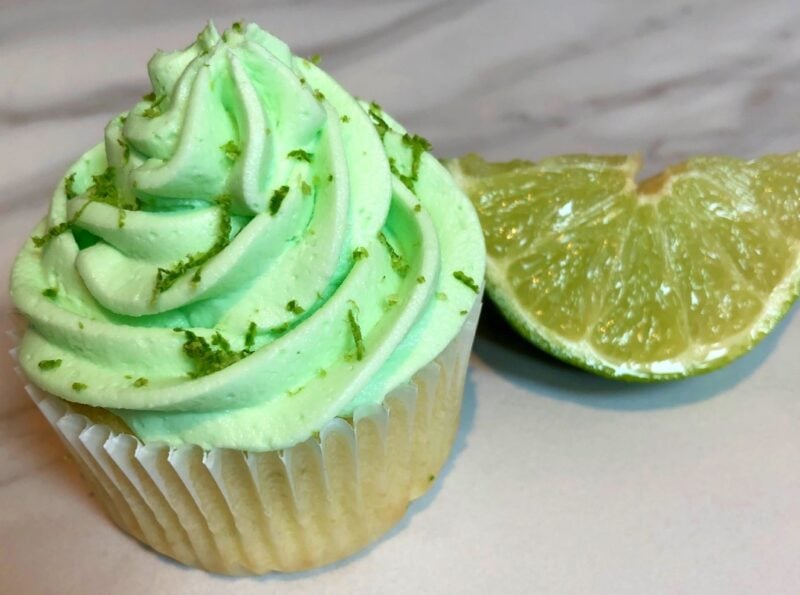 Snap a pic and show me your Coconut Lime Margarita!
Did you make these Coconut Lime Margaritas? Tag me on Instagram or Facebook and show me! Or, if you try something different with coconut tequila, I'd love to hear about it.
Don't forget to PIN this for later and to follow me on Pinterest for more fun drink recipes! You can also sign up for my email list and I'll send you my latest creations right o your inbox!