These Frozen Strawberry Coconut Margaritas are the perfect cocktail when it's hot outside! This refreshing and delicious drink is quick and easy and just what you need by the pool or at a party.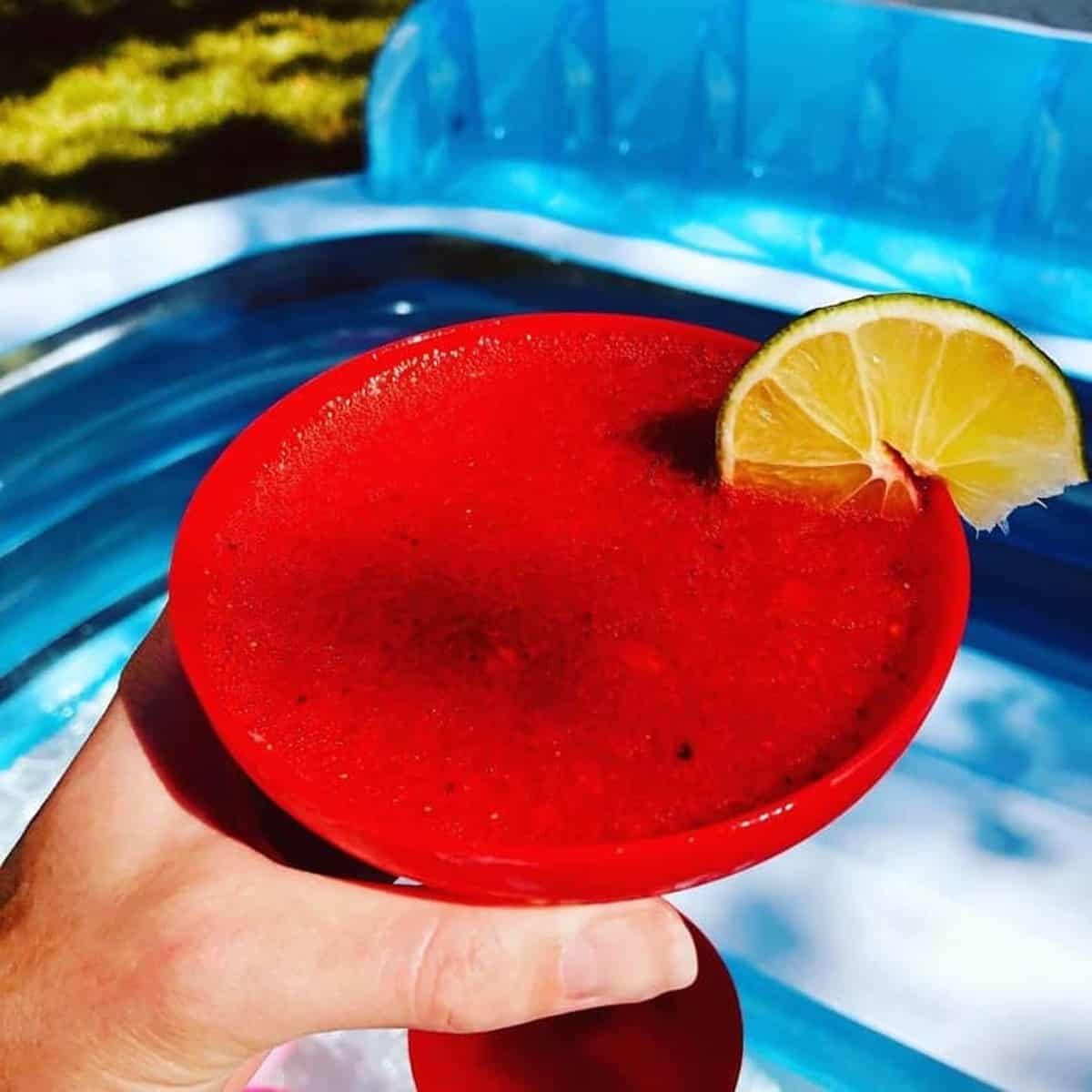 When it's hot outside and I need a cold drink, I find my blender ASAP. Luckily I always have fresh strawberry syrup in my fridge from the strawberries we pick every summer, so I usually make a margarita like my Cherry Margarita or my Grapefruit Elderflower Margarita.
Jump to:
Why I Love This Cocktail
I love this Frozen Strawberry Coconut Margarita because the combination of fresh, sweet strawberries and tropical coconut is like a tropical party in every sip similar to my Coconut Lime Margarita. And the icy, slushy component of a frozen margarita is perfect for a day under the sun!
What Tequila to Use for This Drink
I use 1800 Coconut Tequila to make this margarita and it is a game-changer! It's definitely sweet but is packed with coconut flavor that takes all of your tequila drinks to the next level.
If you can't find 1800 Coconut Tequila, you can substitute it with coconut syrup and a little more regular tequila. I also recommend silver tequila for my margaritas as it balances well with the sweet and citrus flavors.
More Cocktail Recipes to Check Out
How to make a Strawberry Coconut Margarita
Gather all of your ingredients together and place them in a blender with 1 cup of ice and blend. until the right consistency. The most time-consuming part is the strawberry syrup, which is still easy to make.
If you choose not to make strawberry syrup (which you can also make with frozen berries), add another ½ cup of strawberries and maybe some simple syrup or agave syrup if your berries aren't that sweet.
What Glass to Use For a Frozen Margarita
You should use a margarita glass if you have one. I used a plastic margarita glass when I was lounging outside by my pool.
Summertime is the perfect time to find plastic glasses, especially margarita glasses. I purchased these at my local grocery store but I have also seen them at places like Target or even the Dollar Store.
Another great idea is to get freezable margarita glasses. Then your frozen margarita will stay nice and cold even in the hot sun!
Expert Tips for This Recipe
If you freeze your glass ahead of time, your margarita will stay colder longer.
Fresh strawberries and fresh lime juice will give you the best results. However, you can use frozen strawberries in a pinch.
You can discard the solids from the strawberry syrup, but I highly recommend using them as a topping or adding them to your cocktail or another treat!
If you don't have coconut tequila, you can substitute ½ ounce of coconut syrup and 1 ½ ounces of tequila for each serving.
Instead of the syrup, add fresh strawberries and agave syrup, or add a tablespoon of strawberry jelly for each serving.
How to make Strawberry Syrup
Take about equal amounts of sugar, water, and fruit and add them to a medium saucepan. Bring the mixture to a boil while stirring and mashing the fruit.
Boil for 3-4 minutes and then remove from the heat. Allow the mixture to cool before straining the syrup through a fine-mesh sieve into a bowl.
Fresh Strawberry syrup is delicious and adds all the sweetness you need for this drink. If you don't want to make syrup, skip it! Instead, add fresh strawberries and some agave syrup, or add a tablespoon of strawberry jelly with fresh strawberries and you will still have an excellent margarita!
What else to use the Strawberry Syrup for:
Make a Strawberry Gin Cocktail
Or, use it in place of strawberry daiquiri mix in this Hennessy cocktail from Cooking Frog
Pour over vanilla ice cream
Strawberry Lemonade
Add it to a vanilla frosting to make a strawberry frosting
Pour it over cheesecake
Oh, and you know what goes great with a frozen margarita on a hot day? Fresh Homemade Salsa! Check out my friend Sue's Roasted Salsa recipe from SulaandSpice.com. It looks and tastes just like your favorite restaurant salsa!
If you get a chance to make these Frozen Strawberry Coconut Margaritas, tag me on Instagram or Facebook and show me, or leave a review below! You can also follow me on Pinterest and sign up for my e-mail list to receive more fun and delicious recipes right in your inbox.