Frozen Strawberry Coconut Margaritas
If it's hot outside you know you need a frozen drink…so why not make Frozen Strawberry Coconut Margaritas?? This refreshing and delicious drink is quick and easy and just what you need by the pool or at a party.
This blog post may contain affiliate links, which means I may receive a commission, at no cost to you, if you purchase through a link. Please see the full disclosure for further information.
When it's HOT in Portland and I need a cold drink, I find my blender ASAP. Luckily I always have fresh strawberry syrup in my fridge from the strawberries we pick every summer, so I usually make a margarita. First I made a frozen strawberry margarita with regular tequila and it was good. But I wanted something more, so I tried it with coconut…
How to get Coconut in a Margarita.
Did you know there is Coconut Tequila?? The brand 1800 makes a Coconut Tequila and it is a game-changer! It's definitely sweet but is packed with coconut flavor that makes a delicious margarita! And, who doesn't like Strawberry, Coconut, and Lime together? I wasn't completely sure if this combination would work but I had to try it. And guess what??? It was AMAZING!
How to make a Strawberry Coconut Margarita
Get all of your ingredients together. Place them in a blender with 1 cup of ice and blend! That's it. The most time-consuming part is the strawberry syrup, which is very easy and the recipe is below. Remember, fresh strawberries and fresh lime juice will give you the best results. However, you can use frozen strawberries in a pinch. If you choose not to make a strawberry syrup (which you can also make with frozen berries), add another 1/2 cup of strawberries and maybe some simple syrup or agave syrup if your berries aren't that sweet.
What glass should you use?
You should use a margarita glass if you have one! As you can see in my photo, I used a plastic margarita glass since I was lounging outside by my pool (inflatable pool ?). Summer time is the perfect time to find plastic glasses, especially margarita glasses. I purchased these at my local grocery store but I have also seen them at places like Target or even the Dollar Store. Another awesome idea would be to find the glasses that you can freeze ahead of time. Then your frozen margarita will stay nice and cold even in the hot sun!
Frozen Strawberry Coconut Margaritas
This recipe for Frozen Strawberry Coconut Margaritas is a refreshing drink that is quick and easy and just what you need by the pool or at an outdoor party!
Print
Pin
Rate
Ingredients
4

ounces

1800 Coconut Tequila

juice of 1 lime

4

ounces

fresh strawberry syrup

(see recipe in notes below)

½

cup

fresh strawberries

1

cup

ice

lime wedge for garnish
Instructions
Add all of the ingredients (except you garnish of course) to a blender and blend away! Ensure all of the ice is crushed down to the texture you prefer.

Pour the drink into your favorite margarita glass, garnish, and enjoy!
Notes
The first batch I over blended, they were still good, but became warm at the end (it was really hot out!). So the second batch I pulsed more than blended and they were perfect!
Fresh Strawberry syrup is yummy and adds all the sweetness you need. If you don't have any, just add fresh strawberries and some agave syrup. You could also add a tablespoon of strawberry jelly with your fresh strawberries and you will still have an awesome margarita!
Any nutrition calculations are only estimates using online calculators. Please verify using your own data.
How to make Strawberry Syrup
Most fruit syrups are pretty easy to make and strawberry syrup is no exception. Take about equal amounts of sugar, water and fruit (depending on how ripe and sweet your fruit is), boil, steep, and then strain. I use my masher when I am cooking fruit syrup to smash the fruit as it boils releasing as much of the juice as I can. I also give the fruit one last squeeze with the back of a spoon or rubber spatula as it is going through the sieve just to make sure I got as much of the syrup as I can. And since I hate to waste anything, especially fresh fruit, I use the mashed fruit for a cocktail or add it to treats!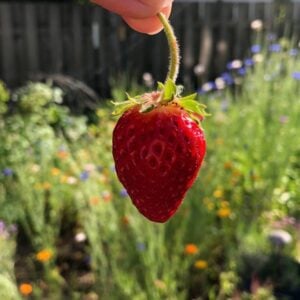 Strawberry Syrup
A sweet and delicious Strawberry syrup that tastes like summer and can be used for so many things!
Print
Pin
Rate
Ingredients
2

cups

fresh or frozen strawberries

(fresh is always best)

1½-2

cups

sugar

(my strawberries were really sweet so I used a little over a cup)

2

cups

water
Instructions
Add all of the ingredients to a saucepan on med heat, bring to a boil stirring constantly and squashing the berries to release the juices. Once boiling, stir for another 30 seconds.

Remove from the heat and allow the mixture to cool completely. Place in jar or bottle with lid and store in the refrigerator for up to 2 weeks.
Notes
If you don't want strawberry bits in your syrup, make sure you smash the berries as much as possible before during and after cooking and cooling. Strain through a fine mesh seive and store in a sealble container in the fridge. Don't throw those berry pieces away! They are delicious and sweet and can be used for so many things or just a quick treat!
Any nutrition calculations are only estimates using online calculators. Please verify using your own data.
Oh, and you know what goes great with a frozen margarita on a hot day?? Fresh Homemade Salsa! Check out my friend Sue's Roasted Salsa recipe from SulaandSpice.com. It looks and tastes just like your favorite restaurant salsa!
What else to use the Strawberry Syrup for:
Pour over vanilla ice cream
Strawberry Lemonaid
Add to a vanilla frosting to make strawberry
Pour over cheesecake
Check out some more of my cocktail recipes below:
Did you make this Frozen Strawberry Coconut Margarita?
If you make this margarita, tag me on Instagram or Facebook and show me! If you love these Frozen Strawberry Coconut Margaritas and other cocktails, sign up for my email list and receive cocktail and food recipes in your inbox. You can also follow me on Pinterest for all of my updates and creations.
---