A sophisticated and delicious Tequila Sour with Campari Cocktail that will impress all of your guests! Tequila, Campari, and grapefruit juice topped with fresh ground cinnamon make a cocktail that puts the margarita on the back burner.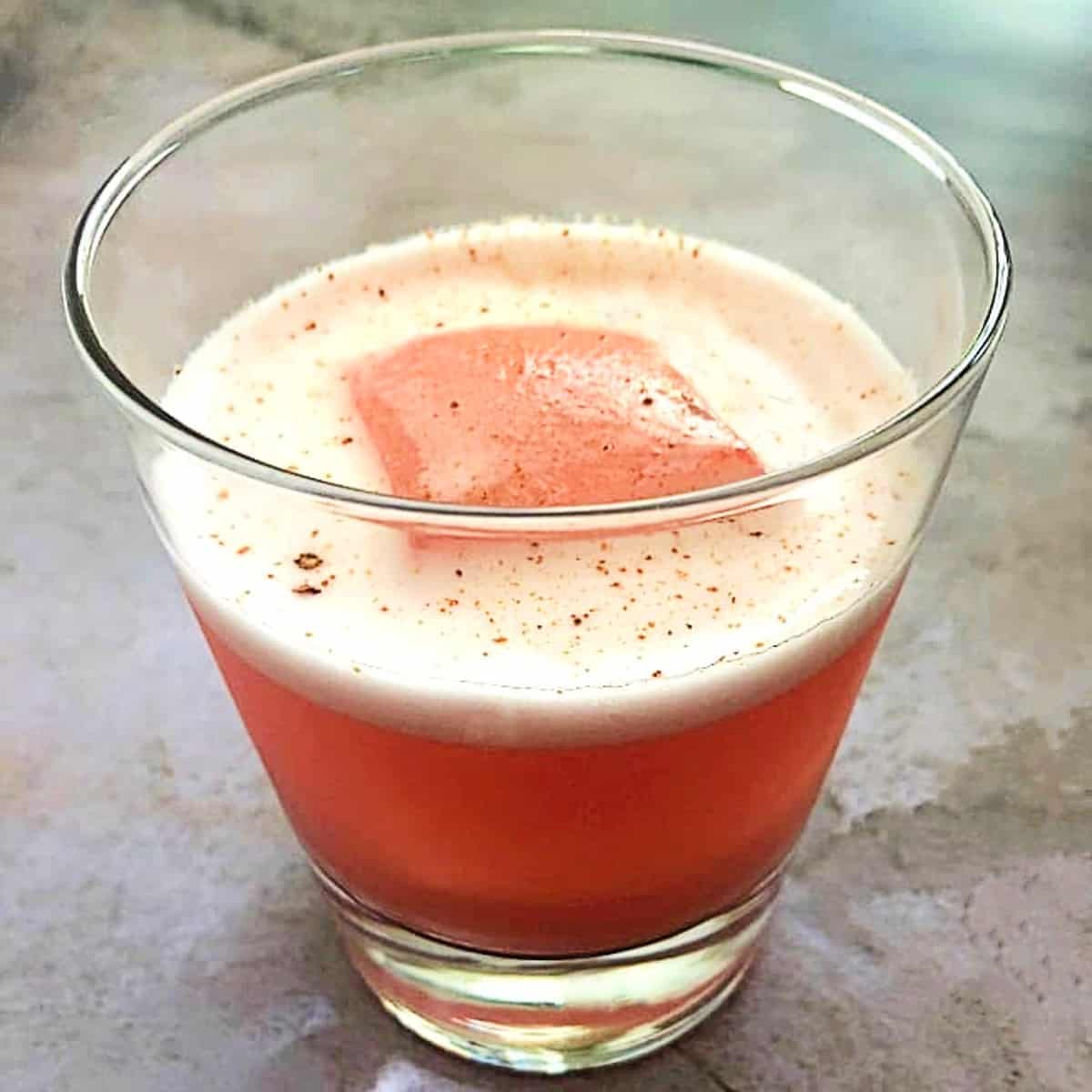 This Tequila Sour Cocktail is NOT a Margarita
This Tequila Sour Cocktail is my favorite cocktail right now! It is inspired by a photo I saw of a cocktail from a bar in SF called Trick Dog.
There were only a few ingredients in the description so I took what I could from it and came up with an amazing tequila cocktail that will impress everyone!
Think Sophisticated Margarita! If you have followed me for a while, you have probably noticed I love egg white in my cocktails. It adds a creaminess and smoothness to the drink, not to mention the beautiful foam that you get as a result of shaking up that egg white.
Why I Love This Cocktail
As I mention, the combination of dank tequila, fresh grapefruit and lime juice, creamy egg white, and fresh cinnamon is a match made in heaven. Add in the tart and herbaceous Campari and this cocktail will hit all the senses.
I also love that this cocktail proves you can do more with tequila than just a margarita. I love a good margarita, but I also love the creativity and uniqueness of this campari drink.
How to Make a Tequila Sour
Gather all of your ingredients together to ensure you have everything you need before shaking including your serving glass prepared with ice. Measure out all of the liquids into the shaker (no ice yet) and dry-shake for 8-10 seconds.
This gets the egg white incorporated into everything and ensures you get a nice foam at the end. Now open the cocktail shaker and add ice.
Shake again for another 10-15 seconds. Double-strain the cocktail into the prepared glass. Freshly grate the cinnamon stick over the top of the foam and serve immediately.
Expert Tips for this Cocktail Recipe
Choose Quality Tequila: Opt for a good quality tequila. I recommend a blanco (unaged) tequila but you can also use a reposado (lightly aged). A higher quality tequila will bring more nuanced flavors to your cocktail.
Fresh Citrus is Key: Always use freshly squeezed citrus juice when making cocktails. The flavor and brightness of freshly squeezed citrus juice can significantly elevate your cocktail compared to using bottled juices that usually have added citric acid.
Dry Shake for Frothiness: To create a rich and frothy texture, "dry shake" prior to shaking the cocktail with ice. To dry shake, shake the ingredients without ice first, then add ice and shake again. This technique helps to incorporate air into the mixture and create a velvety foam.
Proper Shaking: When shaking your cocktail, do it with confidence and energy. This not only chills the drink but also ensures proper mixing of the ingredients. When you think you have shaken the cocktail enough, give it a few more shakes for the perfect cocktail.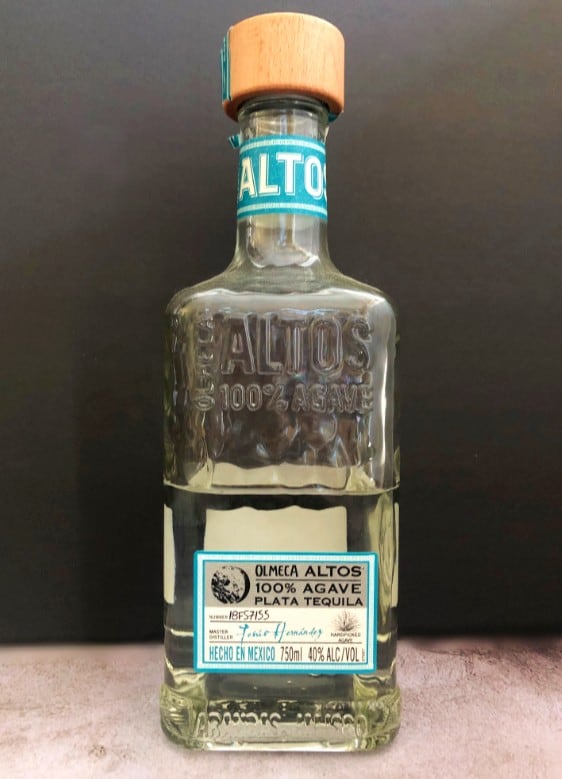 Why Cinnamon Makes the Perfect Garnish
The real winner in this cocktail is the freshly grated cinnamon on top of the foam. The aroma and taste of cinnamon add spiciness to this unique drink.
That is to say, the aroma is a big deal with craft cocktails, so don't skimp on this step. If you don't have a cinnamon stick, you can use ground cinnamon but it won't be quite the same.
Recipe FAQs
What Tequila Should You Use?
I recommend using silver/white tequila for this drink. Although silver tequila usually has a harsher taste, it's perfect for cocktails because it mixes with the rest of the ingredients to tone down the harshness.
Good gold tequila is usually expensive and is best reserved for sipping, IMO. You can also find 100% agave silver tequila for a decent price. I used Olmeca Altos Plata Tequila which you can usually find for under $30
Do I have to use egg white?
You could make this cocktail without the egg white. Just add all of the ingredients except the egg white to your cocktail shaker with ice and shake for 10-15 seconds.
After that, serve over ice cubes instead of a large rock, and don't forget the cinnamon on top! Also, see my notes in the recipe about FDA comments on egg whites.
What is an alternative to egg white in a cocktail?
An alternative to egg white in a cocktail is aquafaba. Aquafaba is the liquid from garbanzo beans and works just like egg whites.
Substitute 1 ounce of aquafaba for the egg white and make the cocktail as directed. Aquafaba adds a tiny bit of saltiness, in my opinion, but you won't notice it in the final cocktail.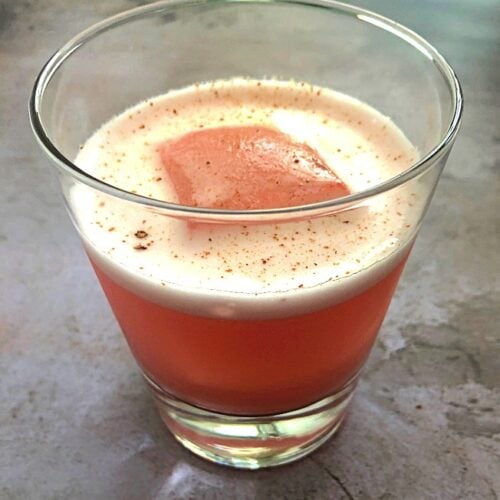 Grapefruit Tequila Cocktail
A sophisticated Grapefruit Tequila Cocktail that will impress your guests! Campari and egg white topped with fresh cinnamon make this cocktail a winner!
Print
Pin
Rate
Ingredients
2

ounces

tequila blanco

(I used Altos)

1

ounces

fresh squeezed grapefruit juice

½

ounces

fresh-squeezed lime juice

½

ounces

Campari

1

egg white*

(or aquafaba)

cinnamon stick
Instructions
Prepare glass with a large rock (ice cube).

Add all ingredients to the cocktail shaker WITHOUT ice and dry shake for 8-10 seconds (this creates the foam on top).

Open the cocktail shaker and add a scoop of ice. Put the lid on the shaker and shake for another 10-15 seconds.

Double strain into your prepared glass. Take your cinnamon stick and grate cinnamon over the top of your foam. Cheers!
Notes
Another alternative to egg whites in a cocktail is aquafaba. Aquafaba is the liquid from garbanzo beans and works just like egg whites.
Substitute 1 ounce of aquafaba for the egg white and make the cocktail as directed. Aquafaba adds a tiny bit of saltiness, in my opinion, but you won't notice it in the final cocktail.
*The US Department of Agriculture (USDA) considers it safe to use raw eggs if they are pasteurized. Bottom Line: Raw eggs may contain a type of pathogenic bacteria called Salmonella, which can cause food poisoning. However, the risk of an egg being contaminated is quite low. Please proceed at your own risk and decide if you are ok with this. I have never had an issue.
Nutrition
Serving:
1
cocktail
|
Calories:
198
kcal
|
Carbohydrates:
7.7
g
|
Protein:
3.8
g
|
Fat:
0.1
g
|
Sodium:
34
mg
|
Potassium:
110
mg
|
Fiber:
0.4
g
|
Sugar:
2.5
g
|
Calcium:
8
mg
Any nutrition calculations are only estimates using online calculators. Please verify using your own data.
Did You Make This Recipe?
If you make this recipe, I'd love to see it on Instagram or Facebook! Tag me @emilyfabulous_blog or like my EmilyFabulous page!
You can also follow me on Pinterest to be able to pin all of these delicious recipes for later. Thanks for checking out my site and if you want more cocktail recipes, sign up for my email list!