These Air Fryer Tater Tots are a quick and easy way to make a delicious meal, side dish, or snack. Frozen potato bits become brown and crispy in minutes and there are so many ways to serve these delicious nuggets of goodness!
How to make Air Fryer Tater Tots
Preheat your air fryer at 400º for 3 minutes. Spray the basket of your air fryer and place a single layer of frozen tater tots in the basket. Make sure they have a little room in between them. Spray the top of the tots and cook for 5 minutes.
Flip, spray, and cook for an additional 5 minutes. Flip one more time, cook, and the tots are done!
How long does it take to cook tater tots in an air fryer?
It takes about 15 minutes to get crispy, brown tater tots in the air fryer. This is assuming you are cooking them from frozen. You can always adjust the time depending on how you like your tots.
Some people like them a little soft and some people like them really brown and crispy. The good news is, you are in control of your tots! If you have tater tots that aren't frozen, only cook them for 4 minutes on each side and check after 8 minutes to see if they need any more time.
Reasons to Make Air Fried Tater Tots
They come out super crisp and brown every time
No oil frying so there are fewer calories
Cook from frozen in 15 minutes
No prep work
No frying or hot oven to deal with
There are multiple ways to serve tots
Everyone loves tater tots!
How to Make Baked Potato Tots!
One of my favorite ways to serve and eat these Air Fryer Tater Tots is to make "Baked Potato" Tots! This is so easy to assemble and you probably already have the ingredients in your fridge (see below)! Who knew air fryer potatoes could be so good?!?!
Take your cooked tots and add them to an oven-safe dish. Add a layer of cheese, more tots, and then more cheese. Broil in your oven for a few minutes to get the cheese nice and melty and to warm up the tots again.
Top with sour cream, bacon, and green onions. I like to dip mine in ranch dressing for an extra level of indulgence. You can top these babies with your favorite toppings. Oh, and kids love this dish too!
Other ways to Serve Tater Tots
Add a fried egg and you have a delicious and filling breakfast!
Serve with ketchup, mustard, ranch, bbq sauce, or your favorite dip
Serve with hot dogs, hamburgers, or sandwiches
Make flavored tots with your favorite seasoning: cajun, ranch, salt and pepper, garlic powder, and more!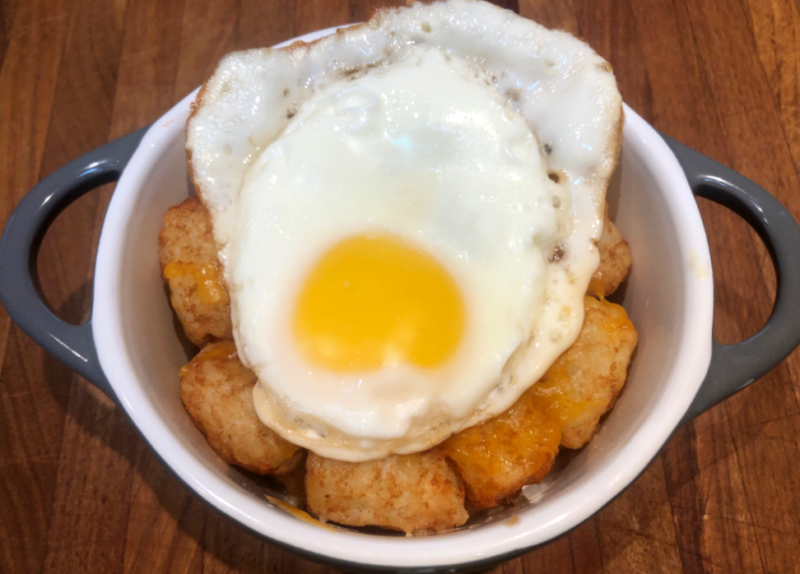 What Air Fryer I Used for this Recipe
There are so many different types of air fryers out there now, and each one is slightly different. There are countertop air fryers, air fryer ovens, and air fryer attachments to name a few. They even make full-size ovens that act as air fryers now!!
I have a COSORI Air Fryer (shown below) and I love it. It does take up some counter space so make sure you have room for it. If you want a smaller option, check out the COSORI Small Air Fryer.
You can also use your air fryer to reheat cold tots!
Do you have some tots in the fridge from last night's restaurant trip or from the air fryer tater tots you just made? Now, you never have to have soggy, microwaved tots again...just throw them in your air fryer and you will have crispy tots again in no time! Set your air fryer to 400º and reheat the tots for about 5 minutes, flipping if necessary. Don't forget to spray your basket so they don't stick. BTW, this works for french fries as well!
Air Fryer Tater Tot Tips
There is no need to defrost frozen tater tots before cooking in the air fryer, just place them in the basket and get to it!
Preheating your air fryer is not a necessity. However, it definitely helps speed up the cooking time and also helps get a nice even crisp all around the tater tots.
Non-stick spray is your friend when air frying so don't forget it! Not only does it help the food from sticking to the basket, but it also aids in the crisping of whatever you are air frying. You can use vegetable oil, olive oil, avocado oil, or whatever oil spray you like.
Aluminum foil is also a handy tool when air frying for less clean-up. Although tater tots are not too messy, you will get some residual oil spray at the bottom of your air fryer so use a small piece of foil to catch as much as you can.
Most frozen tater tots are not seasoned so don't forget to grab the salt, pepper, or any other seasoning you would like to add. Add it right after you pull the tater tots out of the air fryer basket so it sticks to the cooling tots.
Air Fryer Tater Tots
These Air Fryer Tater Tots are a quick and easy way to make a delicious meal, side, or snack from frozen tater tots.
Print
Pin
Rate
Ingredients
16

ounces

frozen tater tots

(half of a bag)

2

teaspoon

kosher salt

non-stick spray
Toppings for Baked Potato Tots
½

cup

cheddar cheese, shredded

¼

cup

sour cream

2

strips

bacon, cooked and chopped

1

tablespoon

green onions, chopped

ranch dressing

(optional)
Instructions
Air Fry the Tater Tots
Preheat the air fryer at 400°F for 3 minutes or according to instructions for your air fryer. Once preheated, spray the basket with non-stick spray and place the frozen tater tots in the basket (don't overcrowd the basket to ensure the tots are cooked on all sides). Spray the top of the tots with the non-stick spray as well.

Cook the tots for 5 minutes at 400°F. Flip all of the tots over, spray the other side with non-stick spray and cook for another 5 minutes. Flip one more time and cook for an additional 5 minutes until the tots are nice and brown and crispy. Sprinkle right away with salt so that it sticks as they cool.
Baked Potato Tater Tots
Place a single layer of tots in an oven-safe dish. Sprinkle the top with cheese. Add another layer of tots and sprinkle the top with more cheese.

Place the oven-safe dish under the broiler in the oven for 2-3 minutes until the cheese has melted. Remove the dish from the oven.

Top the cheesy tots with sour cream, bacon pieces, and green onion. Serve and dip in ranch if you want an extra tangy flavor. Enjoy!
Notes
Nutrition calculations are for the tater tots WITHOUT toppings. 
Always read the instruction manual that came with your Air Fryer and follow all safety guidelines.
Nutrition
Calories:
216
kcal
|
Carbohydrates:
27
g
|
Protein:
2.7
g
|
Fat:
10.8
g
|
Saturated Fat:
2.7
g
|
Sodium:
1609
mg
|
Potassium:
554
mg
|
Fiber:
2.7
g
|
Sugar:
0.7
g
|
Calcium:
1
mg
|
Iron:
1
mg
Any nutrition calculations are only estimates using online calculators. Please verify using your own data.
Show me your Air Fryer Tater Tots!
As always I love to see your interpretation of my recipes! If you make these Air Fryer Tater Tots snap a photo and tag me on Instagram or Facebook! Thanks for checking out my site and don't forget to follow me on Pinterest so you never miss a recipe and can pin these ideas for the future.