Carrot Greens Pesto Chicken and Roasted Vegetables
This Carrot Greens Pesto Chicken with Roasted Vegetables recipe is easy and healthy! The chicken and vegetables are covered in carrot top pesto for a burst of flavor. This meal comes together in under an hour and is a perfect weeknight meal.
This post may contain affiliate links. This means if you click a link and make a purchase, I may receive an affiliate commission at no cost to you. Please see the full disclosure for further information and thank you for your support!
How to Make Carrot Greens Pesto Chicken w/ Roasted Veggies
Make carrot greens pesto (recipe below), which can be prepared in advance.
Preheat the oven to 400° and spray both baking pans with non-stick spray. Prep the vegetables and cut them to be similarly sized. Place the veggies in the larger roasting pan or baking sheet and drizzle with olive oil, salt, and pepper.
Put the chicken breasts in the smaller baking dish and sprinkle with salt and pepper. Place everything in the oven. Take out the chicken after 20 minutes. Stir the veggies and allow them to continue baking for 5 more minutes. Turn the broiler on high and roast for 5 more minutes.
Brush each chicken breast with carrot greens pesto and then take the remaining pesto and add it to the roasted veggies.
Ingredients Needed to Make this Dish
boneless, skinless chicken breasts
Brussel sprouts
carrots
olive oil
salt and pepper
garlic clove
walnuts (could also use pine nuts or almonds)
fresh carrot top greens
fresh basil leaves,
shredded parmesan cheese
What is Carrot Greens Pesto?
Carrot Greens Pesto is similar to traditional pesto but with added fresh carrot tops. This is a great way to eliminate waste in your kitchen, especially if you are using food from your garden! My recipe has walnuts and a little bit of basil but you can make substitutions as you would like. See my full post about Carrot Greens Pesto here.
What Makes This Meal Healthy?
Chicken is a great source of protein, is low in saturated fat, and essential vitamins and minerals such as B6, B12, and iron.
The top green part of a carrot is rich in nutrients, like vitamin C, calcium, and potassium to name a few.
Carrots have beta carotene, fiber, vitamin K1, and potassium.
Brussel sprouts are high in vitamins, minerals, fiber, and antioxidants.
This dish is also Gluten-Free!
Tips and Variations for this Recipe
You can use any vegetables you like or have on hand for this dish, as long as they are good for roasting. Some alternatives are potatoes, onions, leeks, turnips, squash, etc.
The carrot greens pesto is really delicious and made sense since I was cooking with the carrots from my garden. BUT, you can use store-bought pesto and this dish will be just as delicious.
I use two different pans for this meal because the chicken will cook at a different time than the veggies. You don't want to overcook the chicken or undercook the veggies.
If someone has a nut allergy, you can omit the nuts from the pesto.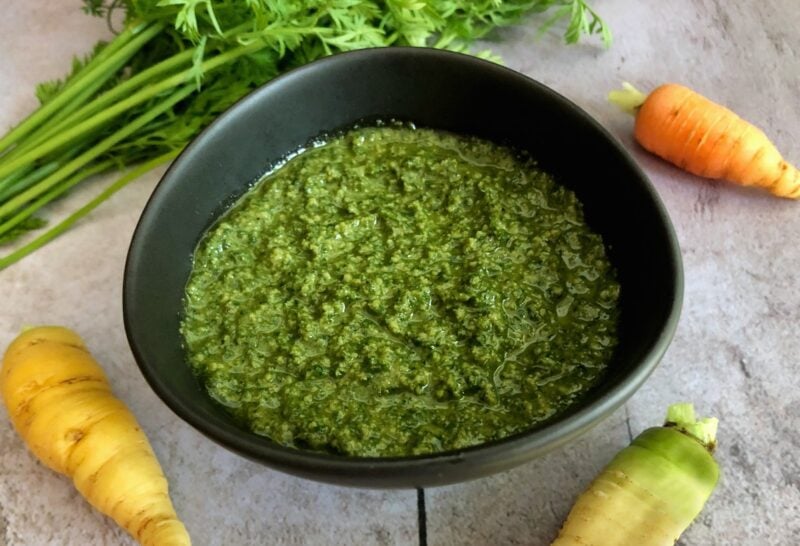 Other Healthy Chicken Recipes to Try
Did you Make Carrot Greens Pesto Chicken and Roasted Vegetables?
If you make this dish of Carrot Top Pesto Chicken and Vegetables, Snap a photo and tag me on Instagram or Facebook. You can also follow me on Pinterest and sign up for my mailing list so you never miss a recipe!
---