Copycat Starbucks Cinnamon Dolce Syrup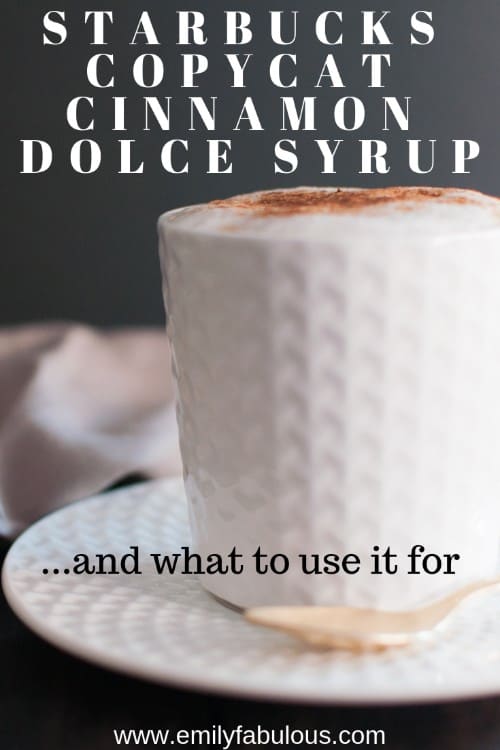 After I quit my job I had to make some choices. Mostly I had to decide what NOT to spend money on anymore. When I was working at my full-time retail job, my routine included a trip to the coffee shop for a latte and most likely a pastry. It then became Starbucks more often than not because they opened a drive-through 3 blocks from my house!! I could easily be on a conference call, order my fix, and be on my way in no time.
So now that I'm not getting that nice paycheck, I make my own lattes at home. I'm a sucker for the flavored lattes and by now you probably know I have a sweet tooth (or teeth 😬). One of my favorites is the Cinnamon Dolce Latte. I decided to make my own syrup and save money not only on making my coffee at home but also not buying $8-$10 bottles of syrup.
Ingredients:
1 Cup brown sugar
2 Cups water
1 teaspoon vanilla
1 tablespoon ground cinnamon
Add all ingredients to a saucepan and turn the heat on medium. Stir until everything has combined and boils for about 30 seconds. Remove from heat and let it cool. Strain into your bottle of choice using a mesh strainer and cheesecloth or coffee filter. The clump of cinnamon is slimy and gross so avoid getting that into the bottle, I usually stop before it even pours out of the bottom.
This is the type of bottle I used to store my syrup, it should stay good for about 6 months in the fridge, but I don't think it will last that long! Don't forget to label and date the bottle.
What to use Cinnamon Syrup for:
1. Flavored latte or coffee
2. Add to your favorite vanilla frosting
3. Add to some bourbon for a nightcap
4. Add to pancake or waffle mix
5. Add to whipped cream for a special treat
---
---