Air Fryer Frozen Chicken Tenders
These Air Fryer Frozen Chicken Tenders will be one of the easiest meals you make! They are perfect for an appetizer, snack, sandwiches, salads, and more. Make these chicken tenders in no time any day of the week for a delicious and healthier meal!
This post may contain affiliate links. This means that if you click a link and make a purchase, I may receive an affiliate commission at no cost to you. Please see the full disclosure for further information and thank you for your support!
A lot of you know by now the Air Fryer has been a game-changer in the kitchen, especially when it comes to frozen foods. A lot of times when you defrost and heat frozen foods, they end up either greasy or not crunchy at all. Using an Air fryer to crisp up your favorite frozen foods is the perfect solution and it's usually faster. Frozen Chicken Tenders in the Air Fryer are no exception and I will show you how fast and easy it is!
How long does it take to cook Frozen Chicken Tenders in the Air Fryer?
Frozen chicken strips take about 15 minutes to cook in an air fryer. Of course, everyone's air fryer is different so the timing may vary slightly. I like to flip my tenders halfway through cooking, although this isn't completely necessary. I use an air fryer lid that goes on top of my Instant Pot and I find that flipping most things while cooking works best for me.
Do I need to Defrost Frozen Chicken Strips before I Air Fry Them?
Nope. You don't have to defrost frozen chicken strips before you cook them in the air fryer! That's one of the great things about using an air fryer when cooking frozen foods. The air fryer will defrost, cook, and crisp most frozen foods, including frozen chicken tenders.
YOU CAN ALSO USE YOUR AIR FRYER TO REHEAT COLD CHICKEN STRIPS!
If you have some chicken tenders in the fridge from restaurant leftovers or from the air fryer chicken strips you just made, you can easily reheat them in your air fryer! Now, you will never have soggy, microwaved chicken again. Set your air fryer to 375ºF and reheat the chicken for about 5-7 minutes, flipping if necessary. Don't forget to spray your basket so they don't stick. BTW, this works for french fries as well!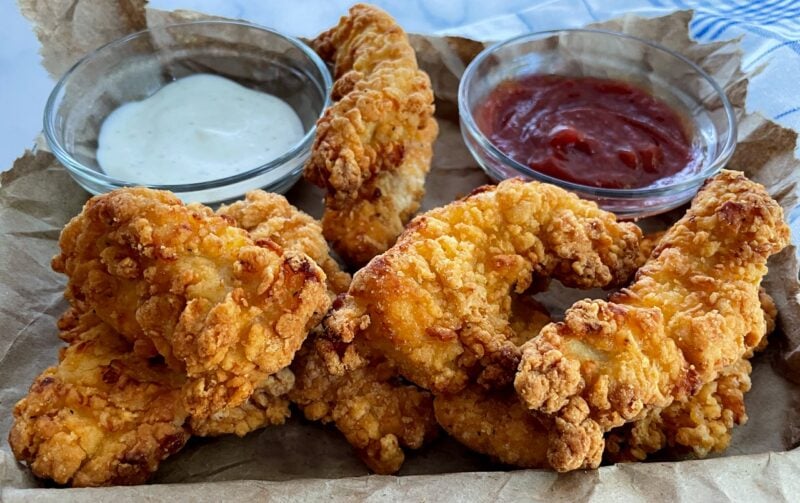 WHICH AIR FRYER I USED FOR THIS RECIPE
I have the Mealthy CrispLid attachment for my Instant Pot and I love it! It fits right on top of my Instant Pot and has a glass lid so I can see what's happening to my food while air frying (see photo below). It is a little smaller than some other air fryers out there, but it's the perfect size for my household. There are so many different types of air fryers out there now, and each one is slightly different. Instant Pot also makes an air fryer attachment. There are countertop air fryers, air fryer ovens, and air fryer attachments to name a few. Whatever air fryer you use, always remember to follow the instructions from your manufacturer.
Air Fryer Tips and Tricks for Delicious Chicken Tenders
There is no need to defrost frozen chicken strips before cooking them in the air fryer, just place them in the basket and get to it!
Preheating your air fryer is not a necessity (unless otherwise noted by your manufacturer). However, it definitely helps speed up the cooking time and helps cook the food evenly.
Non-stick spray is a must-have when air frying so don't skip it. Not only does it help the food from sticking to the basket, but it also aids in the crisping of whatever you are air frying. You can use vegetable oil, olive oil, avocado oil, or whatever oil spray you like.
Aluminum foil is also a handy tool when air frying for easier clean-up. Although chicken tenders are not too messy, you will get some residual oil spray at the bottom of your air fryer so use a small piece of foil to catch as much as you can.
Cooking times and temperatures may vary due to variations in equipment and may require adjustments.
More Air Fryer Recipes to Check Out
Air Fryer Frozen Chicken Tenders
Crisp up Frozen Chicken Tenders in less than 20 minutes using your air fryer!
Print
Pin
Rate
Ingredients
6

frozen chicken tenders

non-stick spray

ketchup, ranch, or BBQ sauce for dipping
Instructions
Preheat your Air Fryer at 375°F for 2-3 minutes. Spray the basket of the air fryer. Place the frozen chicken strips in the basket and lightly spray the top of them. Make sure they have room around them for the hot air to circulate.

Cook at 375°F for 8 minutes. Flip the chicken strips with your tongs and cook for an additional 7-8 minutes until brown and crispy (internal temp of 165°F). Remove the chicken from the air fryer and allow them to cool for a few minutes before serving. As they cool, they will crisp up a little more. Serve with your favorite condiment, add to bread for a sandwich, or slice up for a salad.
Notes
Always read the instruction manual that came with your Air Fryer and follow all safety guidelines. 
Heat chicken until the internal temperature reaches 165ºF.
Cooking times and temperatures may vary due to variations in equipment and may require adjustments.
Nutrition
Serving:
3
oz
|
Calories:
160
kcal
|
Carbohydrates:
14
g
|
Protein:
14
g
|
Fat:
6
g
|
Saturated Fat:
1
g
|
Cholesterol:
35
mg
|
Sodium:
500
mg
|
Potassium:
230
mg
|
Calcium:
10
mg
|
Iron:
0.4
mg
Any nutrition calculations are only estimates using online calculators. Please verify using your own data.
Did You Make These Air Fryer Frozen Chicken Tenders?
If you make some frozen chicken tenders in the air fryer, don't forget to leave a comment below. You can also tag me on Instagram or Facebook! And if you want recipe updates, sign up for my email list and follow me on Pinterest so you never miss a new recipe!
---