Easy Chile Relleno Enchiladas are a delicious and homemade vegetarian Mexican meal. You make everything from scratch including the sauce! It's not as hard as it seems to make your own enchiladas sauce and with fresh roasted peppers and lots of cheese, these enchiladas will become a favorite in your house!
I love enchiladas. Seriously, we have a secret relationship. Ok, maybe not so secret since I order enchiladas all the time at Mexican restaurants, but still...I love them. When we would go out to a Mexican restaurant as a kid, my mom would ask me what I was going to order, enchiladas or enchiladas? LOL! Now one of my favorite homemade enchiladas is this Chile Relleno Enchiladas Recipe!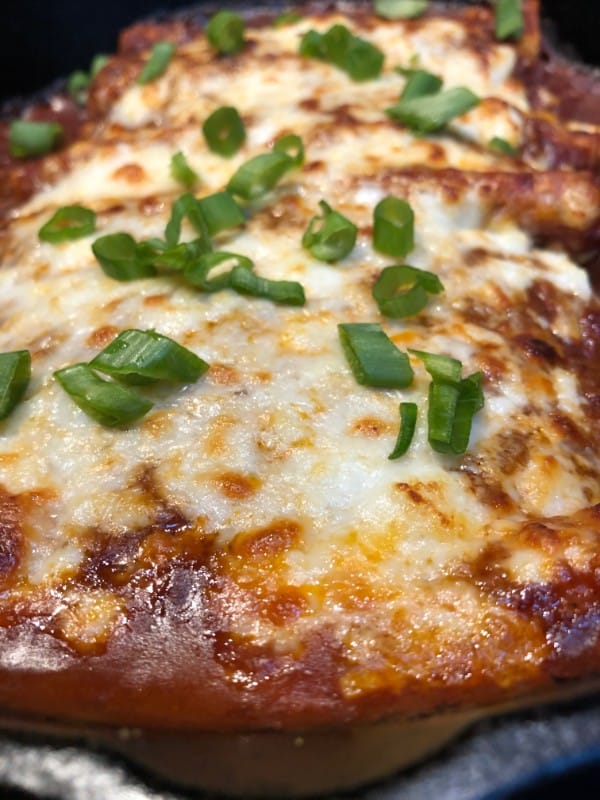 I've always wanted to try and make my own enchilada sauce but was a little weary. For some reason, I was thinking it would be complicated. But, after checking out some recipes, I realized it wouldn't be as hard as I thought. However, there are also a lot of different variations.
I've also been on a roasted chile kick and have been ordering burritos with chile Rellenos inside them (I know, guilty pleasure). I came across a recipe for chili relleno enchiladas and knew I had to get something going in my kitchen. This recipe was adapted from Carneandpaps.com.
Is it "chile" or "chili"?
I grew up in Arizona so I am more familiar with "chile" It's more commonly used in the Southwest and comes from Mexico. "Chili" is usually used to describe the soup with beans. They are interchangeable from what I can tell (I may have even interchanged them in this post).
What kind of chile pepper to use
There is nothing better than a fresh, roasted pepper in this dish! I use poblano peppers but you could also use Anaheim chile peppers or hatch chile peppers. If you can't find peppers or don't feel like roasting your own, you could always use the canned roasted chiles and still have a delicious meal.
How to roast the peppers
It may seem intimidating, but roasting your own peppers is very easy. Take your clean peppers and place them on a baking sheet lined with foil. Place them in the oven on the highest rack and turn your broiler on high. Roast for 5 minutes, flip and then roast for another 5 minutes, flip one more time on the side that needs the most charring for 5 more minutes. After roasting you will place the peppers in a plastic bag for 10 minutes to steam them. After 10 minutes, the skins will come right off (be careful, they are hot!) using tongs or your fingers.
What if I don't want a spicy sauce?
You can use less ground chile powder or use regular chili powder from the spice aisle in the grocery store. It's much less spicy but still adds flavor. You can also omit the spice altogether. There are a lot of enchilada sauce recipes out there that don't add any spice or chile flavor.
What cheese works best with Chile Relleno Enchiladas?
For the best enchiladas, you want to use a cheese that is nice and melty. I used a blend of cheddar, Monterey, and queso fresco. I like the sharpness of the cheddar, the melty texture of the Monterey, and the saltiness of the queso fresco. You can use what you have or what you like, just make sure it melts well.
What should I serve with Chile Relleno Enchiladas?
These enchiladas really can be a meal just by themselves. But, if you want to add a side dish, Mexican rice or beans would be an authentic touch. For garnishes, I recommend chopped green onions, sour cream, and sliced avocado. The sour cream and avocado add a nice creaminess and can help tame the heat from the sauce or the peppers. Chopped green onion adds a nice crunch and freshness. You could also add diced red onion or cilantro.
If you love this recipe, check out some more of my Mexican inspired recipes:
Chile Relleno Enchiladas
Easy Chile Relleno Enchiladas are a delicious vegetarian Mexican meal and everything is made from scratch including the sauce!
Print
Pin
Rate
Ingredients
Enchilada Sauce
2

medium

tomatoes, cut into quarters

1

small

onion, cut into quarters

2-3

cloves

garlic, peeled

2

tablespoons

extra virgin olive oil

2

tablespoons

all-purpose flour

3

tablespoons

chile powder

(see notes on how to make your own

1

teaspoon

kosher salt

¼

teaspoon

ground cumin

2

cups

vegetable broth

(you can also use chicken or beef if not making vegetarian)

3-4

tablespoons

tomato paste

(to taste and desired thickness)

1

teaspoon

soy sauce or Worcestershire sauce

(use soy sauce for vegetarian)

⅛

teaspoon

cinnamon

salt and pepper to taste
Roasted Chili Filling
2

large

poblano peppers

(can sub Anaheim or hatch chile peppers)

2

cups

shredded cheese

(I used a mix of cheddar, Monterey, and queso fresco)

6-8

corn tortillas

3

green onions, chopped

sour cream for serving

sliced avocado for serving
Instructions
Turn the oven broiler on high and place the oven rack at its highest setting. Put the peppers on a cookie sheet lined with foil. Broil on one side for 5 minutes. Flip the peppers over and broil for another 5 minutes. Flip a third time and broil for an additional 5 minutes.

Remove the pan from the oven and place the peppers in a sealable plastic bag for 10 minutes to continue to steam (during the 10 minutes, you can get your sauce going and shred your cheese if needed).

After 10 minutes, carefully take the peppers out of the bag (they are still hot!) and place them on a cutting board. Remove the skins with tongs or your fingers if they are cool enough. Remove the seeds and stems and dice the peppers. Add the diced peppers and 1 cup of cheese in a bowl and combine. Set the bowl aside.

In your food processor or blender, add the tomatoes, onion, and garlic and blend until smooth and set aside.

In a medium saucepan over med-high heat, heat the olive oil. Add the flour and whisk together for about a minute to make a roux. Slowly pour in the broth, whisking the entire time.

Add the chili powder, salt, and cumin and continue to whisk to combine. Now add the blended tomato mixture, tomato paste, Worcestershire sauce, and cinnamon. Stir everything to ensure it is fully combined. Bring to a boil and then immediately lower the heat to simmer. Stir the sauce occasionally as you prepare the other ingredients. After the sauce has simmered for a while, add the salt and pepper to taste. TIP: If you want a smooth sauce, you can give it another round in the food processor or blender.

Move the oven rack to the middle setting and preheat the oven to 400ºF. Wrap your tortillas in a damp paper towel and microwave for 60 seconds to warm them up and make them easier to roll. Keep them wrapped in paper towels until you are ready to assemble.

Pour about a cup of the enchilada sauce at the bottom of an oven-safe pan or dish (I used my cast iron pan, but a casserole dish would work just fine too). Take each tortilla and add some of the pepper and cheese mixture to the middle, roll up and place the seam side down in your dish. Repeat until all of your enchiladas are rolled.

Spoon more of the enchilada sauce all over the top of the tortillas to ensure all of them have been coated completely. You will probably have some leftover enchilada sauce you can save or freeze for another meal. Don't feel like you have to use it all.

Cover the top with the rest of the cheese and place in the oven for 15 minutes. For the last 2 minutes, I put my broiler on so the cheese was nice and melted and a little browned on top.

Remove the pan from the oven and garnish with the green onions. Serve with sour cream and avocado. Enjoy!
Notes
How to make your own dried chile Powder
You can use the generic chili powder you get at the grocery store but I highly recommend making your own from dried chiles. It's easy and has a more authentic flavor. I make mine using my mini coffee/spice grinder. I just buy the dried chiles in the Mexican area at the grocery store and grind them up. It takes about 2 minutes and we use the chile powder on most of the Mexican dishes we make. I use a couple of different varieties of chile to make an interesting mix, or you could just choose one. Be careful, it does add heat, so you can remove the seeds before grinding if you don't want too much heat. 
You will most likely end up with extra enchilada sauce so don't feel like you have to use it all. You can always freeze for later. 
Any nutrition calculations are only estimates using online calculators. Please verify using your own data.
Did you Make these Chile Relleno Enchiladas?
I hope you get a chance to make these Chile Relleno Enchiladas. If you love fun and delicious recipes...and cocktails, follow me on Pinterest and sign up for my email list and I will send them right to your inbox. In addition to Pinterest, you can also follow me on Instagram and Facebook!