This recipe for Pistachio Macarons creates the most delicious and delicate pistachio cookies! Macarons can be tricky, but if you follow the steps, you can make these delectable treats at home.
This recipe for Pistachio Macarons was adapted from my Easy Macaron Recipe for Beginners. I was pretty pleased with how these turned out and the flavor from the freshly ground pistachios is amazing! I've seen some recipes that use pistachio flavoring. I didn't find it necessary at all, but if you have it, you could always add it.
Remember, everyone's oven is different. Your pan is different. The climate is different where you are so you may have to adjust as needed. Oh, one more thing...SIFTING is your friend, don't skip it!
Ingredients Needed to Make Pistachio Macarons
powdered confectioners sugar
almond flour
pistachio flour
large egg whites, room temp
cream of tartar
superfine sugar
vanilla extract
green gel food coloring
unsalted butter, room temp
pistachio paste
milk
PIstachio flour, pistachio paste, and super-fine sugar are all ingredients that are not as common as the rest. Don't worry, you can make all of these at home! Check out the instructions below.
How to Make Almond and Pistachio Flour
You can make your own almond flour and pistachio flour in a coffee/spice grinder or a small food processor. Just add the almonds or pistachios to the grinder and pulse until you get small, coarse pieces.
Be careful not to overmix or grind too quickly otherwise you will end up with a paste.
If you add a small amount of powdered confectioner's sugar, it will help keep the nut flour dry and separated.
Once you create the flour consistency, spread it out on a baking sheet and allow it to dry out as much as possible before using it in your baking.
You will get the best result if you make the nut flours a day in advance.
If you grind with the powdered confectioner's sugar it will help keep it dry.
How to Make Superfine Sugar for Macarons
Superfine sugar is made the same way as nut flour. Add granulated sugar to a coffee/spice grinder or a small food processor and grind until you get superfine sugar similar to the consistency of powdered confectioners sugar.
How to Make Pistachio Paste for Pistachio Buttercream Frosting
Pistachio paste is also made in a similar manner as the nut flours. The difference is this time you will pulse and grind more to create a wetter and thicker paste.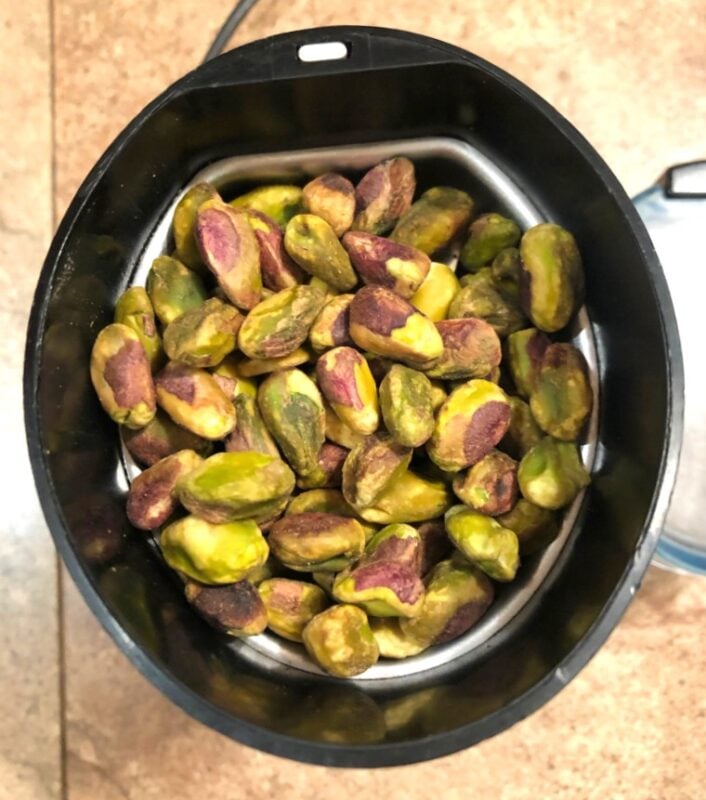 More Delicious Dessert Recipe to Check Out
Did you Make These Pistachio Macarons?
If you make these Pistachio Macarons, don't forget to leave a comment below. You can also tag me on Instagram or Facebook and show me your treats!
Don't forget to sign up for my email list to get even more recipes in your inbox or follow me on Pinterest so you never miss a recipe!