Frankenstein Rice Krispie Treats for Halloween
These Halloween Frankenstein Rice Krispie Treats are easy to make and so fun to eat! They are perfect for a party, a school treat, or just a fun family dessert.
Ingredients Needed for Frankenstein Halloween Treats
butter
marshmallows
puffed rice cereal
vanilla or funfetti boxed cake mix (optional)
vegetable shortening
vanilla extract
salt
powdered confectioners sugar
green food coloring
black decorating frosting
eyeball candy/sprinkles
graham crackers
sprinkles
How to Create Frankenstein Rice Krispies
First, make some rice krispie treats. I used my Cake Batter Rice Krispie Treat recipe (below) because I love the cake batter flavor. You can also make regular rice krispie treats. Press the treats firmly into the baking pan to ensure they are nice and packed and allow them to cool.
Remove the treats from the pan and cut it into rectangles. I trimmed off the curved edges first to get nice straight lines.
Frost each rectangle with a thick layer of frosting and place in the fridge for 15 minutes to firm. This makes decorating easier.
Create the hair and mouth with black decorating frosting. Add eye candies, sprinkles, and any other decoration you would like. For the studs on the side of the face, cut up small squares of the graham crackers and push into the side of the frosting. Get creative!
How to Make Thick Buttercream Frosting
This is my go-to buttercream frosting for cookies, cakes, and treats when I need a substantial frosting that will hold up well and create a thick layer. I learned this recipe from The Icing Artist who has awesome tutorials and recipes.
Place the butter and shortening in a stand mixer and cream together on medium speed. Mix in vanilla and salt.
Begin to add powdered sugar one cup at a time, mixing on low speed until combined then med-high speed for a minute or so each time. After each cup addition, add a tablespoon of cold water to get your desired consistency.
Add gel food coloring to the desired color.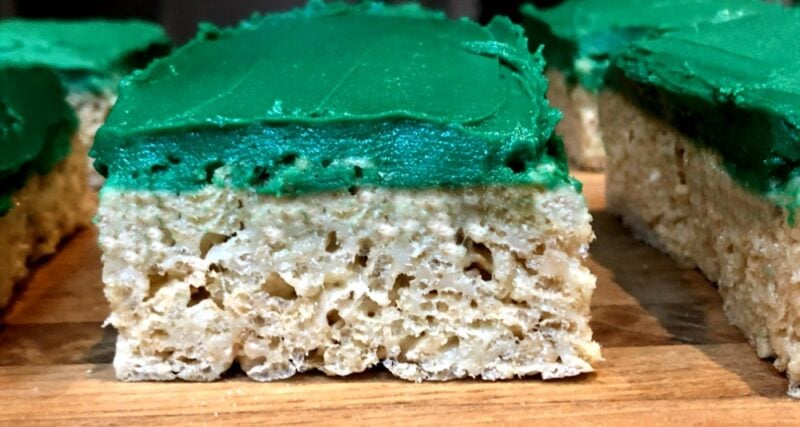 Decorating Tools and Tips
To make the candy eyes look bloodshot, use an edible marker to draw on them.
Packaged decorating icing is an inexpensive and easy way to decorate without making another frosting. It dries shiny and thick which is perfect for decoration. Black is also a hard color to achieve when making your own frosting, so why not let someone else do it?! 🤷🏼‍♀️
A wet finger can smooth out imperfections in the frosting.
I used different sprinkles I had on hand to make eyebrows and noses on some of the Frankensteins. I thought it was fun to make different faces and expressions.
To get a nice, packed rice cereal treat, spray your hands with non-stick spray and press firmly all over the pan.
These treats are best at room temperature, but I would suggest storing them in the fridge until you are ready to serve them. Allow them to sit at room temperature for about 10 minutes to allow them to soften before enjoying.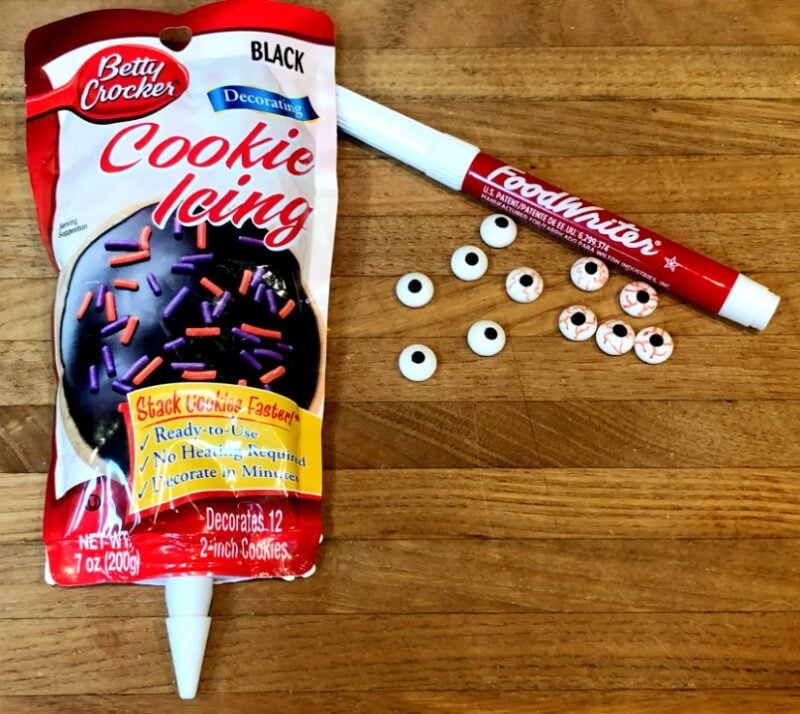 This is my recipe for Cake Batter Rice Krispie Treats. As I mentioned, I like the extra flavor from the cake mix, but you can omit the cake mix and the sprinkles for these Frankenstein treats.
Print
Cake Batter Rice Krispie Treats
Your favorite childhood snack upgraded with a cake batter flavor and lots of sprinkles!
Equipment
large pot

9 x 13 glass baking dish (or similar pan)
Ingredients
3

tbsp

butter

4

cups

mini marshmallows

6

cups

puffed rice cereal

½

cup

vanilla or funfetti boxed cake mix (dry)

sprinkles

(I used 2 different types because…sprinkles!)

non-stick spray

(for hands when pressing into pan)
Instructions
Prepare your pan with non-stick spray. I use a 9×5 pan because I like nice and thick treats but you can use a 13×9 also or whatever you have. Glass is best because they stick less and it's easier to clean.

In a large saucepot on medium-high heat, add the butter and melt completely. I always use a wooden spoon when making rice krispie treats, they are nice and stiff and clean pretty easily.

Once the butter is melted, add the marshmallows and stir constantly until they are fully melted and nice and creamy. Remove from heat immediatly.

Add the cereal and some sprinkles (unless you are suing funfetti mix) and stir quickly to fully mix in. Dump the mixture into your prepared pan and push down with your spoon to spread it all out. At this point, I spray my hands with non-stick spray and push everything down with my hands to get it nice and compact (be careful because the mixture may still be hot!). Add more sprinkles right away to the top and lightly press in with your hands as well.

Allow the treats to cool for at least 20 minutes before serving, longer if you can resist. Enjoy!
Print
Thick Buttercream Frosting
This frosting is perfect for making a thick layer and it dries with a nice crust to make any cake or dessert look spectacular!
Equipment
stand mixer

measuring cups/spoons

rubber or silicon spatula
Ingredients
¼

cup

unsalted butter, room temp

¾

cup

vegetable shortening

(makes a crust when dry)

1¼

tsp

vanilla extract

1

pinch

salt

4

cups

powdered confectioners sugar

3-4

tsp

water

yellow gel food coloring
Instructions
Place butter and shortening in mixer and cream together on medium speed. Add in vanilla and salt and continue mixing.

Begin to add confectioners sugar one cup at a time, mixing on low speed until combined then med-high speed for a minute or so each time. After each cup addition, add a tablespoon of water to get your desired consistency. Add gel food coloring and fully incorporate it.
Notes
Buttercream frosting can be made ahead of time and stored in an airtight container in the fridge for up to 3 days before using. 
If you have leftover frosting, you can freeze it in a sealed container for up to 3 months.
More Fun Dessert Recipes to Try
Did you make these Halloween Frankenstein Rice Krispie Treats?
I love to see your interpretation of my recipes so if you make these fun Halloween Frankenstein Treats, tag me on Instagram or Facebook! You can also follow me on Pinterest and see all of my recipes.
---
---