Gluten-Free Coconut Madeleines
These Gluten-Free Coconut Madeleines started out as a test and ended up being so good I decided to share my experiment. Dipped in white chocolate and toasted coconut, these mini treats are AMAZING with coffee or just by themselves!
Two things were going on when I tried this out:
1. I was craving madeleines because I saw a photo of one on Instagram. Then I remembered I had a madeleine pan somewhere.
2. I've been challenging myself to clean out my pantry before buying more stuff. We all have those random things that just sit there and never get used, I'm trying to use mine up!
As I was getting my ingredients together to make some classic madeleines, I stumbled upon the coconut flour in my pantry. Why we had this, I have no idea, but I decided I was going to use it.
After I started this recipe I quickly realized what I thought I was making was not happening. Meaning it was not a traditional madeleine batter. The baking experiment continued anyway. I was already thinking I would be dumping these in the garbage and was pleasantly surprised at how they turned out.
This recipe is for 12 large madeleines. You need to refrigerate the batter for 2 hours so plan ahead! To make true madeleines you need a madeleine pan. But don't fret! If you don't have one, you can use a mini cupcake pan and get the same delicious result.
Print
Coconut Madeleines
Gluten-Free Coconut Madeleines are dipped in white chocolate and toasted coconut. These mini treats are AMAZING with coffee or just by themselves!
Equipment
madeleine pan

stand mixer or hand mixer
Ingredients
1

cup

coconut flour

½

tsp

baking powder

1

pinch

salt

3

large

eggs, room temp

½

cup

sugar

1

tbsp

brown sugar

½

cup

unsalted butter, melted

plus a little more for pans

1

tbsp

honey

½

tsp

coconut extract

¼

cup

white chocolate chips

1

tsp

coconut oil

½

cup

sweetened coconut flakes, toasted

you can do this in the microwave! (see notes)
Instructions
Place the coconut flour, baking powder, and salt in a bowl and mix together to combine and set aside. Add the eggs and both sugars to a mixer or a different bowl and whisk on high speed until pale and fluffy, about 10 minutes.

Sift ½ the flour mixture into a bowl and mix in with spoon or spatula. Add the rest of the flour mixture and fold in. Continue to fold in the melted butter and then honey and coconut extract. The batter is very thick and sticky. Do not expect a regular madeleine batter, it's almost like a dough. Cover and place in the refrigerator for 2 hours.

Preheat the oven to 350°. Remove the batter from the fridge and let it sit on the counter for about 10 minutes. While waiting, generously butter madeleine pan.

Spoon batter into molds, filling each completely. You will need to use your finger to fill the mold and get the top as smooth as possible. These won't be completely smooth on the bottom, so don't try to get them perfect in the pan.

Bake until the edges are brown, about 10-12 minutes. Remove from the madeleines from the pan and cool on a rack.

While cookies are cooling, melt chocolate in the microwave at 30 seconds intervals until smooth, stirring in between. Keep stirring and add oil a little at a time to thin out chocolate for dipping. After dipping or frosting, place on wax paper and immediately sprinkle with toasted coconut. Allow the chocolate to fully set and then enjoy! Store in an airtight container in the fridge for 1-2 days.
Notes
**Did you know you can toast coconut in the microwave?? Place sweetened coconut on a microwave-safe plate, cook for 1 minute. Remove from microwave and stir around. Put back into the microwave for 20-30 second intervals, stirring after each time to even out cooking. Be careful, it's hot!!!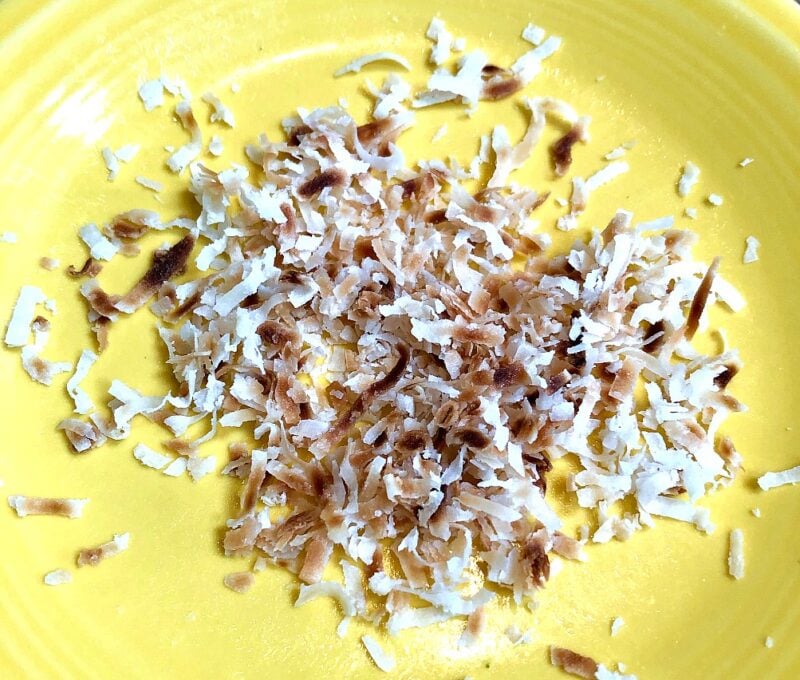 I'm so glad I kept going when trying this recipe out. That's what life is all about and why I created this blog. My goal is to inspire others to try new things and not get frustrated if something doesn't go exactly as planned. The kitchen can be so much fun and you never know when you might create something even better than planned!
More Coconut & Dessert Recipes:
And if you are exclusively Gluten-Free or trying to eat more Gluten-Free meals, check out this Guest Post from my friend Danielle!
Sign up for my email list and receive even more delicious recipes in your inbox. If you want more Gluten-Free ideas, check out Annie's site https://onebiteglutenfree.com for recipes, education and more!!
Follow me on Instagram @emilyfabulous_blog to see what I'm up to in my kitchen. I always love to see your creations so feel free to tag me if you make this recipe!
---
---